Selena Gomez And Serendipity3 Have Teamed Up On A New $30 Ice Cream Sundae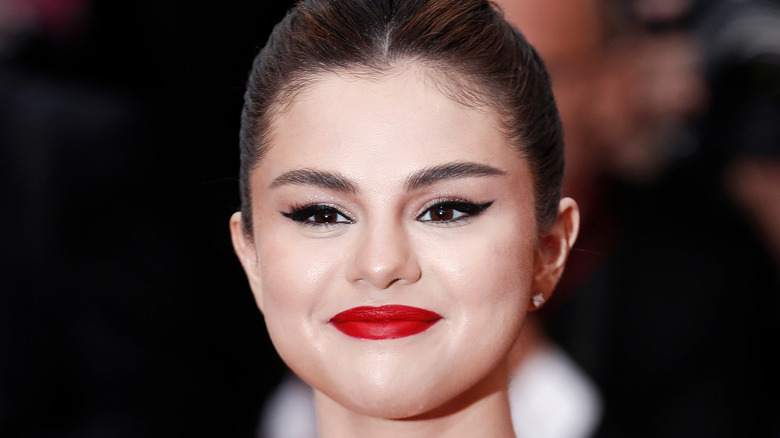 Andrea Raffin/Shutterstock
Celebrity food endorsements aren't anything new, as Eat This, Not That! reports. Charli D'Amelio teamed up with Dunkin' for the "Charli," Ringo Starr helped launch the first stuffed crust pizza at Pizza Hut in 1995, even Travis Scott worked with McDonald's for a special combo meal.
Now, Selena Gomez is pairing up with Serendipity3 to bring fans a sweet treat created by the singer and actress herself. Seredipity3, a historic Manhattan dessert destination, is known most famously for its frozen hot chocolate. But the iconic dessert might be facing some competition now that the company has announced its newest menu addition: The Selena Sundae.
Gomez has been visiting the New York institution since her childhood, she said on "Good Morning America" when announcing the new partnership, so this is surely a very sentimental moment for her.
Keep reading for all the sweet details on the sundae including the flavor, toppings, price, and a special way the brand plans to give back with The Selena Sundae.
The Selena Sundae is based on her 'Cookies & Cream Remix'
Late last year, Gomez joined the Serendipity team as a partial owner and investor, and in response launched her own pint flavor, "Cookies & Cream Remix," says Glitter Magazine. The flavor features pink vanilla ice cream swirled with thick fudge and cookie pieces. The Selena Sundae is crafted from three scoops of Cookie & Cream Remix, topped with a banana, hot fudge, cream-filled cookie crumbles, pink sugar, whipped cream, and a cherry. Announcing the new item on Instagram, the brand shared, "It's finally here! Our latest menu item in collaboration with @selenagomez – available starting today."
But the real cherry on top is that the company plans to donate 10% of all proceeds from the sundae to Gomez's Rare Impact Foundation, her non-profit initiative committed to providing access to mental health services in educational settings. According to a Serendipity3 press release posted at PR Newswire, the sundae will cost $29.95, but being big enough to share and with a good cause in mind, the price might be worth it.
Speaking to "Good Morning America," Gomez explained that, for her, creating this sundae is all about family and connection. "For me, it's all about enjoying with my family," she told the show. "Especially anyone I can take to the restaurant for their first time because you never forget that moment."
So if you're in the mood for a sweet treat and just so happen to be Upper East Side of Manhattan, grab your friends, family, and loved ones and enjoy a Selena Sundae the way Gomez would herself.