Slow Cooker Refried Black Beans Recipe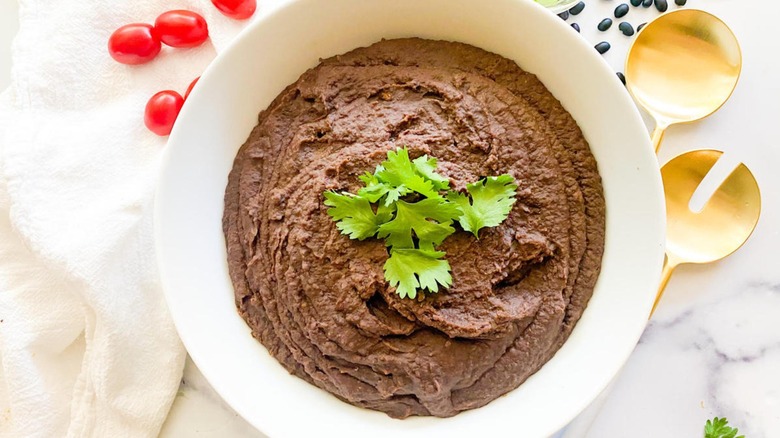 Miriam Hahn/Mashed
Refried beans, or frijoles refritos, are a familiar item on any Mexican restaurant menu. They appear as a side dish, typically alongside rice, and they can also be rolled into burritos or used to top nachos. It's a dish that's also easy to make at home. As recipe developer Miriam Hahn tells us, "I love refried beans and have always made them with pinto beans, which are great." While pinto beans may be the most common type of bean used to make refried beans, Hahn says, "I wanted to try [this recipe] with black beans, and [I] really love them."
We're sure you're going to love these refried black beans too. Hahn describes them as "creamy and delicious with just the right amount of seasonings." Not only do they taste amazing, but they are also super healthy. Hahn, who is a wellness coach, says that black beans are not only loaded with minerals, but they're also packed with fiber to help you feel full and satisfied. What's more, they contain resistant starch, which Hahn explains "helps to increase our good gut bacteria." With all they've got going on, what's stopping you from making these refried black beans right now?
Assemble the necessary ingredients for these refried black beans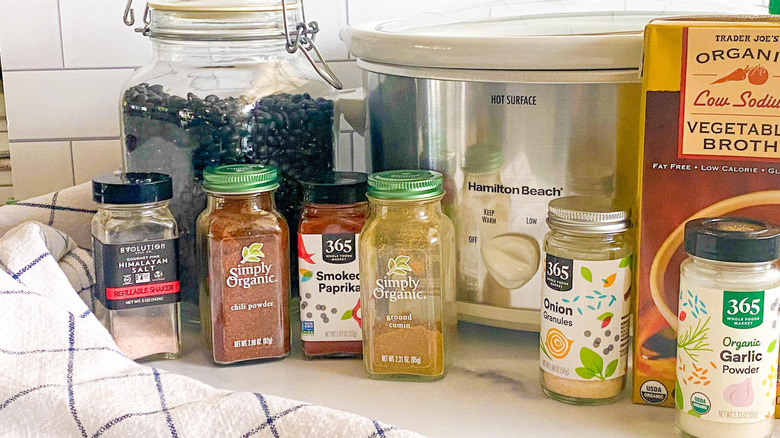 Miriam Hahn/Mashed
As these beans are going to be cooked in the slow cooker, you'll be using dried beans. You'll also need vegetable broth, although you could use any other type of stock, broth, or bouillon you like. For spices, you'll need cumin, chili powder, garlic powder, salt, and onion powder. Hahn says she sometimes adds a can of chopped green chiles, too. "You can vary the spices a bit," she says, "but for the most part, these are my go-to's."
Rinse and cook the beans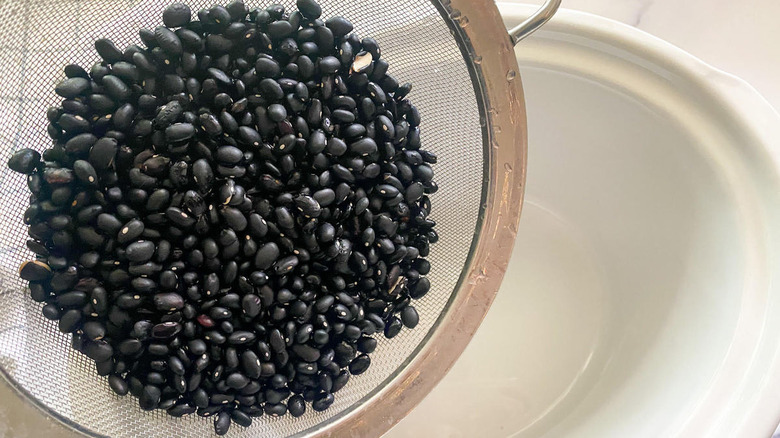 Miriam Hahn/Mashed
Pour the beans into a colander and rinse them under cool running water. Once the beans are rinsed, add them to the slow cooker with the broth and one cup of water. Season with the cumin, chili powder, garlic, and onion powder, but do not add any salt — yet. As Hahn explains, "It is ... important to add the salt at the very end instead of adding when you add the other spices. It affects how [the beans] are cooked and keeps them from getting tender." Stir the pot, then set the slow cooker to low and cook the beans for seven to eight hours.
Drain the beans once they're cooked
Miriam Hahn/Mashed
When the beans are tender, remove about a cup of the bean liquid and set it aside before draining the beans. You can, of course, save the rest of the bean liquid by pouring the beans into a colander over a bowl. Any liquid not used here can actually be used in baking. In fast, the aquafaba (bean juice) from black beans makes a great egg replacement when you're baking brownies or other darker-colored dishes.
That cup of reserved bean juice will be needed here, though, in order to help the beans achieve the proper consistency. If you want your refried beans on the thinner side, you may even need more than a cup of liquid — judge accordingly.
Mash and season the beans before serving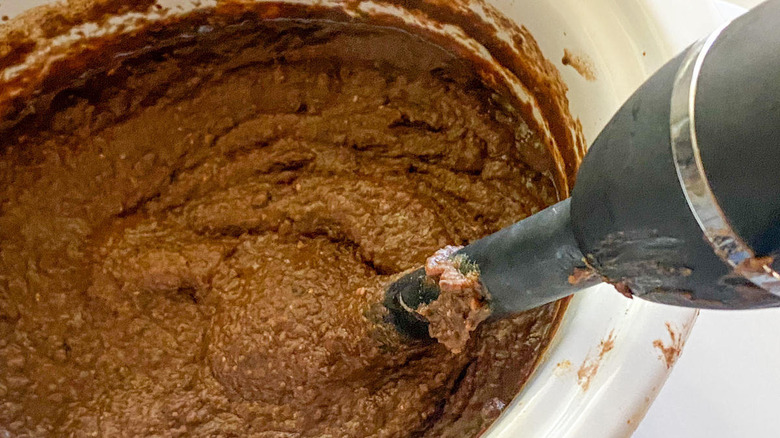 Miriam Hahn/Mashed
Use an immersion blender or a regular upright blender to mash these beans, using the reserved liquid as necessary to help you blend. You can also mash the beans with a potato masher if you want your beans thick and chunky and/or you prefer doing things the low-tech way. Once the beans are smooth, season them with a teaspoon of salt or to taste. Once you've stirred in the salt, your beans will be ready to serve.
Enjoy these beans as an appetizer or part of a main dish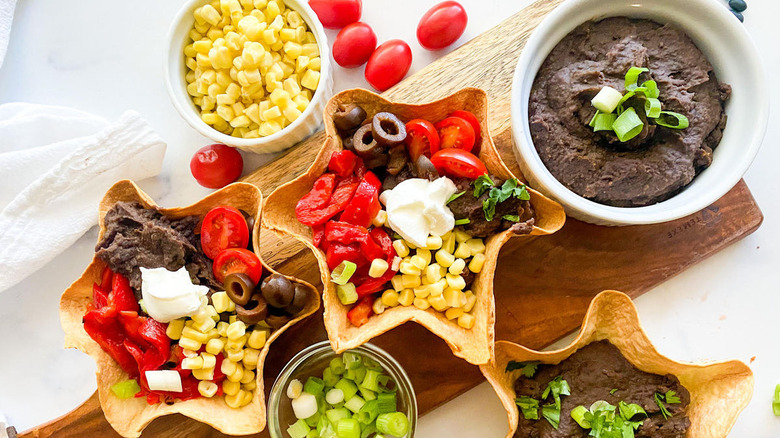 Miriam Hahn/Mashed
As Hahn tells us, these refried black beans make a great side dish or dip, and she adds that they're also great in tostadas, burritos, and quesadillas. Hahn shares that one of her recent kitchen acquisitions was a mold for taco bowls, so she loves making mini taco bowls and filling them with these beans. "You can go crazy with toppings [for these black beans], too," Hahn says, suggesting, "avocado, red onion, shredded lettuce, tomatoes, salsa, jalapenos, cheese. Just tons of options."
One of the great things about these black beans is how convenient they are as a make-ahead meal option. Cook up a pot on the weekend, or rather, let your slow cooker do the work while you're busy with other things, then enjoy the beans in the days to come. According to Hahn, these refried beans "are great for meal prep [because] they last all week and you can use them in so many different things."
Slow Cooker Refried Black Beans Recipe
With all they've got going on, what's stopping you from making these refried black beans right now? Give this refried beans recipe a try.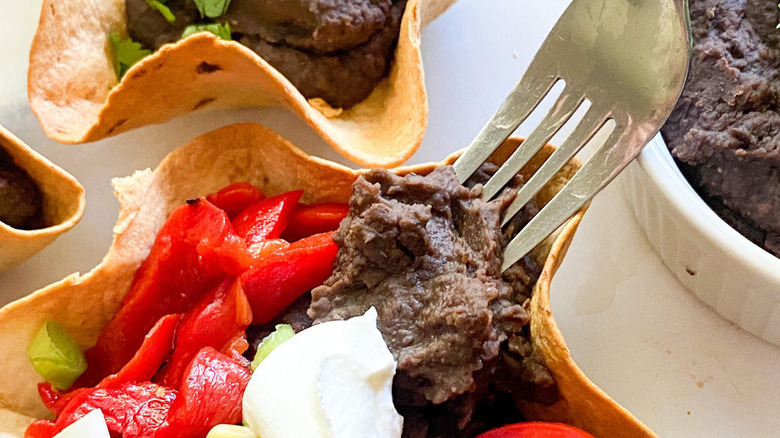 Ingredients
2 cups dry black beans
4 cups vegetable broth
1 cup water
1 teaspoon cumin
1 teaspoon chili powder
1 teaspoon garlic powder
1 teaspoon onion powder
1 teaspoon salt
Directions
Rinse beans in a colander.
Add the beans, broth, water, cumin, chili powder, garlic powder, and onion powder to the slow cooker and stir to combine. Cook on low for 7 to 8 hours or until the beans are tender.
When the beans are done, remove about 1 cup of the extra liquid and set aside.
Blend the beans using an immersion blender or an upright blender or mash with a potato masher, adding reserved liquid as necessary.
When the beans are smooth, add 1 teaspoon of salt and stir.
Serve and enjoy.
Nutrition
| | |
| --- | --- |
| Calories per Serving | 228 |
| Total Fat | 1.1 g |
| Saturated Fat | 0.3 g |
| Trans Fat | 0.0 g |
| Cholesterol | 0.0 mg |
| | |
| --- | --- |
| Total Carbohydrates | 41.6 g |
| Dietary Fiber | 10.4 g |
| Total Sugars | 1.5 g |
| Sodium | 430.4 mg |
| Protein | 14.3 g |