Krispy Kreme Just Announced 2 New Glazes Inspired By Popular Fall Treats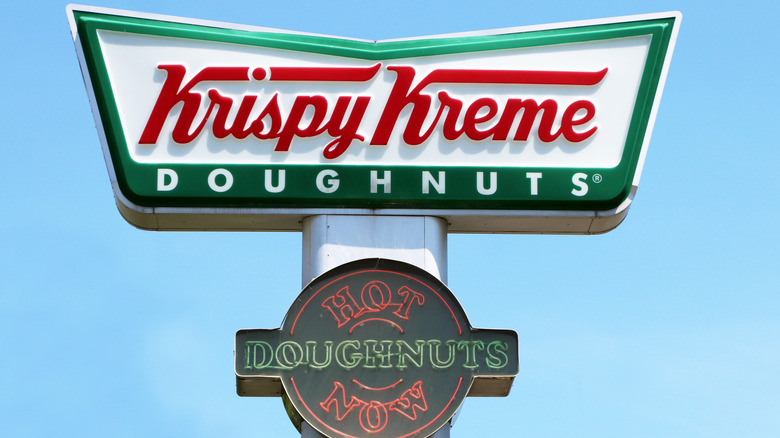 James R. Martin/Shutterstock
Fall is coming, which means it's time to get cozy. As the temperature cools down, the leaves start to fall, and nature shows off its orange, brown, and yellow colors we want to curl up and get comfortable. What better way to celebrate fall than with a warm beverage and a sweet snack, like a coffee and a donut from Krispy Kreme? Well, the chain has some exciting returning and new flavors this fall season that are sure to hit the spot.
Of course, Krispy Kreme is going to have the fan-favorite pumpkin spice flavored doughy treats. According to Thrillist, the returning flavor is available as the Pumpkin Spice Original Glazed, Pumpkin Spice Original Filled Cheesecake, Pumpkin Spice Cake, and in the Krispy Kreme Pumpkin Spice Latte. In addition to the returning items, there are two all-new flavors coming this season that sound absolutely delicious. We've got the scoop on the new fall lineup below.
The new fall flavors at Krispy Kreme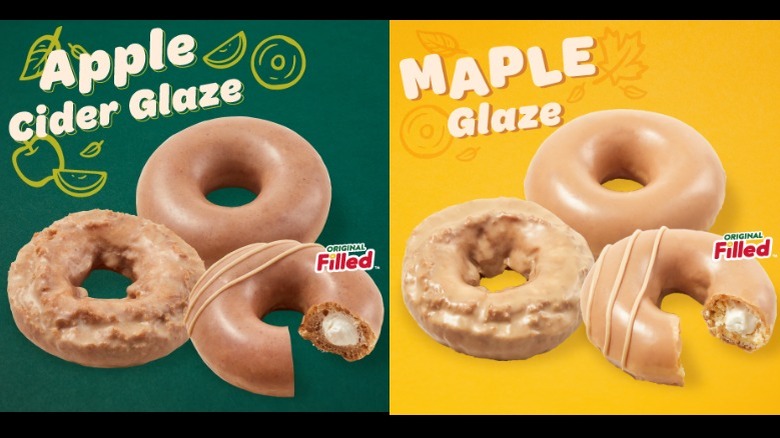 Krispy Kreme
Two new flavors are coming this fall at Krispy Kreme, but only for a limited time. Chewboom reports that there will be apple cider and maple flavored donuts at the chain during different weeks in the month of September. The apple cider donuts can be ordered at participating locations September 13 through 19. The doughy delights are made with a new glaze that uses real apple cider and spices to achieve the perfect flavor. There will also be three varieties that include the standard Apple Cider Glazed, an Apple Cider Glazed Original Filled Brown Sugar Kreme, and an old-fashioned style Apple Cider Cake flavor. 
The maple donut flavor will be on sale between September 20 and 26 and will also have three varieties — Maple Glaze, Maple Glazed Original Filled Maple Kreme, and Maple Glazed Cake. With the new flavors debuting throughout the month, you'll have to visit your local Krispy Kreme a few times to keep in the fall spirit and sample them all.