Eitan Bernath Dishes On Guy's Grocery Games - Exclusive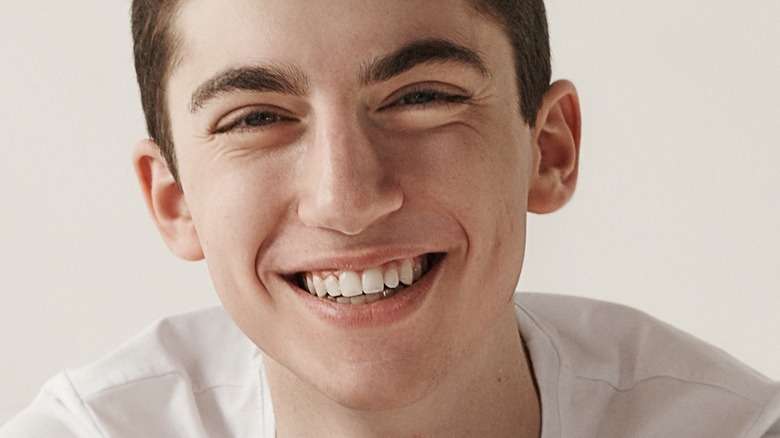 Eric Hobbs
Eitan Bernath might have found fame via TikTok, where the 19-year-old foodie and self-taught chef has 1.9 million followers — but before becoming a megastar and the cooking consultant for "The Drew Barrymore Show," Guy Fieri taught him how to cook chicken ... or something like that.
If you follow Bernath, you know his origin story: glued to the television watching Guy Fieri — and then begging mom to recreate the Mayor of Flavortown's dishes. "I would be asking my mom to make the guac burgers and beer-battered onion rings I saw Guy Fieri make on TV," Bernath told New York Post. "She would say, 'I don't know how to do that, why don't you try?'" To this day, it's easy to recognize Fieri's influence over Bernath's work. Take, for example, Bernath's cheese-stuffed mac and cheese bun burgers. Yup, the burger's buns are made of deep-fried mac and cheese. If you're tempted, Bernath will show you how to recreate the recipe on YouTube.
At 17 years old, having already impressed "Chopped" judges with his fish taco-making skills, the rising star made local headlines in the Teaneck New Jersey Daily Voice when he competed on "Guy's Grocery Games." In an exclusive interview with Mashed, Bernath reflected on the once-of-a-lifetime experience, revealing that it was Fieri, personally, who wanted the TikTok phenomenon to come on board.
Eitan Bernath gives a behind-the-scenes look at 'Guy's Grocery Games'
Bernath had — he told Mashed in an exclusive interview — "met Guy a few times" already. The first time he spoke to his hero, however, he was at a book signing. "I quickly told him about like my food blog that I had," Bernath told Mashed. "I gave him my business card thinking that he'd probably throw it out four seconds later," he said. Fieri didn't. Like what would happen with Drew Barrymore years later, the Food Network personality saw something in the young foodie and acted immediately. "Before I even got home in the car ride back from the book signing, I had an email in my inbox from his assistant, ask[ing] me personally from Guy to be on his show," Bernath recounted. "It felt like I was like completely dreaming ... it was extremely, extremely overwhelming, and exciting and really kind of felt like a dream come true."
What happened behind the scenes? "There was a few moments, where Guy got in the kitchen and was kind of like cooking with me and teaching me some things. That didn't get on camera," Bernath revealed. "That was like a really cool moment." It's been years now, and Bernath's not completely sure what Fieri taught him, but he thinks "he was like reviewing the temperature to cook the chicken or something. Because I was maturing at that point, and having not cooked in a restaurant, I didn't know them enough by heart."
You can watch an older and wiser Bernath watching his 17-year-old self on "Guy's Grocery Games" via his YouTube channel. If you do, you'll see that Fieri also taught him how to use a mandolin to slice potatoes. Also, check out Bernath's Instagram and TikTok for new recipes developed in partnership with the Ninja Foodi XL Pressure Cooker Steam Fryer with SmartLid.