Drew Barrymore's Cookbook Closet Has The Internet Buzzing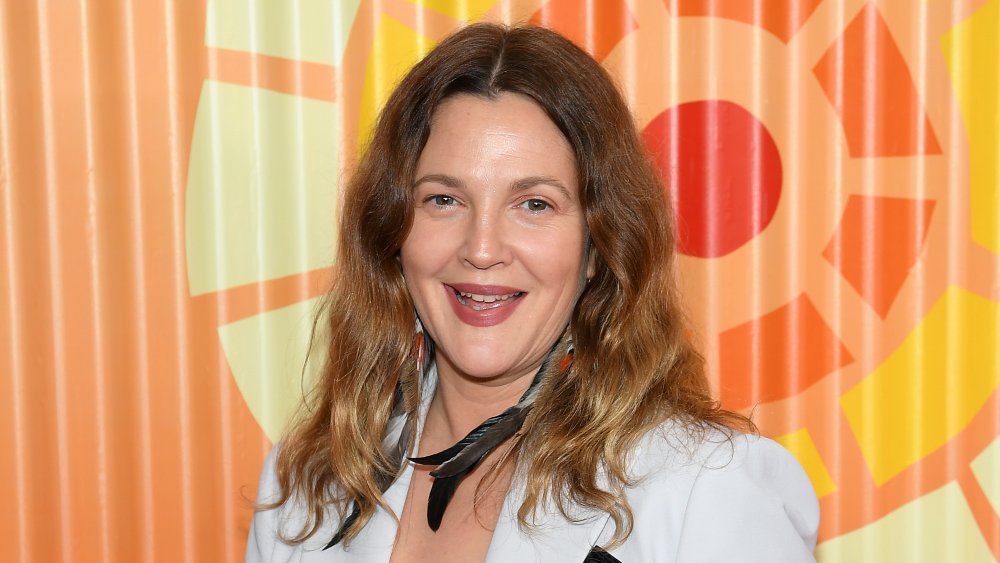 Dimitrios Kambouris/Getty Images
Drew Barrymore fans recently got a sneak peek inside her home, but more specifically her kitchen's cookbook closet, which was the size of a small pantry that extends out into her kitchen (via The Kitchn). The actress shared a photo on Instagram of the closet filled with shallow, floor-to-ceiling shelves lined with cookbooks. Apparently, Barrymore absolutely loves to read the words of chefs. She even stated in her caption that chefs are her heroes and that she reads around three cookbooks cover to cover every week (via People).
While the cookbooks are carefully spaced for an appealing photo aesthetic, it's worth taking a closer look at the books themselves, too. Barrymore's shelves featured classics from Julia Child and Marcella Hazan as well as newer picks like Tacos or Senegal. However, there was a wall that was full of cookbooks with recently-controversial authors, such as Nothing Fancy by Alison Roman and the Sqirl book, Everything I Want to Eat, according to The Kitchn.
The post wasn't just for fun to take a more personal look at the actress's home and day-to-day life, though. It was to share that Barrymore is starting her own Instagram Live show, "Drew's Cookbook Club," which means there's a lot to be excited about and look out for on her Instagram page.
Barrymore wants to share her favorite cookbooks
Having curated and read so many diverse cookbooks in her collection, she decided she wanted to branch out and share what she has learned and loves about different picks. "[My] philosophy on cookbooks is there's always going to be one thing in every cookbook that will change your life forever," Barrymore said in the first episode of her cookbook club. "I'm a collector and I want to build an arsenal of recommendations. I'm not a chef, I'm just a food lover."
So far, the first guest was the author of one of the cookbooks who appeared to lend a little insight. Barrymore explained, "I'll be giving cookbook recommendations, but I want the experts to be giving theirs too." The first recommendation was Living Lively by Haile Thomas, a 19-year-old author, who appeared on the show. During Thomas's feature on the show, she discussed her plant-based book, which she wrote as she and her family made lifestyle changes to accommodate her father's diabetes.
With so many interesting cookbooks to choose from in her closet, Barrymore has plenty of material to work with. It will certainly be a fun show to tune into with, what can only be assumed to be, enlightening conversations.