The One Meal Eitan Bernath Wants To Make For Cardi B - Exclusive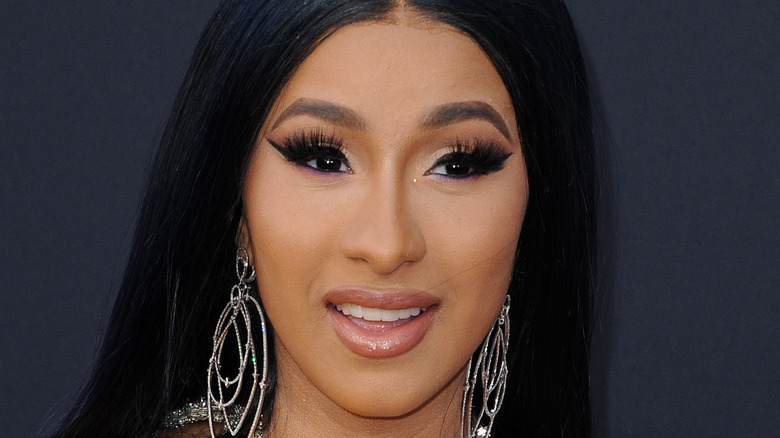 Tinseltown/Shutterstock
To fill you in: Eitan Bernath likes Cardi B so much that he turns his commute time during business trips into Cardi B dance parties (via YouTube). The TikTok star and culinary consultant for "The Drew Barrymore Show" even named his cat after her. Cardi B(ernath) is a British Shorthair rescue and is — unlike his namesake — a bit camera shy, per YouTube. Cardi Bernath might not regularly appear in front of his 1.9 million TikTok followers, but the cat, like Bobby Flay's Nacho, is involved in Bernath's day-to-day operations. He has assumed the role of "Director of Paw-blicity" within the Bernath social media empire, according to Eitan Bernath's website.
Bernath (the person, not the cat) hasn't cooked for or with Cardi B, yet. But when he cooked with Lily Singh, he made her a Cardi B-inspired mac and cheese, according to his website. More specifically, it's inspired by Cardi B's and Megan Thee Stallion's "WAP." Yup, just like Starbuck's WAP latte was. It's not, however, mac and cheese that Bernath would make for Cardi B when he gets the chance. "Okay. So believe it or not ... I am very prepared for this one," Bernath told Mashed in an exclusive interview when asked what he'd make for the superstar rapper and actress. "One day when I cook for Cardi B, I can envision in my head exactly how this plays out."
Eitan Bernath has his fish taco meal for Cardi B already planned
When Eitan Bernath finally sits down to dinner with his idol Cardi B, fish will be on their plates. "I do love do love the Cardi B. Cardi loves like Caribbean food and food from [the] island," Bernath explained. "She loves seafood, so I would definitely make Cardi ... fish tacos." For the record, Cardi B does like seafood. For Mother's Day 2019, Offset gifted her a seafood spread, made of crab legs, lobster, and shrimp that Delish estimated to be worth somewhere between $5,000 and $15,000.
Back to the fish tacos. "I would want to do 'Bodak Yellow' theme fish tacos," Bernath detailed. "I would use like black beans for like a black bean tortilla. And then, using the Ninja SmartLid (that's Ninja Foodi XL Pressure Cooker Steam Fryer with SmartLid that Eitan Bernath is currently promoting as a part of a partnership with Ninja) I would ... fry [the] fish with a turmeric butter, so it's black and yellow ... Bodak Yellow." Then, said Bernath, he'd use his pressure cooker's SteamCrisp technology. Yup, he's really into his new all-in-one cooking tool. With it, he'd make sure that the fish was "juicy on the inside [with] the crispy kind of like tempura type batter on the outside." To top it all off? "I'd probably use like a fun salsa," Bernath imagined.  
The TikTok phenomenon has plenty of experience making fish tacos. They happen to be one of his "all time favorite foods" (via YouTube). You can find his recipe for "the best fish tacos ever" on his website. Alternatively, check out his Instagram and TikTok for more sweet and savory recipe inspiration.