Easy Apple Spiced Overnight Oats Recipe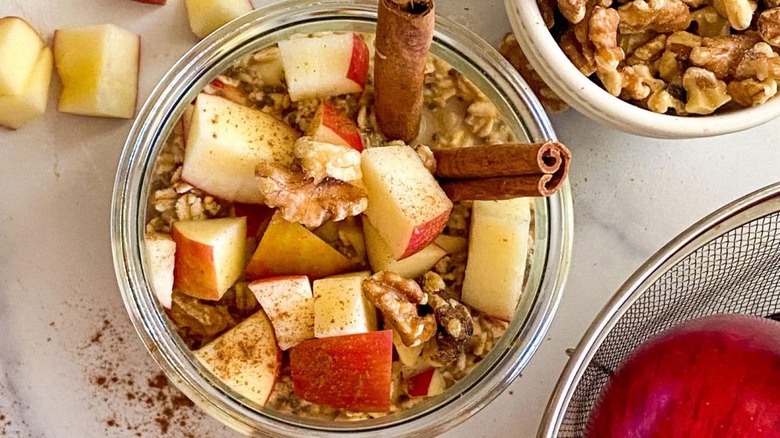 Miriam Hahn/Mashed
In honor of school being back in session, recipe developer and wellness coach Miriam Hahn has come up with a brilliant solution for school day breakfasts. This easy apple spiced overnight oats recipe, which, as you might have surmised from the name, does its "cooking" overnight while you're sleeping. "I love this recipe because anything I can do at night to save time in the morning is a winner in my book," Hahn told Mashed. "I have been making overnight oatmeal for years and I have so many variations. This is one of my favorites for fall! The spices mixed with the apples is just so delicious! Plus it is super filling!"
Although this recipe is for one serving, Hahn, herself typically quadruples it to make four at a time. "They last well over a week and even if I don't eat them for breakfast it makes a great snack or dessert. Everyone in my house loves having these around." So, let's get started!
Gather the ingredients to prepare easy apple spiced overnight oats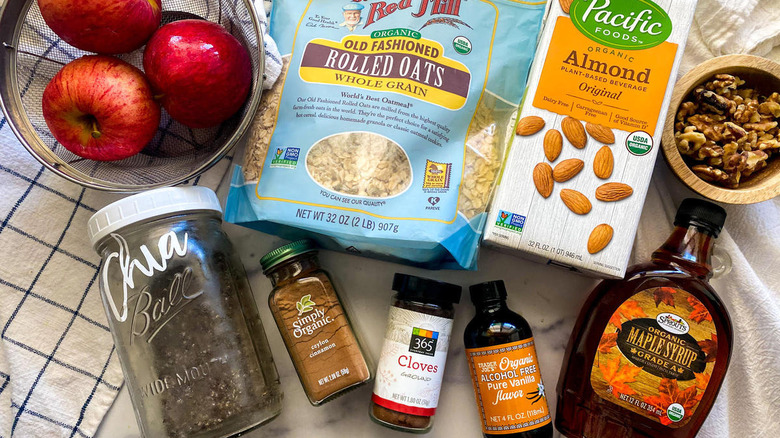 Miriam Hahn/Mashed
To make this apple spiced overnight oats recipe, you will need ½ cup of rolled oats, preferably organic, ⅔ cup of milk (Any type you like is fine here, including plant-based "milks."), 1 tablespoon of maple syrup, 2 teaspoons of chia seeds, 1 teaspoon of vanilla, 1 teaspoon of cinnamon spice (and more for sprinkling on top), ⅛ teaspoon of cloves, and a handful of walnuts for garnish. You will also need ½ cup of diced apples, plus some more diced apples for topping. These can be any variety of apple that you like.
Start by prepping your apples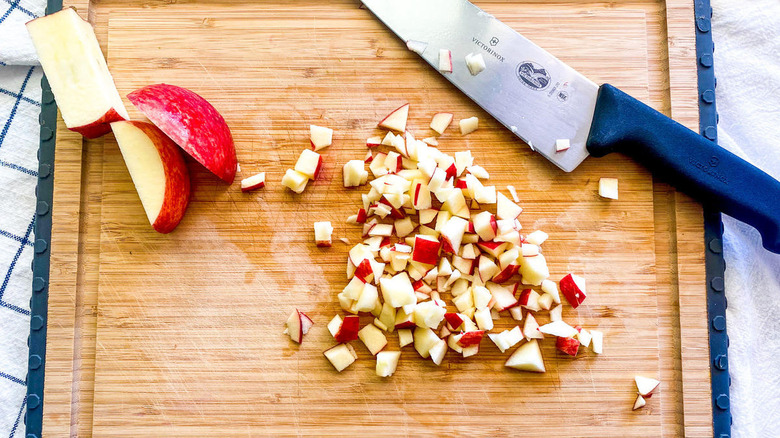 Miriam Hahn/Mashed
As noted above, for this single-serving recipe for apple spiced overnight oats, you'll need ½ cup of diced apples — any variety. Hahn says this is equal to about half an apple (so if you're making four servings at once, as Hahn likes to do, you'll actually need two apples). To dice your apples, Hahn advices starting by cutting four chunks of apple around the core. "Then I slice up each chunk, turn them 90 degrees, and dice." Hahn points out also that if you end up with larger chunks, "this is fine, too!"
Combine the oats, seeds, and spices, and then add the milk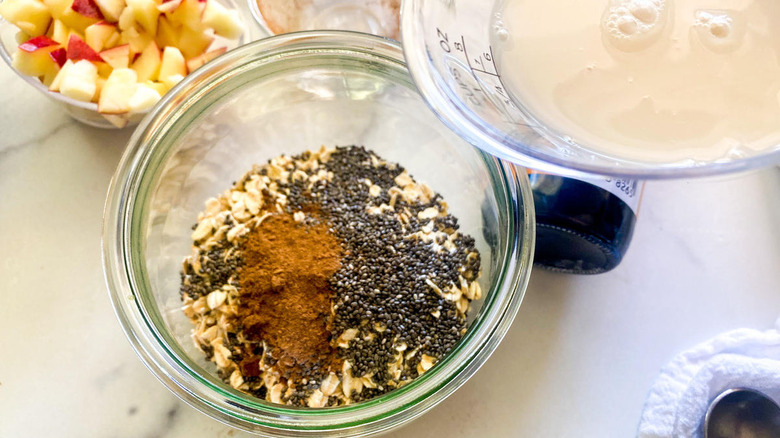 Miriam Hahn/Mashed
Get out a single serving-sized bowl. Add your oats, chia seeds, vanilla, cinnamon, and cloves. Pour the milk over the mixture, and stir to combine thoroughly. If you're wondering about the chia seeds, Hahn explains that they serve a dual purpose here. First, from a nutrition perspective, chia seeds are kind of a superstar. They're loaded with protein, fiber, and fatty acids, and they're also great for hydration. From a cooking perspective, they absorb lots of moisture, which goes a long way toward helping this overnight oats recipe to firm up even without "cooking." Hahn points out that either black or white chia seeds will work in this recipe, and that "both have the same nutrition profile."
Add the chopped apples to the oats mixture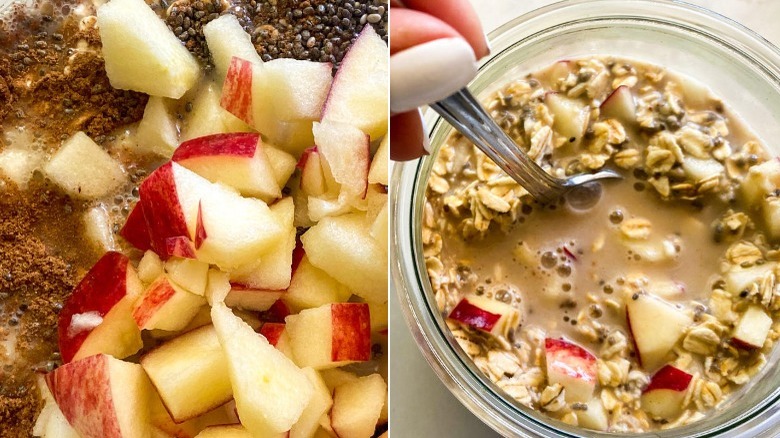 Miriam Hahn/Mashed
Ready to let your refrigerator (and your chia seeds, of course) do the rest of the work? Simply stir the diced apples into the mixture you just made in the previous step, and cover. Place the bowl in the fridge for anywhere from three hours to overnight (or longer, if you're prepping in advance). Top with more diced apple, cinnamon, and walnuts, and you're finally ready to serve and enjoy!
Easy Apple Spiced Overnight Oats Recipe
Need an easy breakfast that "cooks" while you sleep? This autumnal oatmeal is scented with cinnamon and cloves, and will be ready to devour when you wake up.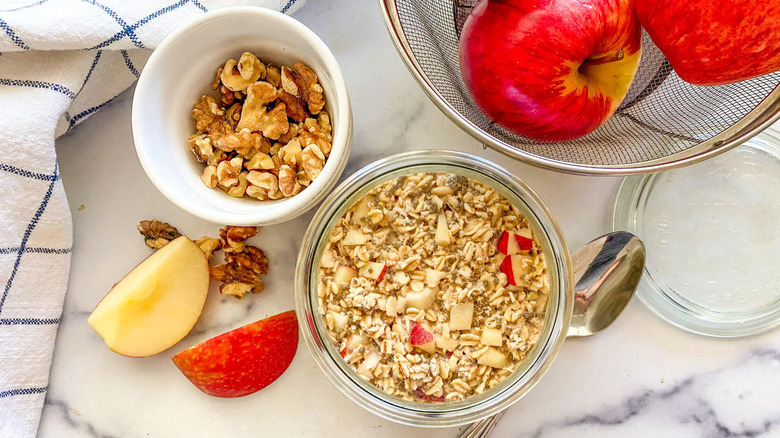 Ingredients
½ cup diced apples + extra for topping
½ cup organic rolled oats
2 teaspoons chia seeds
1 teaspoon vanilla
1 teaspoon cinnamon + extra for garnish
⅛ teaspoon cloves
⅔ cup milk (any type)
1 tablespoon maple syrup
Optional Ingredients
Directions
Dice the apples.
Combine the oats, chia seeds, vanilla, cinnamon, cloves, milk, and maple syrup in a bowl.
Add the diced apples.
Cover and refrigerate for at least 3 hours or overnight.
Top with more diced apple, cinnamon, and walnuts, and serve.
Nutrition
| | |
| --- | --- |
| Calories per Serving | 386 |
| Total Fat | 10.7 g |
| Saturated Fat | 3.8 g |
| Trans Fat | 0.0 g |
| Cholesterol | 16.3 mg |
| | |
| --- | --- |
| Total Carbohydrates | 62.2 g |
| Dietary Fiber | 9.3 g |
| Total Sugars | 27.1 g |
| Sodium | 76.7 mg |
| Protein | 12.2 g |