Why You Should Buy Kirkland Organic Maple Syrup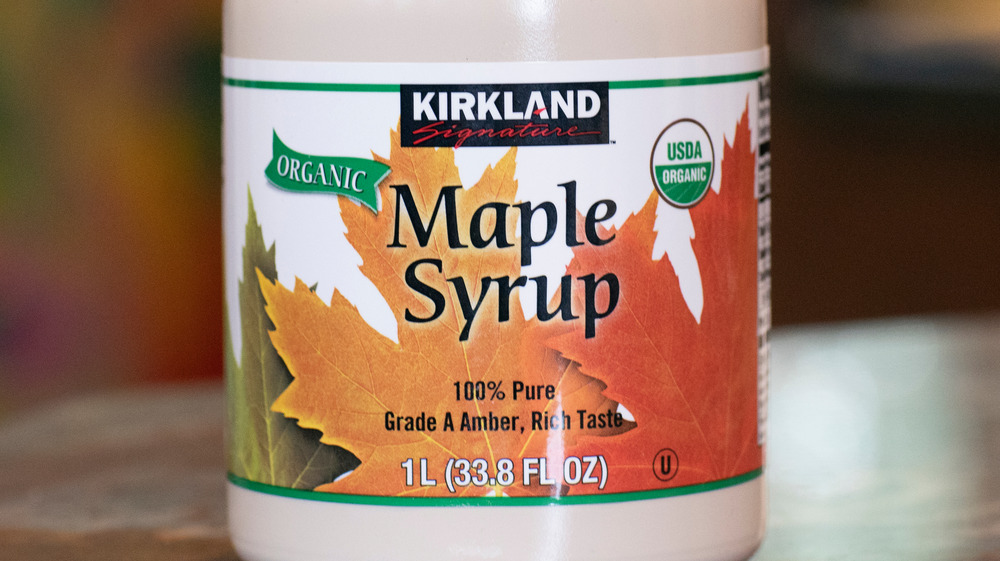 Shutterstock
The famous warehouse club has been saving members some serious moolah on all sorts of items since its founding in 1983 in Seattle (via Costco). Although known for its really low prices on bulk items, the secret weapon behind Costco's success is actually its in-house, private merchandise brand Kirkland Signature. From animal crackers and alcohol to toilet paper and tennis shoes, Kirkland Signature offers a cheaper alternative to many name brand products, and in some cases, these alternatives are actually better than the brand name originals. According to MoneyWise, Kirkland "has set the gold standard for in-house private label brands" with items that are "affordable and high-quality, sourced from rigorously vetted suppliers."
So what Kirkland Signature items are worth buying? MoneyWise rounded up the top 20 Kirkland Signature Items at Costco. At number one was extra virgin olive oil. Just behind that was maple syrup. Money agrees, and included Kirkland organic maple syrup in its list of the top ten best Costco brand products. Here's why its maple syrup is such a Costco bestseller.
Kirkland Signature maple syrup is the real deal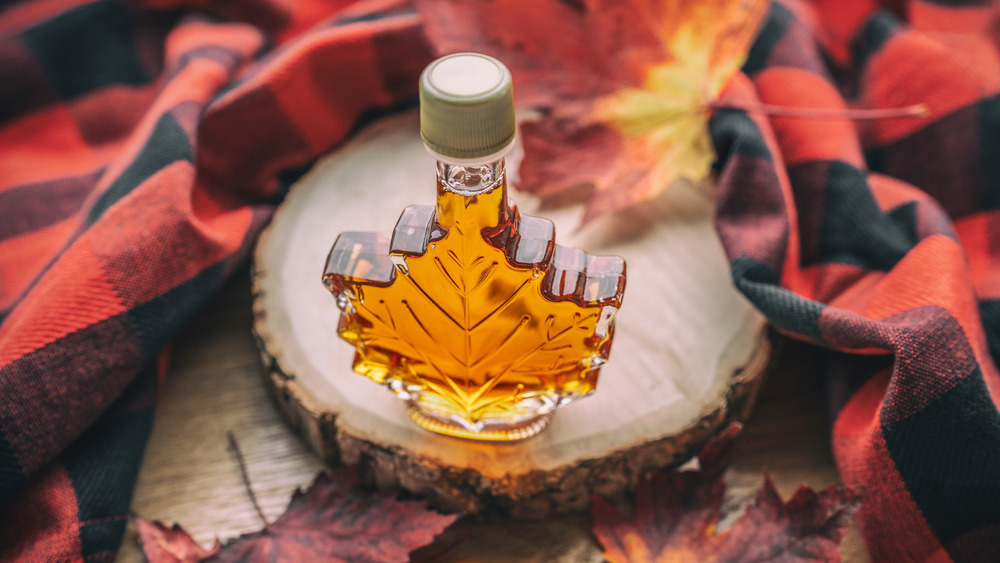 Shutterstock
What makes Kirkland Signature maple syrup so great? It's made from real maple syrup, the kind that comes from maple tree sap, not the highly processed corn syrup — or worse high fructose corn syrup — that's found in many other pancake syrups. Kirkland Signature's version is USDA organic and 100 percent Grade A Amber Rich (via Costco).
According to Consumer Reports, Kirkland Signature maple syrup "delivered good value and flavor," and Money reports that a comparison put out by Consumer Reports had Kirkland, the least expensive option, outperforming the priciest option. To top it all off, the syrup was awarded with the title of first runner up in an Epicurious test of 13 brands of maple and pancake syrups, too. 
Real maple syrup is pricey, but at Costco prices, you can afford to grab a liter or two. This means you'll have plenty for your breakfast needs, whether you like your maple syrup over pancakes, waffles, bacon, sausage, oatmeal, yogurt, or even your coffee. Heck, why limit yourself to breakfast? Use it as a glaze for cooking protein, over your ice cream, or anytime you need to add sweetness without sugar. Just be sure to store the maple syrup properly by putting it in the fridge or freezer.