The Surprising Amount Of Money This 80-Year-Old Whiskey Could Sell For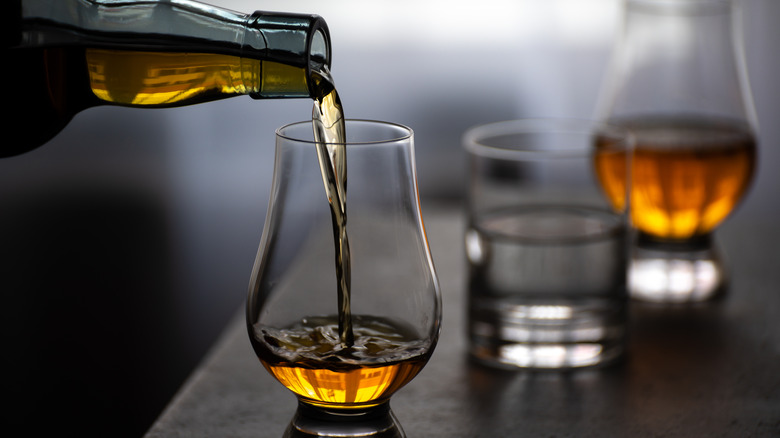 barmalini/Shutterstock
For scotch collectors and enthusiasts, it won't come as a surprise that rare whiskies can fetch pretty hefty price tags. In 2018, Food & Wine reported that a 75ml bottle of The Macallan Valerio Adami, a 60-year-old whiskey, sold for a little over $1.1 million — the most expensive bottle of whiskey to ever have been sold at the time. Then, in 2019, another Macallan was auctioned off at Sotheby's in London for $1.9 million, Food & Wine reports.
The price at which rare whiskeys are being auctioned off is only increasing. Speaking to CNBC, Andy Simpson, co-founder of Rare Whiskey 101, speculates that part of the reason for this is a renewed interest in rare whiskies caused by the success of crafts spirit across the world, particularly Japanese whiskey.
In 2020, Macallan announced that another 78-year-old scotch, branded as the "longest-aged scotch" at the time, was ready for auction (via Food & Wine). However, that title has now gone to another 80-year-old whiskey that will be up for public auction in Hong Kong this October.
The bottle is "the oldest single malt Scotch whisky ever bottled"
Sotheby's announced that they will be auctioning the first decanter of an 80-year-old whiskey made by Gordon & MacPhail, a UK-based distiller of Scotch Whisky, on October 7 (via Barrons). It is the oldest single malt scotch to be bottled as of now, and has matured in an oak cask since 1940. In 2020, makers of the whiskey decided to bottle it in a decanter and brought architect and designer Sir David Adjaye on board to design a new oak case for the scotch.
Food & Wine estimates that the first decanter, called "Decanter #1," will be sold for anywhere between $100,000 to $200,000, possibly more. The buyer of the prized whiskey gets the decanter, a whiskey tasting in London with Adjaye, a signed lithograph of the bottle design, as well as a framed cask head in which the whiskey was aged.
"Maturing a single malt Scotch over eight decades is an art, similar in many ways to architecture where you are creating something that needs to stand the test of time," Ewen Mackintosh, managing director of Gordon & MacPhail, said in a statement.
In addition to "Decanter #1," Gordon & MacPhail are also going to release 249 additional decanters of the 80-year-old whiskey. However, those decanters won't come with as impressive a goodie bag as the first one.