We Tried Krispy Kreme's Pumpkin Spice Donuts: Here's What You Need To Know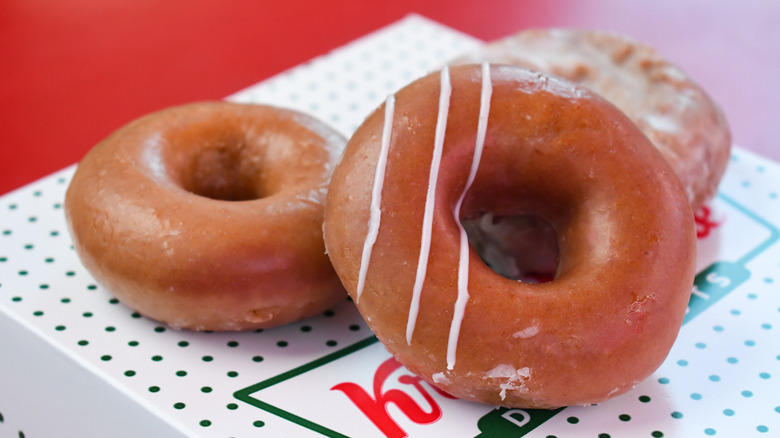 Jenny Kellerhals/Mashed
Krispy Kreme has joined the pumpkin spice club again this year and is now offering three pumpkin spice flavored doughnut options for a very limited time. As of on Monday, September 6, you can lay your hands on limited-edition seasonal doughnuts that include Pumpkin Spice Original Glazed, Pumpkin Spice Original Filled Cheesecake, and Pumpkin Spice Cake Doughnuts, for one week only. Whether you adore everything pumpkin spice, are a loyal Krispy Kreme fan, or both — you're going to want to check these doughnuts out.
Krispy Kreme has been making a pumpkin spice doughnut since 2016 but has always offered it for a very short period of time, with its first appearance only lasting for a single day (via Refinery29). So we woke up bright and early on Monday morning to grab a box of these limited seasonal delights, taste them, and let you know what you're in for. 
This year, Krispy Kreme is launching a new doughnut flavor collection every week for three weeks. The first week it's Pumpkin Spice. The second week is Apple Cider, and the third week is maple-flavored doughnuts. Read on for the full scoop on this first fall flavor release.
The different pumpkin spice doughnuts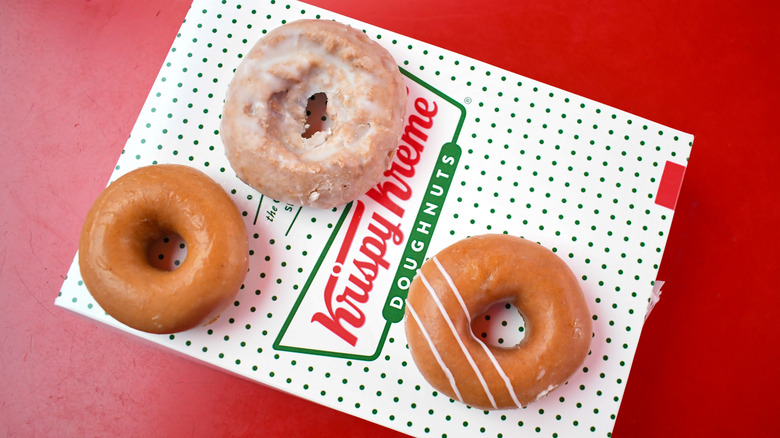 Jenny Kellerhals/Mashed
While some people have been fighting the pumpkin spice battle in the coffee arena for many years, the phenomenon has been making its way into our foods over the past few years as well. There are also those who have strong opinions about cake versus yeasted doughnuts, which is an argument for another day. But with the limited edition release of the Pumpkin Spice collection of doughnuts, Krispy Kreme is here to satisfy all of the Pumpkin Spice lovers, as well as cake and yeasted doughnut lovers alike.
Each of the three doughnuts is glazed with the same classic Krispy Kreme glaze because there's really no topping closer to perfection. It's the dough itself that's Pumpkin Spice flavored. The Original Glazed doughnuts that we all know and love have been altered just slightly with subtle spices and pumpkin flavors, tinted with caramel color, and voila! Now they're pumpkin spiced. The adaptation isn't very extreme, but it's a tasty little nod to the changing seasons and a comforting treat for those who enjoy the flavors of cinnamon, ginger, clove, and nutmeg.
Each doughnut is slightly different, to appeal to a broad range of people. The Original Glazed version is probably the safest bet and will appeal to most people, whether or not you're a fan of pumpkin specifically. The cheesecake Kreme-filled doughnut is a little sweeter for those who lean into frosting style desserts, and the glazed cake doughnut is the sweetest and strongest of them all.
Price and availability of the pumpkin spice doughnuts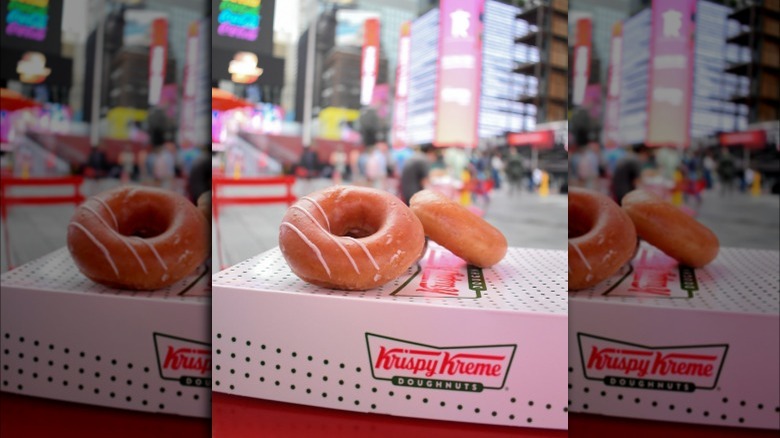 Jenny Kellerhals/Mashed
Since these doughnuts are so special, they aren't being offered in every Krispy Kreme location. While Krispy Kreme hasn't said definitively which stores will be selling them in the U.S., they've added a search feature to the Krispy Kreme website to help you find a participating doughnut shop near you. When you enter a city, state, or zip code, you are given the ten closest participating shop options to choose from. Some stores are selling all of the featured doughnuts, while others are only offering one or two flavors. The website also mentions that there are participating stores in Canada as well as the U.S., but the Canadian stores are not currently listed in the store search. The pumpkin promotion only lasts through September 12, 2021, at which point you'll probably have to wait until next year for the pumpkin spice doughnut flavors to be available again.
Prices also vary depending on location, but we found the Pumpkin Spice Original Glazed doughnut available from $1.49 to $2.29. The Pumpkin Spice Original Filled Cheesecake doughnut ranges from $1.69 to $2.39 by location. And the Pumpkin Spice cake doughnut ranges from $1.49 to $2.29 by location as well. Prices seem to be higher in larger and more popular locations like Times Square in New York City. The doughnuts are also sold by the dozen, either with the Pumpkin Spice Original Glazed doughnuts alone, or a mix of all three doughnuts. Both sets of doughnuts are discounted when sold by the dozen.
How they compare to your favorites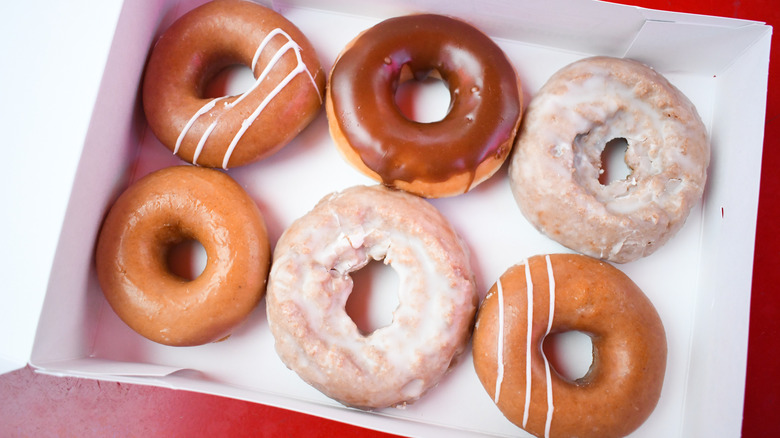 Jenny Kellerhals/Mashed
For almost all of the new seasonal doughnuts, there's a comparable staple menu item from Krispy Kreme. The most popular Krispy Kreme doughnut is, of course, the Original Glazed doughnut — the stuff of fluorescent Hot Now sign dreams. The soft pillowy doughnuts straight off the conveyor belt basically melt in your mouth as the warm glaze glistens on the doughnut. It's what sets Krispy Kreme apart from the competition, and arguably foundational to what Krispy Kreme does. The pumpkin spice version of the Original Glazed doughnut stays true to the simplicity of the classic doughnut, with few frills and a delicate glaze.
The Original Filled doughnut is a more recent addition to the Krispy Kreme lineup, taking a spot on the permanent Krispy Kreme menu in June of 2019 (via Thrillist). They're basically original glazed doughnuts that have been injected with either regular Kreme or Chocolate Kreme filling. The pumpkin spice version takes the Pumpkin Spice Original Glazed doughnut and injects it with a cream cheese Kreme for a cheesecake style taste, but the whole thing very closely resembles the regularly filled doughnuts.
While the cake doughnuts at Krispy Kreme aren't as popular as the yeasted doughnuts, there are a few that have been on the menu for ages. There are the Glazed Sour Cream Cake doughnuts, the Glazed Chocolate Cake doughnuts, and the Glazed Blueberry Cake doughnuts, which are available in select shops year-round. The Glazed Pumpkin Spice Cake doughnut is a nice addition to the small, but delicious cake doughnut lineup.
The nutrition breakdown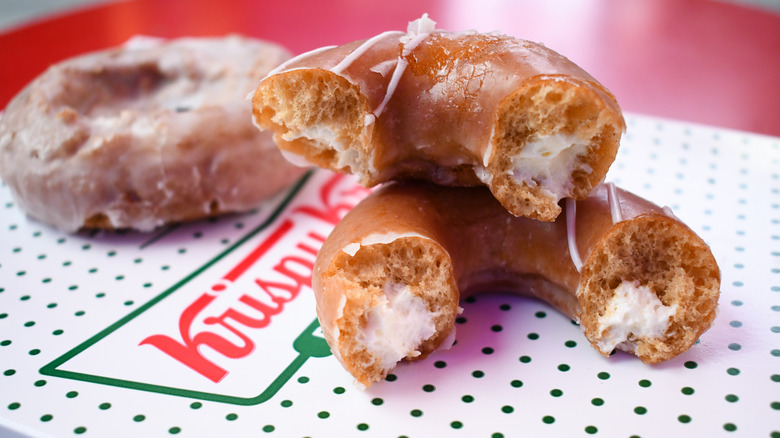 Jenny Kellerhals/Mashed
We're just going to warn you in advance that the ingredient lists for these doughnuts are long, and we don't know what some of the ingredients actually are without a lot of research. With that said, we're probably going to eat the doughnuts anyway. So instead of obsessing over the convoluted ingredients list, we're taking a look at the general nutrition facts to see how to fit as many of these treats into our diet that we can.
The Pumpkin Spice Original Glazed doughnut has the least amount of calories in the bunch, coming in at 190 calories per doughnut, and 100 of those calories are from the 11 grams of fat. But on the upside, there are at least three grams of protein per doughnut. Next, is the Pumpkin Spiced Original Filled Cheesecake doughnut, which clocks in at 260 calories per doughnut. It's got 14 grams of fat and 30 grams of carbohydrates, but also includes the same three grams of protein as the original glazed. Finally, the Glazed Pumpkin Spice Cake doughnut is another step up, counting a total of 290 calories, with 14 grams of fat, 39 grams of carbohydrates, and only two grams of protein. Interestingly enough, none of these doughnuts claim to be made with pumpkin or any specific spices, only "natural and artificial flavors" and "caramel color".
Our final verdict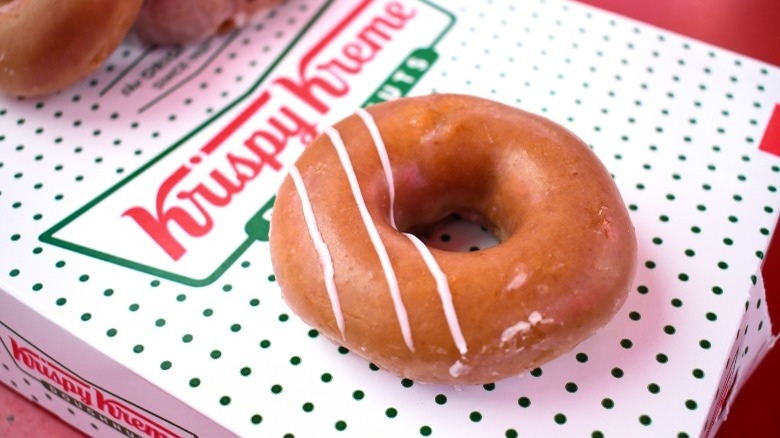 Jenny Kellerhals/Mashed
We think these doughnuts are a nice little addition to your fall dessert lineup, although given how little nutritional value they have, we're going to try to pace ourselves. If you can only try one, we'd recommend going for the classic Pumpkin Spice Original Glazed doughnut. It's everything we love about a classic Krispy Kreme doughnut, with a little extra spice, very little pumpkin flavor, and reasonable portion size. The Original Filled version of the doughnut also appealed to us, because the cheesecake filling is light and fluffy, tasting more like whipped cream cheese frosting than dense cheesecake. It's a sweeter choice, but it's just as easy to eat as the regular glazed doughnut. You might need to be a cake doughnut lover to enjoy the Pumpkin Spice Cake doughnut because it's a little heavier and substantially sweeter, but the spice combination in the dough is still very pleasing.
Krispy Kreme is also offering a Pumpkin Spice Latte, available in hot, iced, and frozen if you just can't get enough of the seasonal favorite. But we'd suggest maybe taking a look at the Cinnamon Bun Latte for a taste that no one else is offering, or maybe just a plain coffee for a little bit of doughnut dipping.