Wienerschnitzel Fans Won't Want To Miss This Chili Dog Deal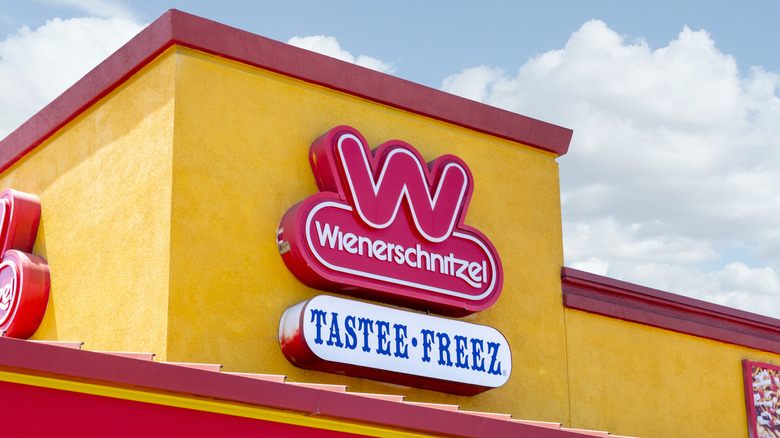 TonelsonProductions/Shutterstock
Hot dogs are one of America's favorite foods, as concluded by the National Hot Dog and Sausage Council (via Newsweek). Sure, you might want to acknowledge the possibility that the organization could be slightly biased in favor of these ubiquitous, smoky, sausage-y delights. However, there's no denying that this past summer, hot dogs have had a particularly strong hold on the nation's attention, with celebrity chefs offering their opinions on the hot dog vs. sandwich debate and Guy Fieri combining hot dogs with apple pie for a baseball game in August. 
And let's not forget that July was National Hot Dog Month, while July 21 was National Hot Dog Day. In celebration of the fun, fast food hot dog spots offered juicy deals on franks. One of those was Wienerschnitzel, which has stores in just 11 states but sells 120 million hot dogs per year, according to its website. If you missed out, don't worry: On September 9, Wienerschnitzel will return with another sweet deal on dogs, per a press release issued by the chain.
Hot diggity dog, this is one "chil" deal
This coming Thursday, September 9, Wienerschnitzel will ring in National Wienerschnitzel Day with an offer that fans of their famous chili dogs won't want to miss: One free chili dog with any purchase, according to a press release. The most popular item on the Wienerschnitzel menu, the dogs come topped with a secret-recipe chili sauce and with your choice of a steamed standard or pretzel bun (via Wienerschnitzel). Customers can also select an original, all-beef, or Polish-style hot dog wiener.
How do you get in on the chili dog fun? All you have to do is present the coupon found on the Wienerschnitzel website when placing your order at a participating location. Print it out at home or have an employee scan the QR code from your phone, and you'll get a free chili dog with your bacon Ranch chili cheese fries, chili cheese jalapeño poppers, chili cheeseburger, or any chili or non-chili creation your heart desires.