National Hot Dog Day 2021: Where To Get The Best Food Freebies And Deals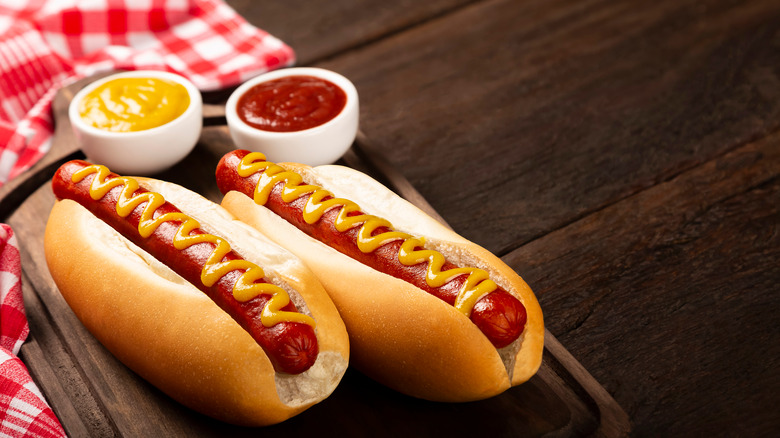 Shutterstock
Hot diggity dog. It's National Hot Dog Day. Whatever you call them — weiners, frankfurters, weenies, dogs, pups — hot dogs are a quintessential summer dish. The North American Meat Institute established National Hot Dog Day in 1991. Then, when it was launched in 1994, the National Hot Dog and Sausage Council took over responsibility for promoting the annual celebration. The one-day homage to the hot dog takes place each year in July to coincide with National Hot Dog Month, established in the 1950s (via Checkiday).
As Farmers' Almanac points out, frankfurter wurstchen ("little sausage") originated in 13th-century Germany. We've come a long way, baby. Now, 21st-century hot dogs come in dozens of varieties — beef, pork, turkey, chicken, tofu, organic. A bit of trivia via Farmers' Almanac: Mustard is the most popular hot dog topping. Between Memorial Day and Labor Day each year, Americans eat approximately 7 billion hot dogs. Whether you're a mustard-only purist or a pile-on-the-toppings gourmand, there's a free frankfurter in your future as restaurants around the country celebrate the ubiquitous tube steak.
Where to get major hot dog deals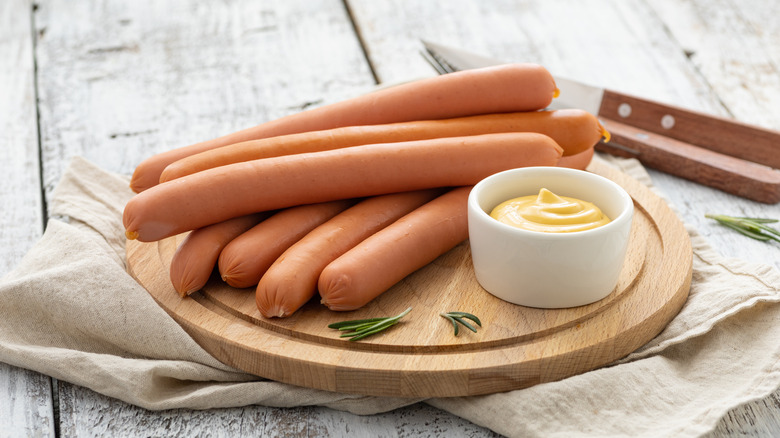 Shutterstock
Per People, 7-Eleven is celebrating through the end of the month, offering its Quarter-Pound Big Bite beef hot dogs for $1 through July. But wait. There's more. In addition to traditional toppings like mustard, relish, and ketchup, 7-Eleven is throwing in a smorgasbord of free toppings including hot chili, melted cheese, onions, diced tomatoes, pickles, mayonnaise, sauerkraut, jalapeños, salsa, and pico de gallo, per the company.
Also on the weiner wagon, Auntie Anne's is teaming with McAlister's Deli to offer a limited-time celebration in the form of a bite-sized hot dog wrapped in pretzel dough ($2.99 for three, at McAlister's). Meanwhile, Nathan's Famous is selling hot dogs for 5 cents from 11 a.m. to 2 p.m. at participating locations on July 21. Newsweek reports Wienerschnitzel is offering five chili hot dogs (original chili dogs only; no substitutions or add-ons) for $5 at participating venues, and Dog Haus is giving away a free Haus Dog with pick-up and delivery orders placed via its app.
Yes, there will be free hot dogs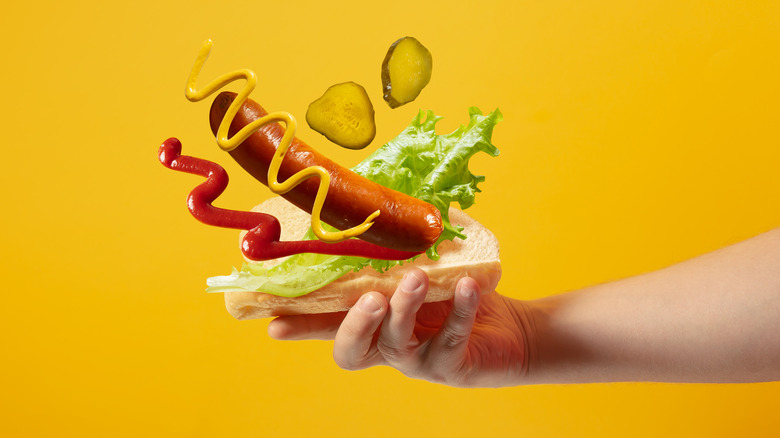 Shutterstock
Even regional chains are getting in on the action. Delish reports Circle K is offering $1 hot dogs through July 23 at participating locations. Hot Dog On A Stick's deal comes with a twist: Instead of a traditional pup, they're celebrating with free Original Turkey Dogs on National Hot Dog Day and offering $1 Turkey Dogs on Tuesdays through July. 
Pilot Flying J fans get a free Oscar Mayer hot dog when they order via the myRewards Plus app. RaceTrac is giving away free Nathan's Famous hot dogs through July 31 at participating locations. Prefer meatless pups? 
According to Today, get Field Roast's Signature Stadium Dog free with the purchase of any two Field Roast items at Sprouts locations nationwide through August 31. How about celebrating at home? Newsweek says Teton Waters Ranch is offering 20% off online orders through July 31. Use code NATLHOTDOGDAY20. Last but not least, according to Thrillist, through July 18, spend $25 on select Applegate products (including hot dogs) on Instacart and get $5 off your order or free delivery.