Here's Where Whole Foods Is Launching Its First Cashierless Stores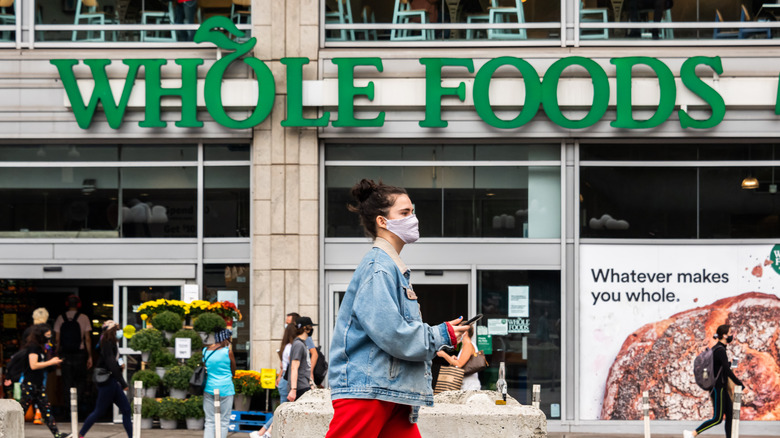 Noam Galai/Getty Images
We all know the worst part about grocery shopping is the long lines. Those have only gotten worse during the pandemic, with labor shortages at restaurants and stores and so many more of us cooking meals at home. You may have to wait just to get into supermarkets, then stand in more queues to pay. The logistics of a trip to the store have just gotten more complicated, and they can be even more daunting depending on how many people you're shopping for, how many times a week you have to go, and other factors.
Despite all of Whole Foods' scandals, the store has made efforts to improve the customer experience. That's been especially true since Amazon bought Whole Foods in 2017 (per Business Insider) and began applying its signature low-effort, high-speed online shopping experience to the grocery store chain. Recently, Amazon has been working on a futuristic way for customers to pay at Whole Foods — a way that involves no lines. That's right, customers will be able to fill their carts and walk out the door, having paid without standing in a lengthy queue. According to CNBC, this game-changing way of shopping will hit two Whole Foods locations in 2022.
Cashierless Whole Foods stores are coming to Washington, D.C. and California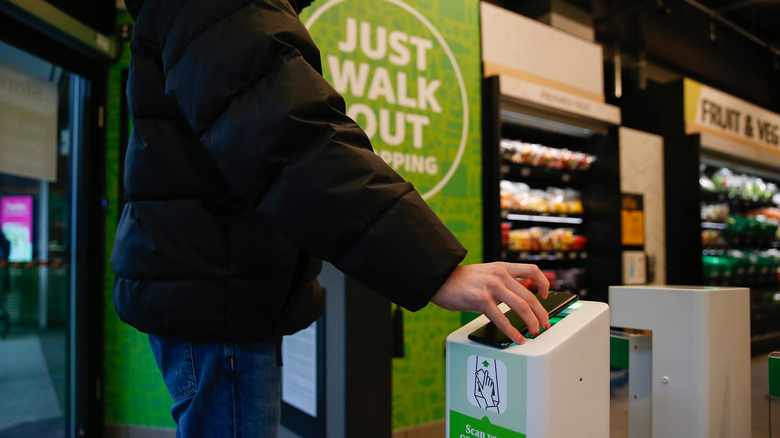 Bloomberg/Getty Images
Amazon's cashierless grocery store system is called Just Walk Out, CNBC reports. To enter a participating store, customers can scan an app, insert the credit or debit card linked to their Amazon account, or even hover their palm over a scanner, a contactless bit of technology dubbed Amazon One, according to the website. From there, cameras and sensors track what shoppers take and automatically charge their accounts. You might find Just Walk Out familiar since Amazon has already introduced the service at some of its Go Grocery and Amazon Fresh stores, according to a press release. By rolling it out at Whole Foods, however, Amazon is bringing this quick and easy style of shopping to the greater public, CNBC writes. (Of course, if you're not into a totally human-less experience, you can still use the self-checkout or customer service counters.)
So where is Amazon bringing this technology next? Whole Foods locations in Washington, D.C. and Sherman Oaks, California are currently under construction and will open in 2022 with the cashierless system in place. Amazon describes the plan on its blog and points out that employees will be available at entrances and throughout the stores to help. Next year, we'll see the beginning of entire stores geared toward helping shoppers get in, get what they need, and get on with their lives faster and easier than before.