Quick Hibachi Fried Rice Recipe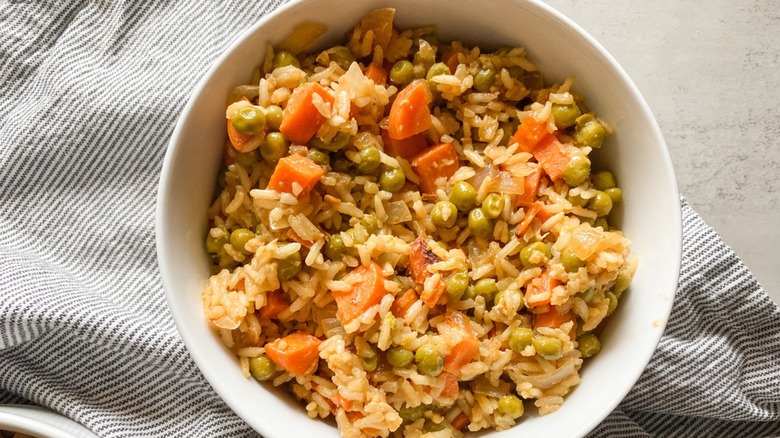 Kristen Carli/Mashed
Have you ever eaten at a hibachi restaurant such as Benihana and enjoyed the drama as your knife-twirling chef whipped up an amazing meal while you watched from your front-row table-side seat? While the main attraction on your dinner plate was likely grilled steak, chicken, or shrimp, your chef probably also sliced and diced some veggies and worked a little magic with rice and egg to provide you with delicious fried rice.
It's this type of hibachi restaurant-style fried rice that provided the inspiration for recipe developer Kristen Carli's latest dish. No need for a tabletop grill to cook this simple side, nor will you need ninja-like knife skills. All you need is an ordinary frying pan and spatula, plus a standard knife and cutting board to prepare the vegetables. While the technique involved in making this fried rice may not be too flashy, don't worry. What the dish lacks in drama, it more than makes up for in flavor.
Gather the ingredients for this hibachi fried rice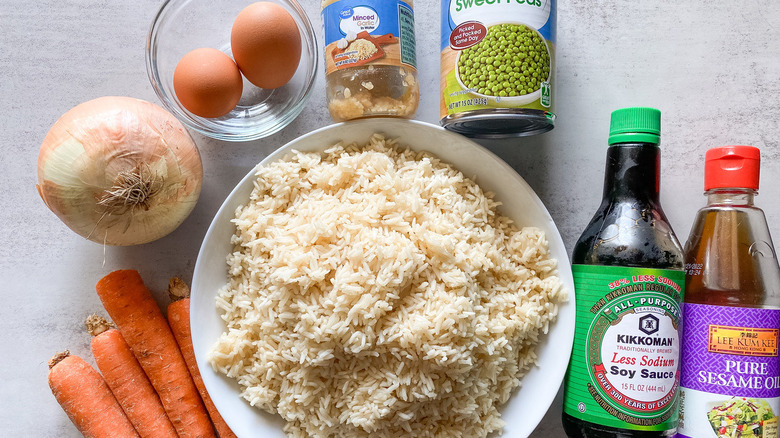 Kristen Carli/Mashed
Check your pantry for a bottle of olive oil. If you don't have any, add that to the list. You'll also need to shop for a yellow onion, some fresh garlic, a few carrots, and a can of sweet peas. Not a fan of canned peas?  "Frozen peas work well here, too," says Carli. You'll also be needing white rice, soy sauce, sesame oil, and a couple of eggs.
As Carli points out, though, you can always add more veggies to this fried rice if you wish. "As a registered dietitian," she notes, "I'm always in favor of more vegetables." Baby corn, broccoli, and green onions are some of the additions she suggests for this dish.
Start by cooking the rice and prepping the veggies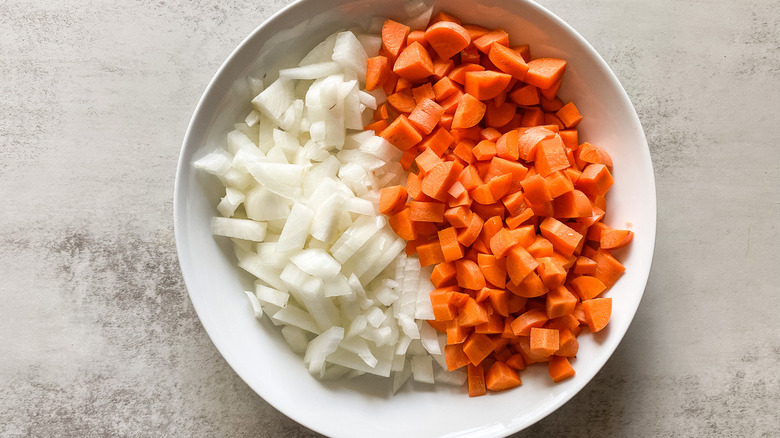 Kristen Carli/Mashed
Unless you are in the habit of keeping cooked rice on hand, which may not be a good idea due to the food poisoning hazard this might pose, you'll need to cook some rice prior to making this recipe. Pour 1 ⅓ cups of rice into a small saucepan with a lid, then stir in ⅔ cup of rice. Bring the water to a boil, then turn the heat down to the lowest setting, cover the pot with a lid, and simmer for 17 minutes until all of the water has been absorbed. Fluff the rice with a fork, then let it cool before you use it to make the fried rice. If you use still-warm rice, it will tend to clump up and won't break apart nicely like cooled rice will.
As you're waiting for the rice to cool, prep your veggies. If you haven't already, peel and dice the onion, peel and mince the garlic, and peel and slice the carrots. While you could skip the carrot-peeling step, be aware that the peel does have a slightly bitter taste that might detract from the finished dish. If you'll be using canned peas, go ahead and drain them, but if you plan to use the frozen kind, there's no need to thaw them before adding them to the fried rice.
This fried rice comes together in a flash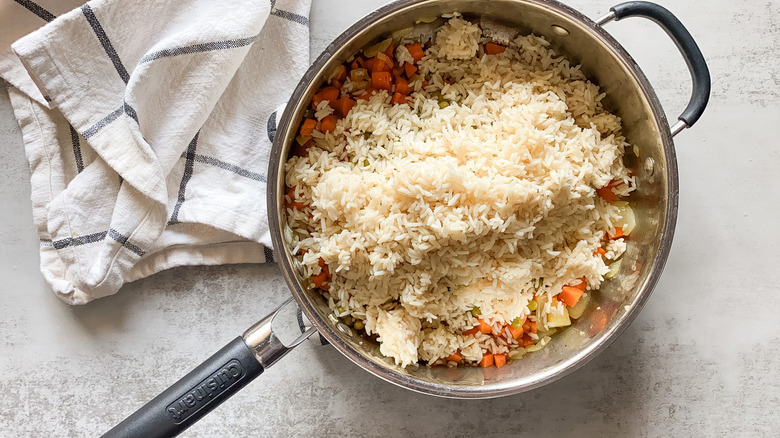 Kristen Carli/Mashed
Once your rice is cool and your veggies are ready to go, add the olive oil to a large skillet and turn the stove to medium heat. Add the onions, garlic, and carrots to the hot oil and sauté these vegetables for about five minutes, at which point the onion should start to look translucent. Stir in the peas, rice, soy sauce, and sesame oil, then crack both eggs over the top of the rice mixture. Stir the eggs into the other ingredients, then continue to stir as you heat the fried rice for five more minutes until the eggs are thoroughly cooked.
Add some additional protein to turn this fried rice into a complete meal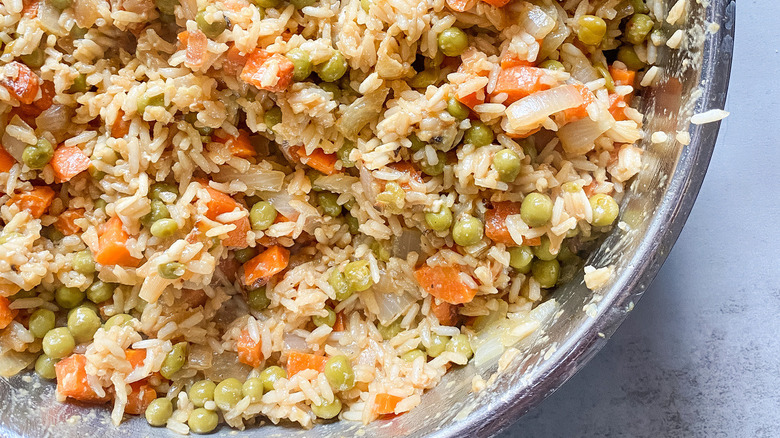 Kristen Carli/Mashed
Although this fried rice does contain some protein from the eggs, half an egg per serving doesn't really make for a complete meal so we'd consider this to be a side dish. If you'd like to convert it into a one-pot meal, though, that can easily be done. As Carli notes, "You can also add chicken, shrimp or tofu [to this hibachi fried rice] for more protein." While she says, "I love this on its own," she also mentions that she has "added Trader Joe's marinated teriyaki tofu cubed up for an easy protein." Yum!
Quick Hibachi Fried Rice Recipe
If you love hibachi-style restaurants, you'll dig this fried rice, which you can whip up in minutes. For a more filling meal, add tofu, chicken, or shrimp.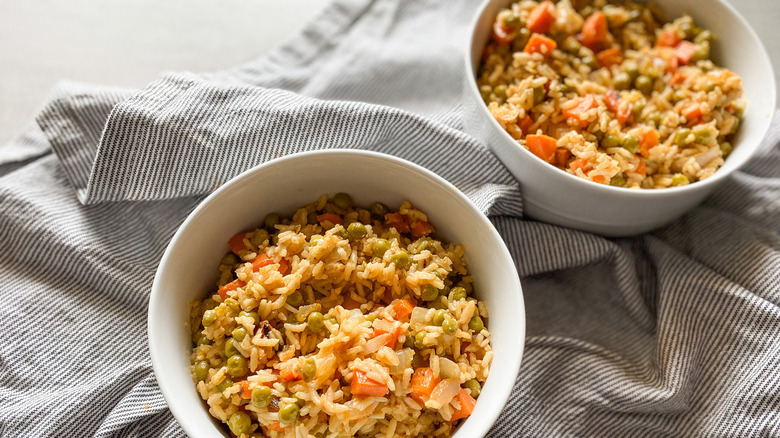 Ingredients
1 tablespoon olive oil
1 yellow onion, diced
1 teaspoon garlic, minced
1 cup carrots, peeled and diced
1 (15-ounce) can sweet peas, drained and rinsed (or 2 cups frozen peas)
2 cups cooked white rice
2 tablespoons soy sauce
1 tablespoon sesame oil
2 eggs
Optional Ingredients
baby corn, for added vegetables
broccoli, for added vegetables
green onions, for added vegetables
chicken, for added protein
tofu, for added protein
shrimp, for added protein
Directions
Add olive oil to a large skillet over medium heat.
Once the oil is hot, add onion, garlic, and carrots, and sauté for about 5 minutes or until the onion is translucent.
Stir in the peas, rice, soy sauce, and sesame oil into the sautéed onions.
Crack both eggs over the rice and stir well.
Cook the fried rice, stirring, for about 5 more minutes until the eggs are done.
Transfer to bowls and serve.
Nutrition
| | |
| --- | --- |
| Calories per Serving | 324 |
| Total Fat | 9.6 g |
| Saturated Fat | 1.8 g |
| Trans Fat | 0.0 g |
| Cholesterol | 80.0 mg |
| | |
| --- | --- |
| Total Carbohydrates | 47.7 g |
| Dietary Fiber | 6.5 g |
| Total Sugars | 8.2 g |
| Sodium | 607.3 mg |
| Protein | 11.8 g |