TikTok Is Freaking Out Over This Life-Size Cake Of Jason Derulo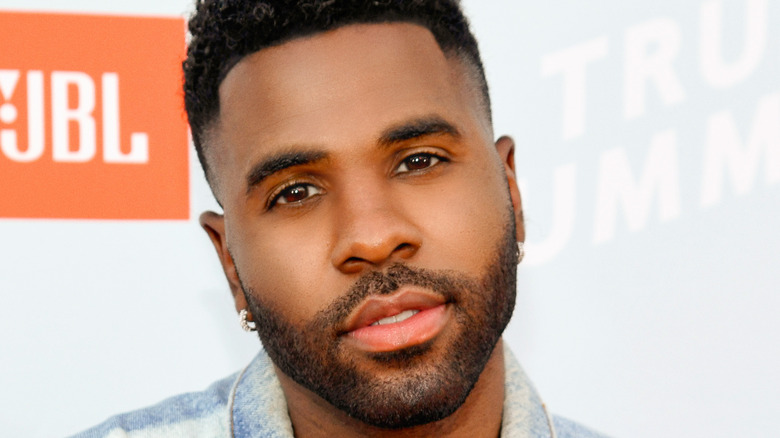 Kevin Mazur/Getty Images
Buddy Valastro and Duff Goldman have been stunning the food world with their amazing cakes for years on their respective television shows, "Cake Boss" and "Ace of Cakes," as well as their Food Network competition series "Buddy vs. Duff." The third season of the intense bakeoff alone saw the pair create some impressive, viral-worthy confections, including a ghostly pirate ship and an incredible architectural wonder. Therefore, it may come as a bit of a surprise that the latest cake to break the internet wasn't produced by the "Cake Boss" or his longtime rival, but rather TikToker @lara_cakeanything, a.k.a. Lara Mason, who certainly lived up to their social media handle when they created a life-size cake of singer Jason Derulo that's taking social media by storm (via The Awesomer).
A now-viral video posted to Mason's TikTok account showed the baker receiving a phone call from a client that requested a life-size cake of their own likeness. After agreeing to the massive project, Mason asked the caller to reveal their identity, which is when they found out that it was the "Savage Love" singer on the other side. With his latest single "Acapulco" playing in the background, the TikTok video then went into a montage of Mason making the cake, which started off with various flavors of sponge cakes stacked in a shape resembling Derulo sitting on top of a counter before the additions of frosting, fondant, and some impressive sculpting techniques that really brought it to life.
TikTokers love the detail in this life-size Jason Derulo cake
The above photo shows the final life-sized Jason Derulo cake by baker Lara Mason, who goes by @lara_cakeanything on TikTok, and to say we're impressed is an understatement. Naturally, several other users of the social media platform were in awe of the creation as well and were hardly shy about showing their admiration for the finished treat. The clip has received nearly 4 million likes and thousands of comments, including one from Derulo himself, who posted the exploding head and praying hands emoji to seemingly express that his mind was blown.
"OH MY GOD THE DETAIL," one user commented, while another declared that the massive baked good was "art, not cake." A follow-up video from Mason showing them standing cheek-to-cheek with their cake also received plenty of praise, including one fan that said the baker is "so talented." However, this is hardly the first time that Mason has dazzled the internet with their cake creations. Per The Drive, the famous TikToker has fashioned several incredible cakes resembling cars like the Land Rover Defender, as well as pop culture figures like Baby Yoda, Harry Potter, and pop star Billie Eilish. We don't know about you, but we're officially hooked on the British baker's TikTok videos, and can't wait to see what — or who — they'll be cake-ifying next!