Twitter Can't Believe This Pirate Cake Didn't Win On Buddy Vs Duff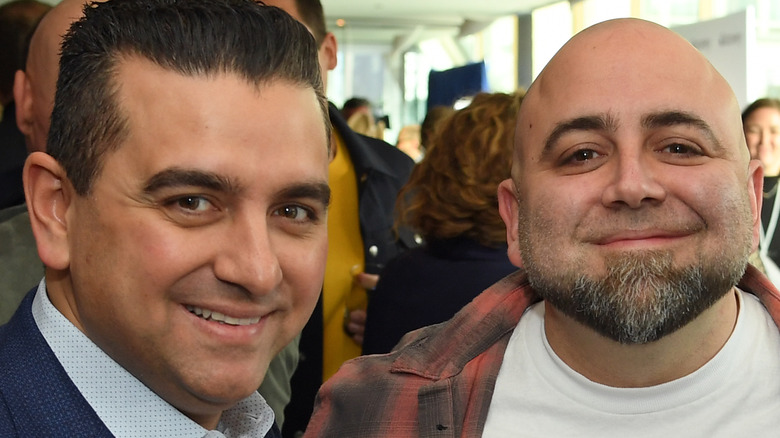 Mike Coppola/Getty Images
If there's anything pop culture loves, it's picking sides. Whether it's team Edward or team Jacob, Marvel or DC, Coke or Pepsi ... you get the idea. Well, the same can be said for Food Network's "Buddy vs Duff," where two of the most beloved pastry chefs on TV face off in week-to-week challenges. While it's all in good fun, it doesn't stop viewers from debating the winner of each episode's competition — even when the on-screen judges have already ruled.
Last week's pirate-themed episode of course saw both teams put together out-of-this-world creations. Despite the officially chosen winner, Twitter users couldn't help but share their disappointment in the outcome. After the episode aired and both chefs shared up close photos of the details and design of their cakes, fans were quick to comment in defense of the runner-up, believing that he should have been the rightful champion of the week's contest.
Fans believed Duff Goldman's cake was better
While the judges ruled in favor of "Cake Boss" star Buddy Valastro, most fans seemed to think Duff Goldman's cake was the clear winner. Valastro created a nearly life-sized shipwreck cake showing a cartoon shark biting at the feet of a pirate captain (via Twitter). Goldman, on the other hand, chose to make a ghost ship cake with spooky skeletons and stunning details. In his tweet sharing the ship, Goldman wrote, "I seem to mention this every week, but the details are insane on this cake." Fans flooded the replies to Goldman's tweet, writing straightforward responses like, "Your team was robbed. Your cake was better," or more pointed views like, "Two completely different styles, but once again, big and in-your-face wins."
While both cakes were undoubtedly amazing, fans seemed to think that Goldman's was the obvious winner because of the intricate details and careful design. One fan wrote, "It was an amazing cake!! I was floored! The ghost pirate ship was unbelievable in its incredible detail Duff! Astounding! Buddy's cake was cute, a cartoon come to life, but it was not even on the same level as yours." Ultimately, despite the disappointing outcome for some viewers, it's still pretty amazing to see what skill and creativity can be brought to life when it comes to the culinary arts. As Goldman wrote, "Even though the judges went the other way, I am so incredibly proud of this cake and team."