The Truth About Steven Sechoka From Halloween Baking Championship Season 7
Do you like scary food competition shows? Like, anything that Gordon Ramsay is in? If you do, then this must be your favorite time of the year. Food Network is set to kick off its seventh season of "Halloween Baking Championship" on Monday, September 13, according to the network's website.
Contestants will try to scare the living daylights out of the judges while pleasing their sweet teeth at the same time. We doubt anyone can top the demon-possessed cake Eddie Murphy made on a recent "SNL" sketch, but we're confident the 10 accomplished bakers selected for "Halloween Baking Championship" Season 7 will conjure the Halloween spirit — even if episodes were filmed sometime in the spring (via The Patriot Ledger).
Given the theme of this year's season, 1980's slasher movies, contestant Steven Sechoka might have advantage. According to Food Network, he's inspired by the genre, so he should feel right at home on a set the network is calling Camp Devil's Food Lake. (Jason, where are you hiding?)
As a pastry chef, Steven Sechoka combines his love for both art and cooking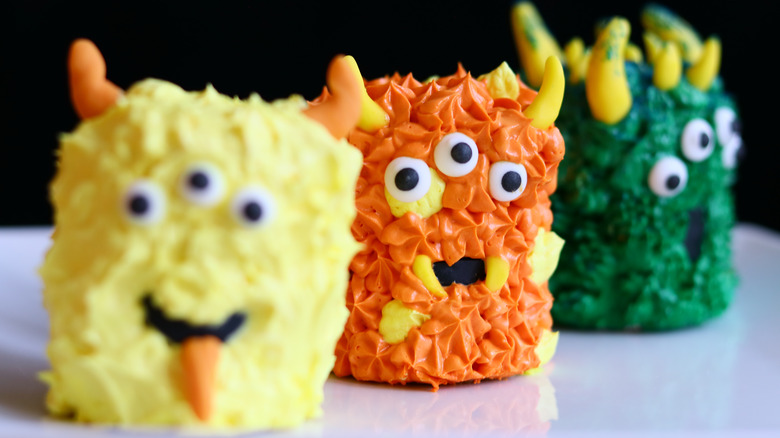 Alexandra Petromarkov/Shutterstock
Steven Sechoka, from Carver, Massachusetts, is starting a business called The Happy Confection with his wife, according to The Patriot Ledger. The bakery will offer marijuana edibles for people who eat sugar-free, gluten-free, or vegan. Sechoka graduated from high school in Carver, then went to the Culinary Institute of America in New York to get a bachelor's degree in pastry arts management (via LinkedIn). Sechoka worked as a pastry chef for Ritz-Carlton and Boston University, and more recently he was an executive chef for Aramark. He's worked in commercial kitchens since he was 15.
"My whole life I knew I wanted to be a chef or an artist and being a pastry chef, I can combine the two," Sechoka told The Patriot Ledger. "I've always loved food and I've always loved eating."
Sechoka didn't divulge a lot of details about his experience filming "Halloween Baking Championship," only saying it was "super-intense" and that the confections he came up with on the show were more about monsters than the traditional Halloween stuff. Sechoka said a "Halloween Baking Championship" producer called him to ask if he wanted to be on the show, and he was cast after completing some home-bake auditions. We don't know if Sechoka took home the $25,000 prize, but he told The Patriot Ledger he enjoyed meeting "really cool chefs from around the country."