The Truth About Panda Express's Secret Orange Chicken Burrito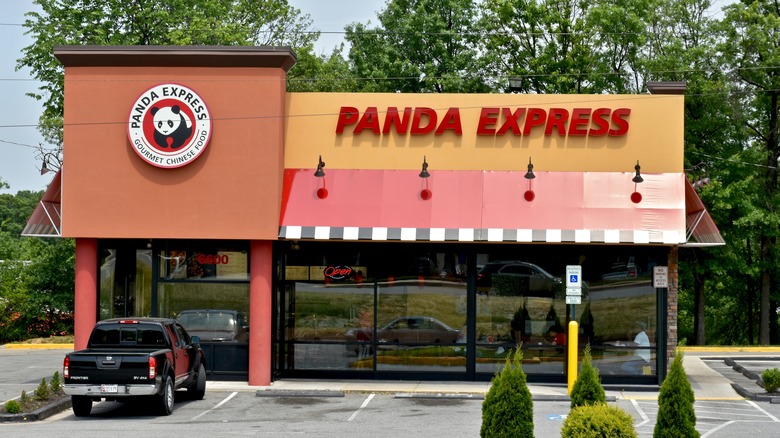 Jeramey Lende/Shutterstock
For as long as Panda Express has been around, they have been pushing the limits for what fast-food and Chinese takeout can look like. After all, this is the chain literally invented orange chicken, a dish that has since become their ultimate claim-to-fame with estimated annual sales of 70 million pounds (via Newsweek). So it should come as no surprise that it has its own Innovation Kitchen in Pasadena, California, where chefs offer unique dishes that combine the best of Panda's signature flavors with the latest food trends. 
While the location has put together numerous cool dishes like fancy salads and noodle bowls, the creation that's captured the attention of Panda fans all over the U.S. since it release in 2014 is the orange chicken burrito. According to Thrillist, the orange chicken burrito takes the famous Panda Express orange chicken and rolls it with other toppings inside a wrap for the ultimate fusion of flavor and convenience. But unfortunately, this orange chicken burrito, which is called the Orange Chicken Bing, is only available in Los Angeles.
Panda Express' orange chicken burrito takes fusion food to a new level
Even though this certainly isn't the first time an Asian-style meal has been transformed into a burrito-style wrap, the orange chicken burrito is an impressive feat of fusion food. For one, it's massive. A Los Angeles Magazine review of the item noted the scallion wrap is large enough to fit two entree's worth of chicken in a single wrap. 
It also comes with a swath of fancy fixings you won't find at other Panda Express locations. Per Panda Express' Innovation Kitchen menu, their signature orange chicken wrap features pickled cucumbers, crispy wontons, and fresh salad greens by default, though you can customize your order to make whatever quirky combination of veggies, sauce, starch, and protein your heart desires.
As for how it tastes, the menu gives the wrap a red chili symbol designation, which suggests it delivers on spice. For the record, this probably comes directly from the orange sauce, which contains hints of red chilis. According to one particular review from Food Insider on YouTube, Panda Express' burrito "takes their orange chicken game to the next level."
There are just four Panda Express locations that sell the orange chicken burrito
Despite the incessant asking by Panda Express fans all over the US (via ABC News), it doesn't seem like the Chinese-food chain has any plans to make their orange chicken burrito available nationwide anytime soon. And don't think you can waltz into a Panda Express location and have them make you the special burrito even though it's not listed explicitly on the menu. As Panda Express employees noted in the comments section of Food Insider's review on Youtube ror the special item, regular locations don't have the ingredients on-hand to make the burrito. 
To spare yourself the awkwardness of asking an employee for something they don't have, know that if you want to try the orange chicken burrito for yourself, you'll have to head to one of their Southern California locations that currently offers it. And if you absolutely can't wait, Panda Express has some tips for how to make it yourself (via Instagram).