The Truth About Panda Express' Innovation Kitchen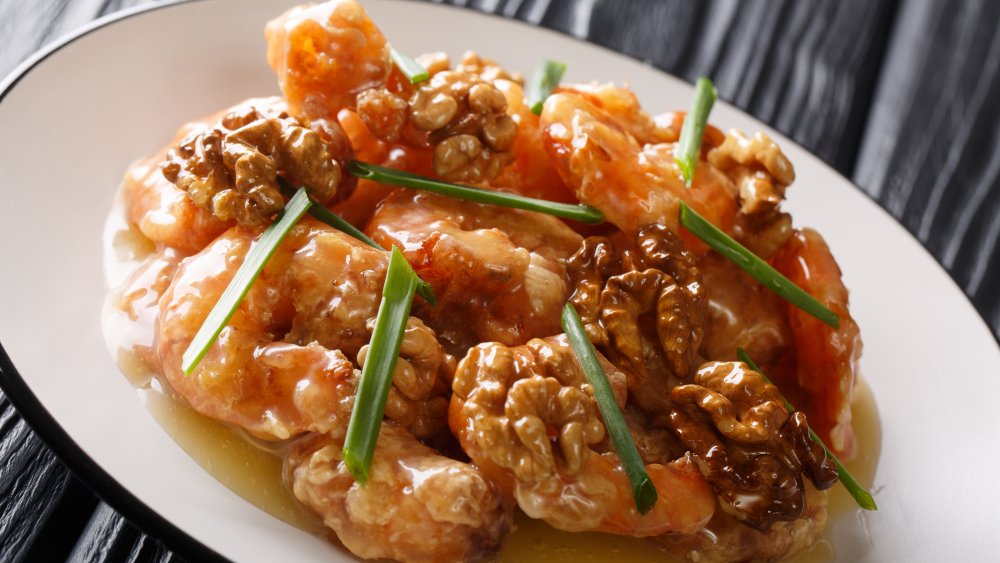 Shutterstock
As one might imagine, food-court fast-casual staple Panda Express debuted in a mall, the Glendale Galleria in L.A. to be exact. The restaurant's timeline explains that while the first outpost of Panda Express opened in 1983, it wasn't until 1987 that chef Andrew Kao introduced the chain's most iconic dish, a trademarked recipe for orange chicken. Just how much do Panda fans love orange chicken? Well, according to the site, over 80 million pounds of the chain's top seller have been served since 2016 alone.
Panda Express's upward trajectory continued throughout the decades, opening up drive-thru locations, expanding internationally, and unveiling locations in airports, theme parks, military bases, and even sports stadiums. Over the years, Panda Express kept things fresh and ever-evolving, introducing new menu items like honey walnut shrimp and Beijing beef, and even rolling out signature flatware, the "Chork," a hybrid of a fork and chopsticks.
Over the years, the Panda Restaurant Group has come to include locations of the original sit-down concept, Panda Inn, Hibachi San Japanese grills, and a staggering 2100 Panda Expresses in the U.S. and beyond. Panda Restaurant Group also has stakes in a number of other chains including Raising Cane's Chicken Fingers, Pieology Pizzeria, and Urbane Cafe. But the Panda Restaurant Group has one standalone restaurant that you'll only find in one location: Panda Express Innovation Kitchen.
One standalone restaurant that you won't find anywhere else
Billing itself as "a platform for experimenting with new flavors and dishes, as well as elements of service, design, and decor," Panda Express Innovation Kitchen has just one location in Pasadena, California. The restaurant's offerings as on par with the choose your own adventure style of ordering made popular by Chipotle. The menu features wraps and salads alongside build your own meal options.
The result is an exciting combo of the Panda Express flavors that customers have come to know and love over the years combined with an element of customizability that makes for everything from rice and salad bowls to scallion pancake wraps, and a rainbow of soft drink possibilities. This world of Panda possibilities allows guests to choose a base (scallion pancake, greens, chow mien, white, brown or fried rice) and then opt for familiar main meals like orange chicken, honey walnut shrimp, or spicy string beans, and finish off the dish with a variety of warm or cool sauces, and a sprinkling of crunchy additions like crispy shallots and green papaya slaw.
Flavors that customers have come to know and love over the years combined with an element of customizability
One of Innovation Kitchen's dishes has proved so popular that it's made its way to a few select SoCal locations (via Thrillist). Officially known as the Orange Chicken Bing (via ABC 15), the scallion pancake wrapped burrito is filled with the chain's best-selling chicken dish with a choice of fried rice or chow mein, plus a choice of veggies like spicy string beans and pickled cucumbers and a selection of sauces. Fans of other Panda Express favorites will be pleased to know that go tos like honey walnut shrimp and Beijing beef can also be burritofied. 
For people looking to wash down their innovative meals, the Tea Bar is also available. Guests can pair their meals with beverages like fruit lemonades, milk teas, and sparkling yogurts mixed up with boba, aloe vera, chia seeds, and a rainbow of jellies.