Frosted Irish Cream Brownies Recipe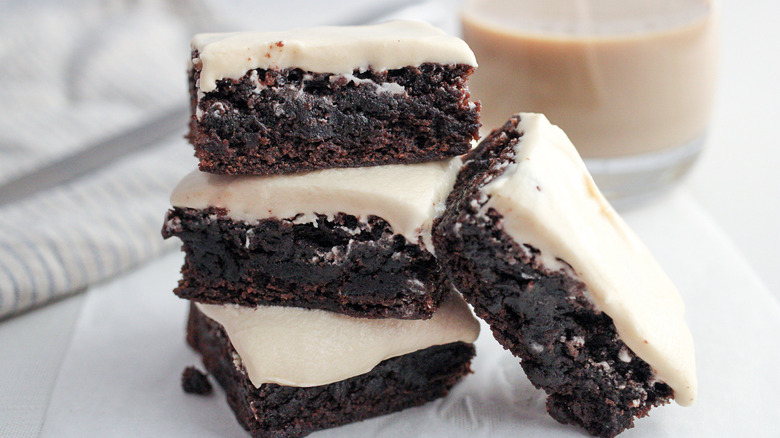 Jessica Morone/Mashed
Is there anything better than a gooey, chocolate brownie? Actually, if you're an adult, there is something better (and no, we're not pulling your leg). Did you know that you can add booze to frosting and brownie batter to take the taste to a whole new level? Yep, it's possible and the result is pretty amazing. If you have a sweet tooth and love a little Irish cream, then this recipe is right up your alley. It's great for a dinner party, or to enjoy after a long day at work. These brownies are not just good-looking and worthy of the gram, but they're also super tasty.
Recipe developer Jessica Morone of Jess Loves Baking is the brains behind this rich dessert that will make all of your dreams come true. "I love making boozy desserts, and Irish cream is my favorite to bake with because it makes everything taste extra delicious," Morone raves. There's no doubt that she hit the nail on the head with this recipe! 
Gather the ingredients for these frosted Irish cream brownies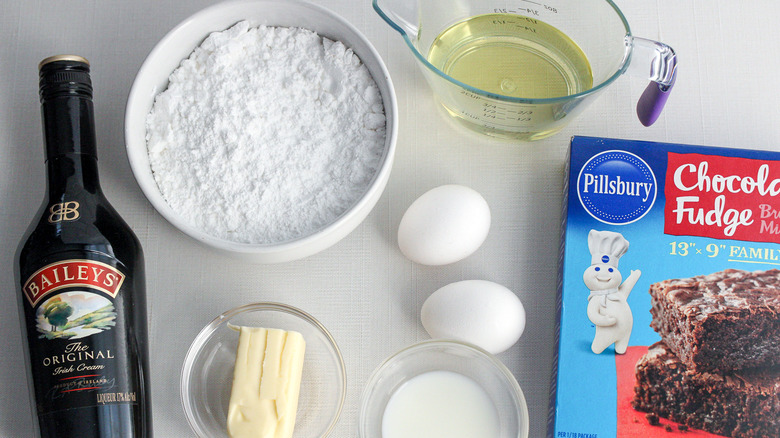 Jessica Morone/Mashed
The first thing you will need to do is grab a pen and paper, and make a grocery list. That way, you see what you need to get at the store versus what you have at home. For starters, you will need to get a box of brownie mix. Any kind will do, so if you'd like to just grab your favorite, then that's fine. In addition, the recipe calls for Irish cream and vegetable oil. Like most recipes that involve baking, you will need some eggs and powdered sugar.
Moving onto the refrigerated section, grab some salted butter and milk. Those are the only items that you will need to throw together this recipe. See how easy it is?
Preheat the oven, and grease the pan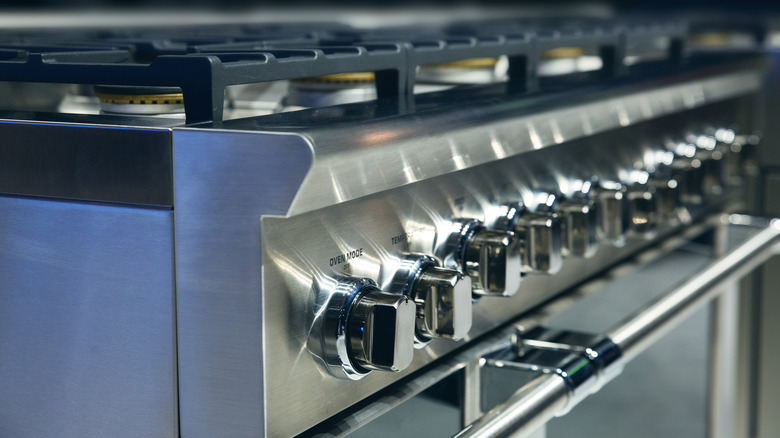 Mahony/Shutterstock
Since you need to bake the brownies, it's only fitting that you preheat your oven. Go ahead and turn the dial to 350 F before you do anything else. You must let the oven preheat so the brownies cook properly. 
In the meantime, grab a 9x9-inch baking pan. Spray it with cooking spray or line it with parchment so the brownies don't stick. "There isn't too much of a difference; they are both used to keep the brownies from sticking to the sides of the pan," Morone says. "I find it better to use parchment paper because it's easier to get the brownies out of the pan, but both work just fine."
Make the brownie mix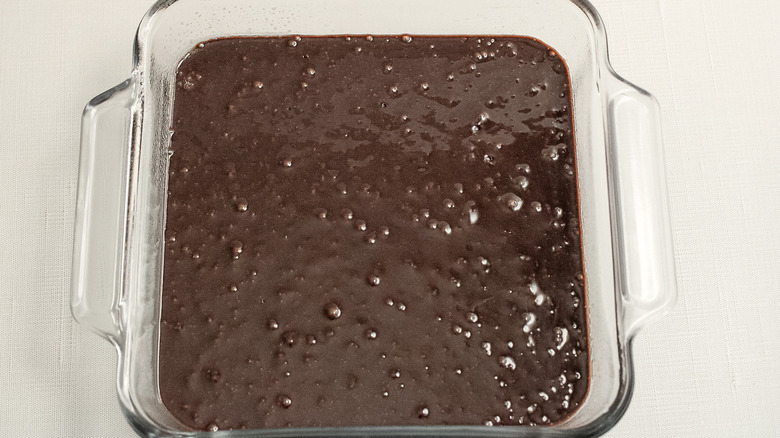 Jessica Morone/Mashed
After you have greased your pan, you can move onto making the brownie mix. Take out a large bowl and add your boxed brownie mix. "For the boxed brownie mix, I replaced the amount of water called for with Irish cream," Morone says. "For other brownie mixes that ask for a different amount of water, swap in that amount of water for Irish cream."
As instructed, add the Irish cream, followed by the vegetable oil, and eggs. Be sure to mix everything well and then pour the batter into the prepared pan. Doesn't it look great? 
Bake the brownies, and make the frosting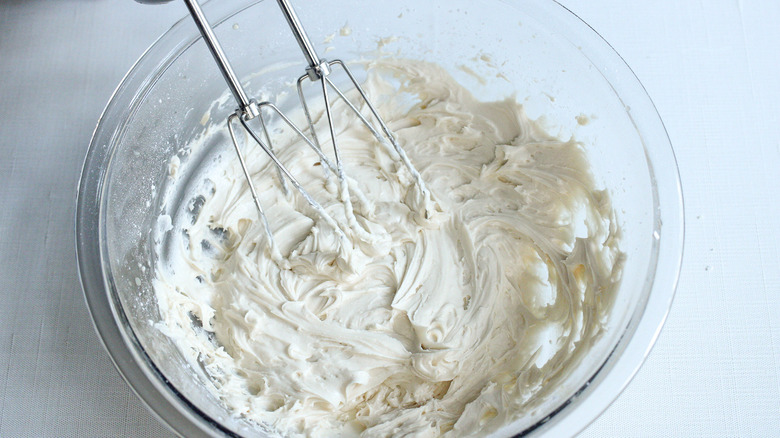 Jessica Morone/Mashed
That's it for the brownie batter. Hopefully, your oven fully preheated while you were busy mixing. Now, pop the brownies in the oven, and set your timer for 30 to 35 minutes. Be sure to check the brownies at 30 minutes, and use a toothpick to check doneness. Simply insert the toothpick in the center, and see if it comes out with a few moist crumbs as that's an indicator it's done. Next, remove the brownies from the oven, and let them cool completely.
As you're waiting for the brownies to cool, it's time to multitask. Grab another large bowl, and add the powdered sugar, softened butter, milk, and the remaining cup of Irish cream. Use an electric mixer, and beat the ingredients together until it comes out fluffy.
Frost the brownies, and enjoy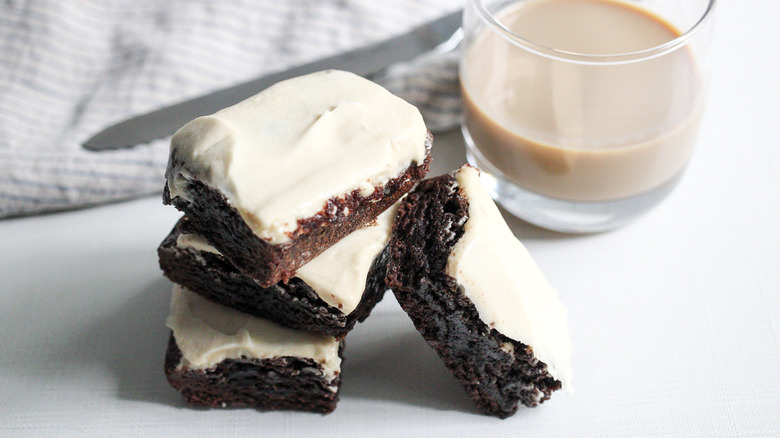 Jessica Morone/Mashed
Now that you have finished the brownies and the frosting, it's time to marry the two. Take a knife and spread the frosting onto the cooled brownies. Try to do it as evenly as possible. Then, cut the brownies into bars to serve. The recipe should make 16 brownies total, but if you want to cut them into smaller or bigger pieces, that's fine, too! These would be great with a glass of milk or your favorite after-dinner cocktail. Or maybe some Irish cream. Leftovers are best when stored in a tightly wrapped container in the fridge.
Frosted Irish Cream Brownies Recipe
The only thing better than the splash of Irish cream in this chocolate brownie batter is the extra splash of Irish cream in the fluffy white frosting.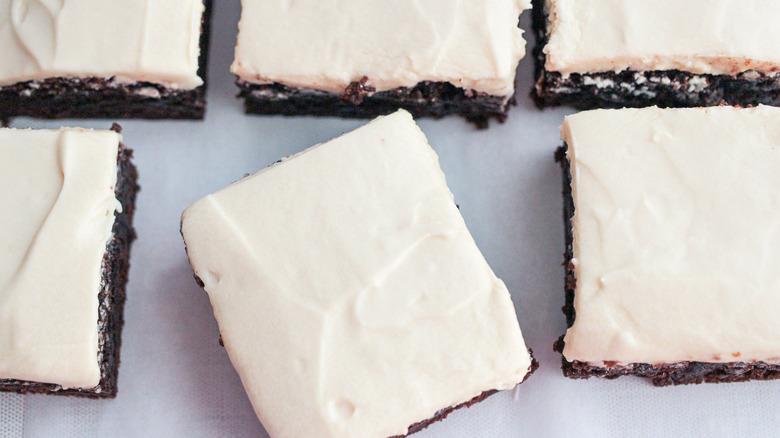 Ingredients
1 (18.4-ounce) box brownie mix
½ cup Irish cream, divided
⅔ cup vegetable oil
2 eggs
2 cups powdered sugar
¼ cup salted butter, softened
1 tablespoon milk
Directions
Preheat the oven to 350 F. Spray a 9x9-inch baking pan with cooking spray or line with parchment paper.
In a large bowl, combine the brownie mix, ¼ cup Irish cream, vegetable oil, and eggs and mix well. Pour the batter into the prepared pan.
Bake for 30 to 35 minutes until a toothpick inserted into the center of the brownies comes out with just a few moist crumbs. Let brownies cool completely.
In another large bowl, add the powdered sugar, softened butter, milk, and remaining ¼ cup Irish cream. Use an electric mixer to beat ingredients together until frosting becomes fluffy.
Spread the frosting over the cooled brownies.
Cut into bars and serve.
Nutrition
| | |
| --- | --- |
| Calories per Serving | 344 |
| Total Fat | 17.9 g |
| Saturated Fat | 4.2 g |
| Trans Fat | 0.2 g |
| Cholesterol | 32.2 mg |
| | |
| --- | --- |
| Total Carbohydrates | 42.2 g |
| Dietary Fiber | 0.0 g |
| Total Sugars | 32.4 g |
| Sodium | 133.5 mg |
| Protein | 2.5 g |