Trisha Yearwood Wants Fans To Cook With Her. Here's How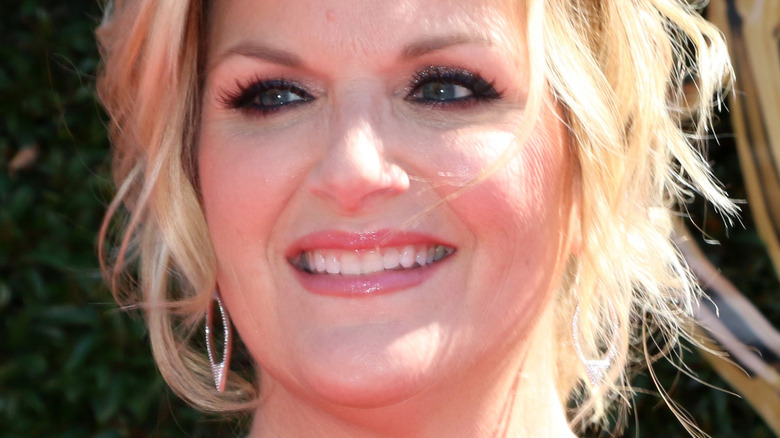 Kathy Hutchins/Shutterstock
Trisha Yearwood will release her "most personal" cookbook yet on September 28, according to Nashville Lifestyles, and we can't wait. Her latest book, which will be on bookshop shelves at the end of the month, is called "Trisha's Kitchen: Easy Comfort Food for Friends and Family." In an interview with the Nashville publication, Yearwood shared that missing her "Mama's home cooking" was the catalyst that led to her learning how to cook. The Grammy award-winning singer revealed that it was her mom who taught her to make potato salad and meatloaf. But it was when those nostalgic childhood foods hit her taste buds that she knew she was on to something. Yearwood told Nashville Lifestyles, "When I made them and they tasted just like hers, I cried! It was in that moment I think I realized the deep connection between food and family." 
It's that love of family and food that inspired Yearwood's newest cookbook, and she wants to share that cooking connection with her fans in a way that is intimate, but also is mindful of the COVID-19 pandemic that is still affecting communities. The country music cook took to social media to issue an invitation for her followers to join her for a virtual book tour — and you are not going to want to miss it.
The first 20 tickets purchased get a personalized signed book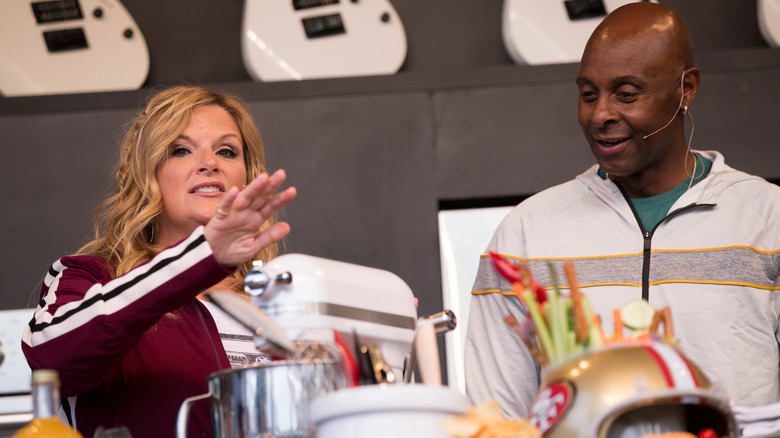 Sterling Munksgard/Shutterstock
The host of "Trisha's Southern Kitchen" shared her video invite on Twitter and noted that, even though this is a virtual event, there will be some fun guests at these gatherings; they will do some cooking, answer questions, and sign some books virtually, at a bookstore near you. How does it work? Visit the book publisher's website where you will find a list of participating bookstores in cities across the United States. Find the bookstore of your choosing and purchase a ticket. And if you are among the first 20 tickets purchased, you will receive a personalized signed book. That sounds like a great reason to join to us!
Trisha Yearwood's publisher also shared that "Trisha's Kitchen: Easy Comfort Food for Friends and Family" is filled with 125 recipes interlaced with the singer's family stories and photos. And her fans seem excited to hear all about it, with one follower sharing, "I just bought tickets i can't wait to see you thank you so much for doing virtual so we could all stay safe and healthy xoxo." Another wrote, "Got mine! @BookendsNJ SO EXCITED!!!!! Definitely going to be wearing my apron." So, what are you waiting for? Find your nearest bookstore and get your tickets!