Giada De Laurentiis Uses This Trick For Light And Creamy Pasta Sauce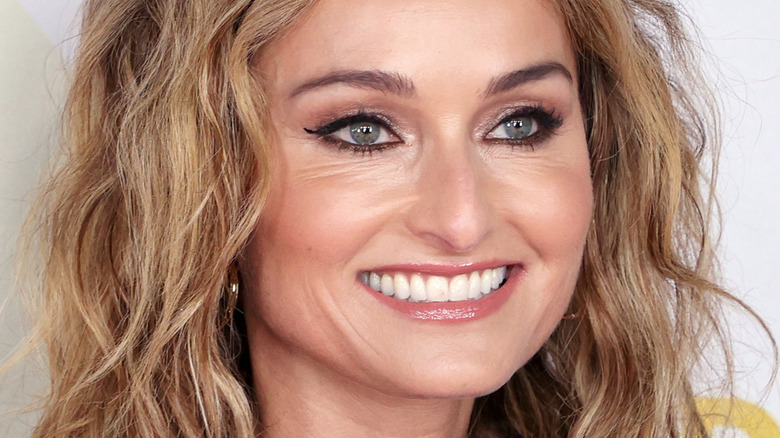 Kevin Winter/Getty Images
You may know Giada De Laurentiis as the Italian-American chef who hosts many Food Network shows, including the Emmy award-winning "Everyday Italian," as well as "Giada Entertains" (via Food Network). When she's not in front of a camera, De Laurentiis spends her time penning various New York Times best-selling cookbooks. What you may not know, though, is that De Laurentiis' great-grandparents ran a pasta factory, as well as an Italian restaurant back in the day in a small village just outside Naples, Italy (via Giadzy). Having been surrounded by pasta from a very young age, it's a safe bet that De Laurentiis has plenty of pasta tricks up her sleeve.
In a linguine with ricotta recipe shared on the Giadzy website, De Laurentiis spilled the beans on how to make ricotta sauce light and creamy. The recipe for linguine with ricotta, green beans, and tomatoes calls for the use of a ricotta sauce which, you may know from experience, can be grainy and lumpy if not done right. The trick, De Laurentiis says, is to mix part-skim ricotta with pasta water, which will make the sauce light and creamy. To brighten the flavor even more, she recommends a sprinkle of lemon zest on top.
Giada De Laurentiis has many tips to perfect a pasta sauce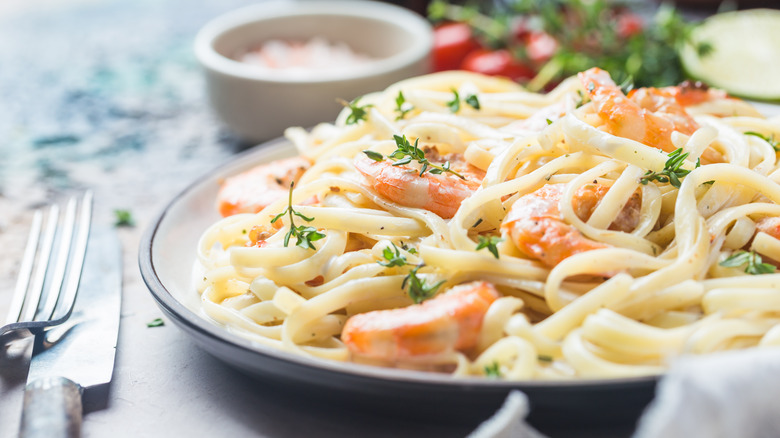 Goskova Tatiana/Shutterstock
A creamy ricotta sauce isn't the only pasta sauce trick Giada De Laurentiis has to share. In a separate article on Giadzy, De Laurentiis shares a bunch of tips with fellow pasta fans on how to perfect your pasta-making skills. To really bring out the taste of store-bought pasta, for instance, she stresses salting the water in which you boil the pasta. Doing so will do volumes in helping season the final dish.
Another important trick is to always save the water leftover from boiling pasta. After boiling pasta in water, the boiled water becomes starchy. The starchy liquid, when added to a thick pasta sauce, can help make it creamy and add some more flavor it. The pasta watered sauce will also help the sauce stick better to the pasta. This is why she also suggests not rinsing cooked pasta under tap water, as the much sought-after starch will simply go down the drain.
De Laurentiis also recommends drizzling a splash of olive oil over a finished pasta dish for a richer flavor (via PopSugar). Another key ingredient to add oomph to any boring plate of pasta? Parmesan cheese. Lots and lots of freshly grated parmesan cheese on top of a steaming hot plate of pasta!