Duff Goldman Dazzles Instagram With This Custom Cake Photo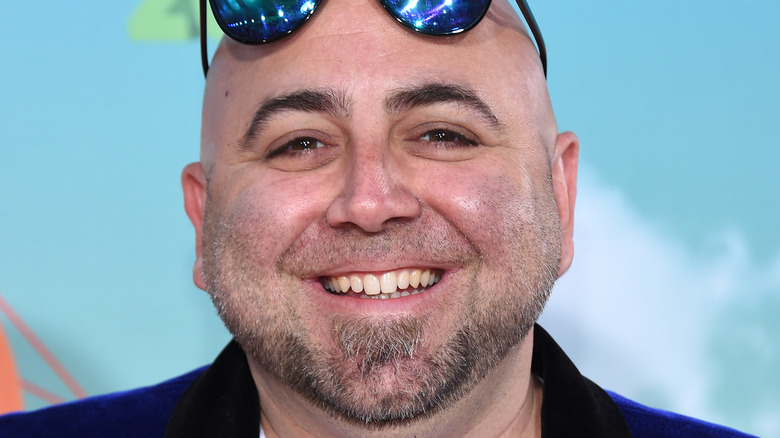 DFree/Shutterstock
Duff Goldman does not want to disappoint. Food Network truly struck gold with Goldman on "Ace of Cakes," a show where he and his team create some majorly creative and off the wall cakes for new special occasions each week, the likes of which include a giant hamburger and hot dog with fries. Over the years, Duff's Charm City Cakes, a bakery he opened in Baltimore in 2002, has become synonymous with his name as they continue to churn out impressive cakes, like a life-size elephant and a giant box of crayons, to wow followers and fans alike (via LA Times).
Challenged only by "Cake Boss" Buddy Valastro, who has acquired a massive following and pastry empire of his own, Goldman is nearly unmatched in the world of cake decorating. Today, he continues to wow followers who flock to his social media pages for a peek at his amazing creations and occasionally his kid, too. Recently, he shared a photo of custom cake creation that's really got people talking.
Duff continues to dazzle
Duff Goldman's latest foray into the wonderful, whimsical world of cakes is a beautiful townscape. The baker recently took to Instagram to share a creation that resembles something you'd hang on a wall or keep in a permanent display, as it looks almost too beautiful to eat. The cake features a variety of blue and white villas, with what is either a sunrise or sunset painting the background. It should be mentioned that the villas pop out into several dimensions, making the cake look like an actual, traversable town.
Goldman didn't specify where it was supposed to represent, but called out the "awesome custom cake creation" in his caption along with crediting his team's "great job". Followers noted the intricacy and beauty of the detail, like @lucyoodledoo who said "This is like the mamma Mia set, beautiful!" and @deborah_millett1 who commented "Love love love this!!!" Others pointed out that it resembles the Greek island Santorini, which Lonely Planet calls "the supermodel of the Greek islands." Looks like this cake master and his team still have a few aces up their sleeves!