This Hilarious Chipotle TikTok Is So True It Hurts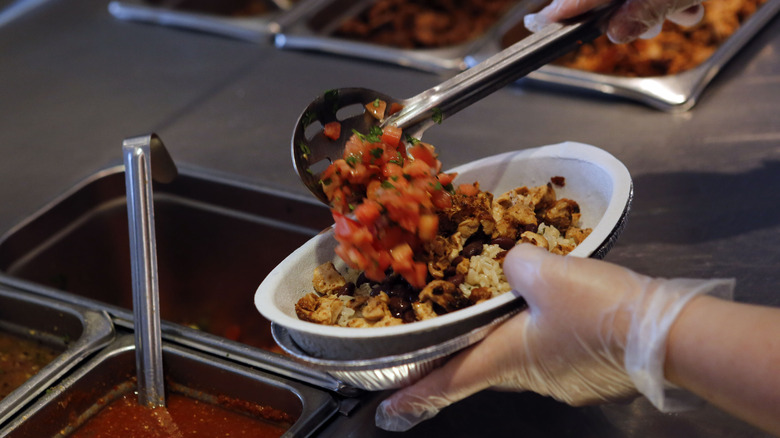 Bloomberg/Getty Images
Chipotle recently announced that they were accepting applications for the last spot in their Creator Class. The class involves helping Chipotle brainstorm ideas for its brand with plenty of benefits in return. Aside from 14 famous influencers participating, one lucky fan will be elected based on a short video they post on Instagram or TikTok. For the competition, fitness trainer @trainbloom released a TikTok clip that has lots of people knowingly nodding their heads and chuckling at the truth behind the sentiment.
The six-second clip, captioned "Sry nt sry," shows an enthusiastic young man grabbing his keys to go to Chipotle. Meanwhile, the video text points out that the guy is choosing Chipotle over his meal prep in the fridge for the fifth consecutive day. The subtext is that no matter how delicious your meal prep is, it isn't Chipotle. Reading through the comments, it's clear that lots of people can relate to @trainbloom.
What did TikTok think?
A serious love for Chipotle is not uncommon, and the discussion includes remarks such as: "Same," "Understandable," and "Facts" (via TikTok). User @simonelijah teased, "Do you like Chipotle or something?" to which @trainbloom responsed, "More than I like myself." Custom bowls were popular orders listed in the comments and fans were quick to share their favorite toppings. Investopedia explains that even though Chipotle's menu choices are fairly limited, the large appeal is that you can personalize items. The source adds that the fast-food restaurant's motto, "Food with integrity," has been greatly appreciated by consumers looking for healthy and ethical options.
While meal prepping has been touted as a time-saving way to eat well and reduce food waste, it's easy to let temptation steer you towards an even easier option like going to the closest Chipotle. To keep your palate inspired, be sure to mix up your meal prep offerings for variety. If you really want to eat Chipotle five days a week, why not try making your own versions of your favorite dishes? As much as going out to eat might be a part of your routine, if you want to keep your budget and health in balance, find ways to make it easy to stick to your meal prep plan.