Crustless Zucchini Quiche Recipe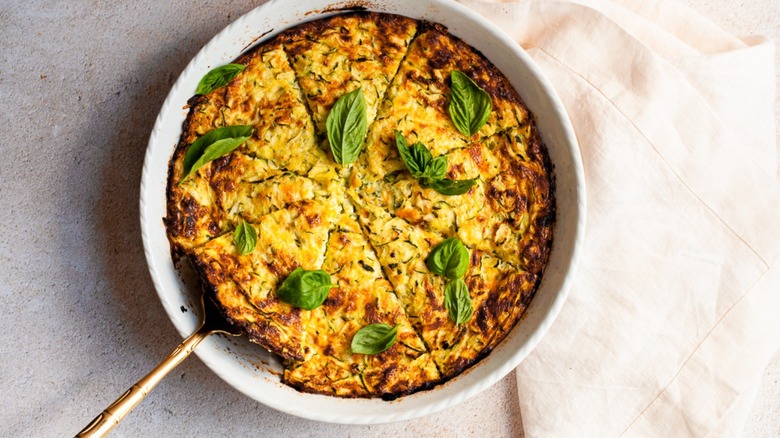 Christina Musgrave/Mashed
Which quick dish will be the star of your next brunch? Christina Musgrave from Tasting with Tina, an official foodie and recipe developer who makes even the simplest foods gourmet, shared a decadent quiche with us that will make you sing. "Brunch is my favorite," Musgrave says. Whether you're feeding the family or hosting company, this dish will definitely be a delight!
Apparently, the rich history of quiche started in Germany and was adapted into various other countries across Europe (via FoodReference.com). The name quiche comes from a German word "kuchen," which translates to cake in English, although this dish actually has more in common with pie than cake. Traditionally, quiche is baked in a doughy or pie-like crust prepared in advance to hold its posture. Thanks to Musgrave's quick hands and carb-conscious lifestyle, our version saves you time and calories by cutting out the crust. If you want to throw in some leftovers, by all means, improv makes everything better! In any warm kitchen, you'll find quiche brimming with a veggie and egg combo, depending on what guests love most. We have a phenomenally-baked, zucchini-filled recipe waiting for you to make, so let's get started!
Start with the great eight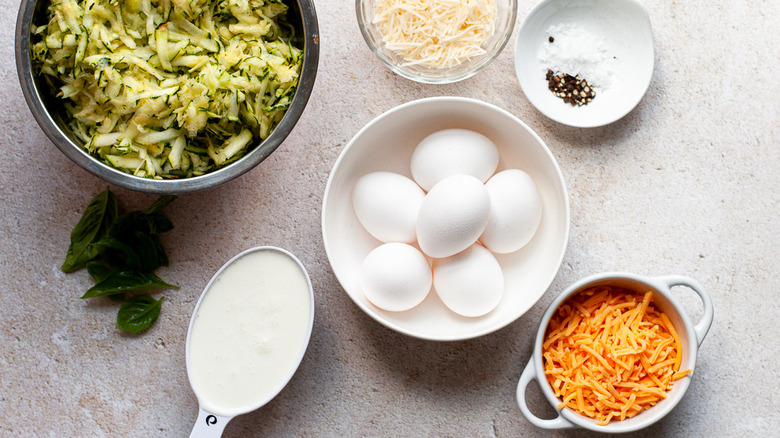 Christina Musgrave/Mashed
As you can see, fresh zucchini and eggs will be the main characters in this tale of this delicious crustless quiche. The ingredients you'll begin with in this recipe are shredded zucchini, eggs, heavy cream, and shredded cheddar cheese. You will also add in a small amount of grated Parmesan cheese. For taste, let's include a bit of salt, one pinch of black pepper, and we'll garnish it with fresh basil. That's it!
Give your zucchini a squeeze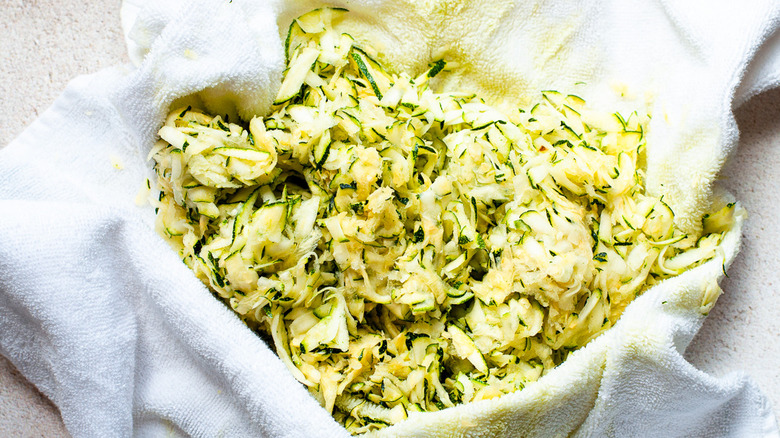 Christina Musgrave/Mashed
Start off by preheating your oven to 400 F. Shred a few zucchini to measure 6 cups in total. Place the shredded zucchini into a cheesecloth or thin kitchen towel to squeeze out as much liquid as possible. Doing so will ensure no added moisture bakes out later on.
Despite it not quite being a superfood, zucchini is packed with vital nutrients like vitamin A, vitamin C and potassium, which might lower blood sugar, according to Healthline. In this dish, the eggs partner to provide an amazing source of animal protein, which is great for building muscle (via Healthline).
Beat the eggs and cream together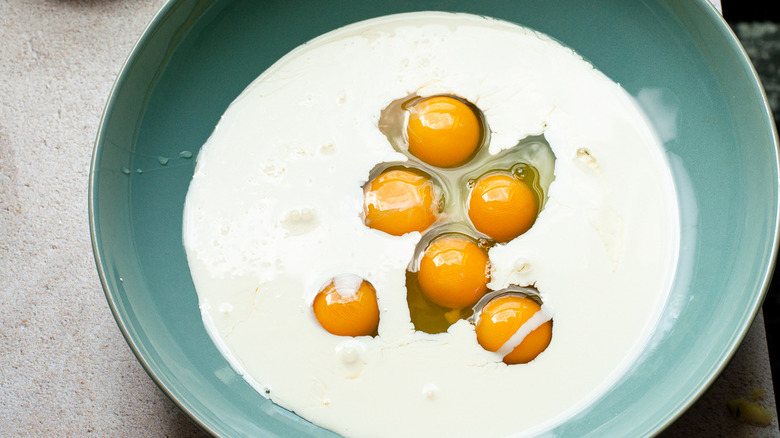 Christina Musgrave/Mashed
You're on your way to baking a German masterpiece! It won't take long, either.
In a large bowl, combine six eggs with 1 cup of heavy cream. Whisk them together thoroughly. Let's get cheesy, too! Add in ½ cup of shredded cheddar cheese, and sprinkle ½ cup of your grated Parmesan as well. Then, pinch ½ teaspoon salt and ½ teaspoon of black pepper into the bowl. Now, you can whisk this all together until each of the ingredients have combined.
Stir the zucchini into the mixture, pour it into a greased baking dish, and bake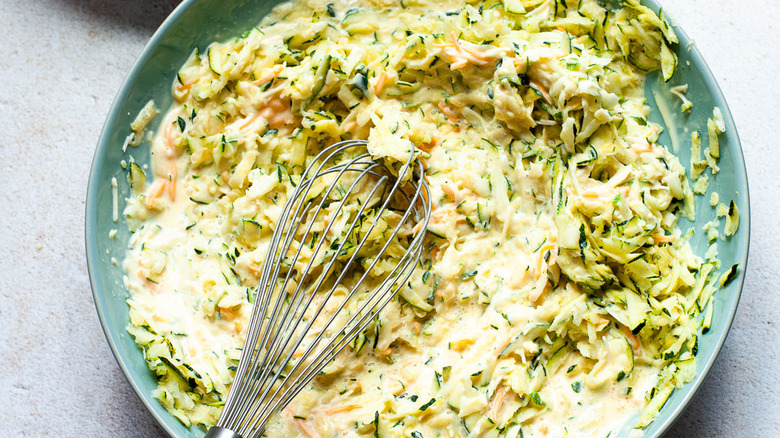 Christina Musgrave/Mashed
Once that's finished, add the zucchini from your cheesecloth, and stir together until it comes to an even blend. The finished mixture should resemble the above photo.
Next, you'll want to grease a deep baking dish. Go for your favorite source here. When asked if Musgrave prefers olive oil, butter, or cooking spray, she notes that she likes "cooking spray, but any will work." When your baking dish is prepped and the oven is hot, pour the mixture in the deep dish, and slide it into the oven. Set a timer for 50 minutes. Take a peek every once in a while to see how she goes. This darling quiche is finished once she starts showing browned edges and the middle is cooked through. In the interim, take a break and watch an episode of that new show or catch up on a few chapters of your favorite book. This part is effortless! 
Musgrave raves that crustless quiche makes a flawless entrée, and we couldn't agree more. "I enjoy how easy it is to make! It's perfect for hosing a brunch with friends and family," she says.
You're all set to serve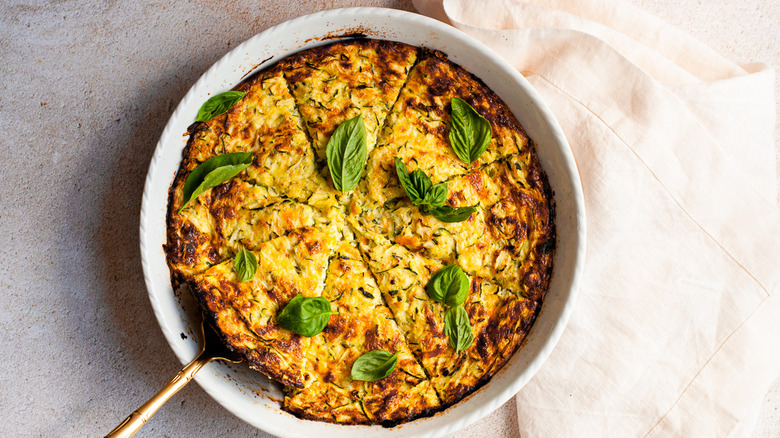 Christina Musgrave/Mashed
After your crust-free quiche is baked to perfection, let it cool, and garnish with fresh basil before serving. This dish serves great as a breakfast, lunch, or light dinner entrée. It even makes a great yummy snack for anytime in between. Ocala reported that in French tradition, quiche is presented alongside a salad and fried potatoes, which doesn't sound bad at all. Be free to release your inner chef as you choose how to serve your guests. Musgrave proposes compliments for this dish, "Would be great with a light salad and bloody Mary."
Following brunch, leftovers can be covered with plastic wrap and refrigerated. Musgrave adds, with that method the quiche, "Will be good for about three days." 
Your food will surely be a hit as you improvise with this recipe. We hope you and your family take advantage of making one this fall.
Crustless Zucchini Quiche Recipe
Whether you're feeding the family or hosting company for brunch, this crustless zucchini quiche will definitely be a delight!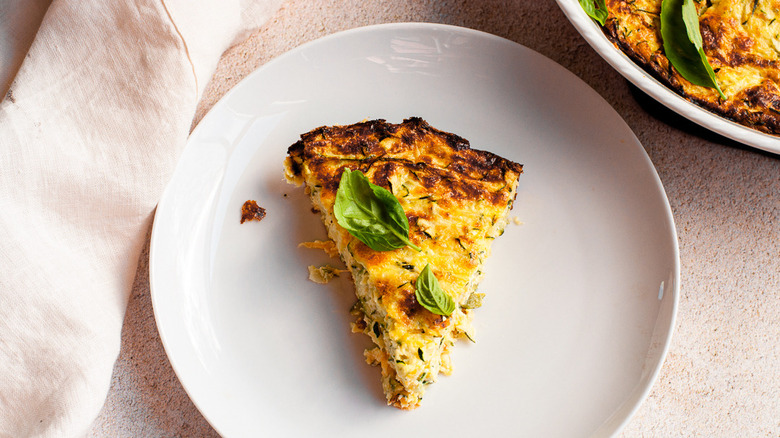 Ingredients
6 cups shredded zucchini
6 eggs
1 cup heavy cream
½ cup shredded cheddar cheese
½ cup grated Parmesan cheese
½ teaspoon salt
½ teaspoon black pepper
Optional Ingredients
Directions
Preheat oven to 400 F.
Place the shredded zucchini in a cheesecloth or thin kitchen towel, and squeeze over the kitchen sink, removing as much liquid as possible.
Combine the eggs and heavy cream in a large bowl, and whisk well.
Add in the shredded cheddar cheese, grated Parmesan cheese, salt, and black pepper to the bowl, and whisk until all ingredients are combined.
Add the zucchini, and stir well.
Pour the mixture into a greased baking dish, and bake for 50 minutes, until the edges are browned and the middle is cooked.
Let the quiche cool, then serve with fresh basil.
Nutrition
| | |
| --- | --- |
| Calories per Serving | 307 |
| Total Fat | 25.6 g |
| Saturated Fat | 14.4 g |
| Trans Fat | 0.1 g |
| Cholesterol | 232.3 mg |
| | |
| --- | --- |
| Total Carbohydrates | 6.0 g |
| Dietary Fiber | 1.3 g |
| Total Sugars | 4.5 g |
| Sodium | 511.1 mg |
| Protein | 14.4 g |