Pourable Pizza Dough Recipe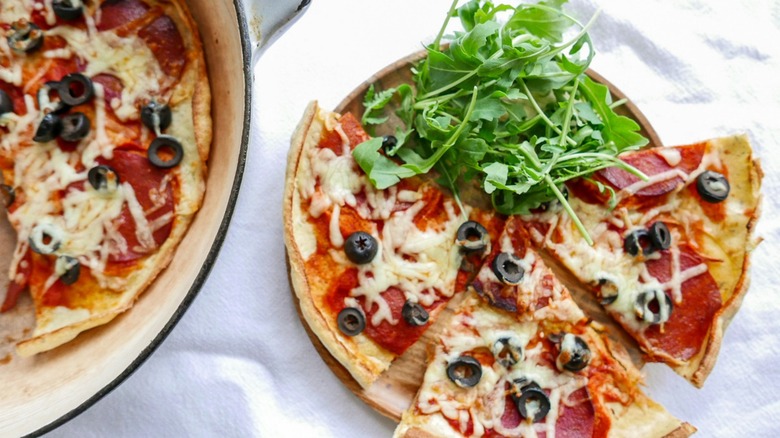 Ting Dalton/Mashed
Pizza is a classic and incredibly versatile dish. Whether you enjoy simple cheese pizza or love to load on the toppings, pizza is a universally enjoyable dish that leaves nearly every palette satisfied. While there are plenty of restaurants you can go to if you want pizza, there's nothing like making it from scratch at home, not to mention the fact that it's completely customizable when you make it that way! Of course, making pizza crust is often exhaustive and time-consuming — at least it used to be.
Recipe developer Ting Dalton at Cook Simply has a pourable pizza dough recipe that makes homemade pizza easier than ever to achieve. Wait — pourable dough? That's right! By just whisking together ingredients and baking them in a pan, you can make a crispy crust that you can build a delicious pizza on. "Honestly, when I first tried this I was skeptical it would work," Dalton explains of this recipe. "But it really does! The bottom is crispy and light and super tasty." She also notes that traditional pizza crust takes plenty of kneading, but with this recipe, you can eliminate that task entirely, making it a must-try for anyone who wants a quick but satisfying pizza. 
Gather the ingredients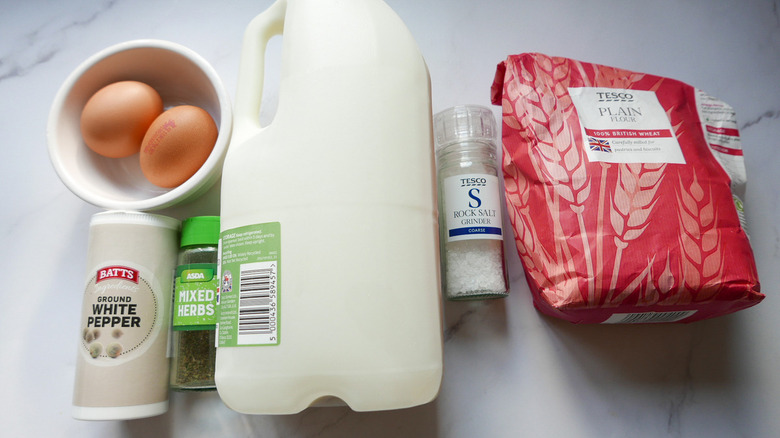 Ting Dalton/Mashed
Not only is making a pourable pizza dough super easy, but it only requires simple ingredients — many of which are likely already in your kitchen. You'll need all-purpose flour, eggs, milk, Italian seasoning, salt, and white pepper to make the crust. You'll also want some butter to grease the pan. That's it! Of course, we don't typically make a pizza crust without adding toppings, so you'll also want extra ingredients to top off your pizza. Dalton calls for adding pepperoni, pizza sauce, and shredded mozzarella for toppings, but you can also use whatever you like, whether that be onions, peppers, sausage, or pineapple!
Mix the batter and pour it into a buttered pan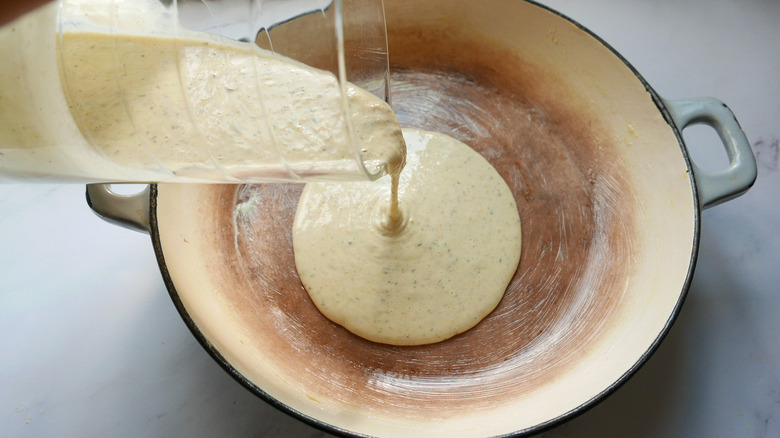 Ting Dalton/Mashed
Once you've sorted your ingredients, you can begin to prepare your pourable pizza crust. Start by preheating your oven to 425 F. Then, add the flour, eggs, milk, Italian seasoning, salt, and white pepper to a bowl and whisk these ingredients until they're thoroughly combined. Now, grab either a cast iron or nonstick skillet and butter it generously. "Make sure you really butter the skillet before adding the pourable dough," Dalton explains — after all, no one wants their pizza to stick to the pan! Once you've buttered the pan, go ahead and pour half of the batter in. The other half of the batter can be used to make another pizza. 
Bake your pizza crust until it's golden brown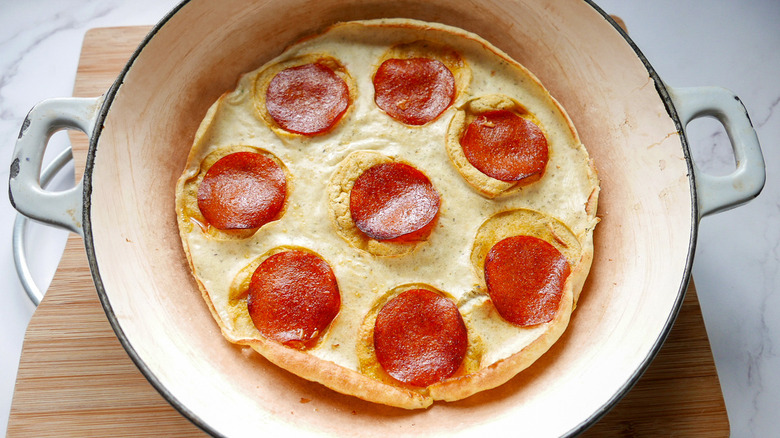 Ting Dalton/Mashed
After you've poured half the batter into your buttered pan, you can add meat toppings. Dalton uses pepperoni as her topping, though you can use any type of meat that you'd like. Simply add the meat to the wet batter — if you don't want to add any meat, skip this step. Then, pop the batter into the preheated oven and allow it to cook for about 15 minutes, until the crust is golden, browned, and firm. 
Add the rest of your pizza toppings and bake for a few more minutes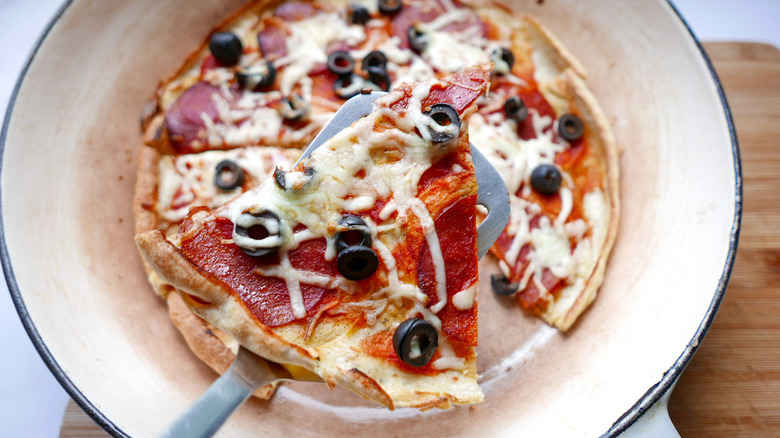 Ting Dalton/Mashed
When you've finished cooking the crust (and optional meat toppings) for 15 minutes, go ahead and remove the pizza from the oven. Add on the rest of your toppings, including sauce, cheese, and vegetables like mushrooms, onions, or olives. Then put the pizza back into the oven for another five minutes, just until the cheese is nice and melty. Finally, you're ready to enjoy this quick, easy, and delicious homemade pizza! In under 30 minutes, you can have an entire pizza from start to finish. No kneading, no store-bought dough necessary — this shortcut recipe is sure to become a staple for busy nights in your household. Serve it on its own or with a fresh salad.
Pourable Pizza Dough Recipe
This simple recipe makes a pourable pizza dough batter that takes just 5 minutes to prepare and cooks up thin, crispy, and delicious. An easy weeknight meal!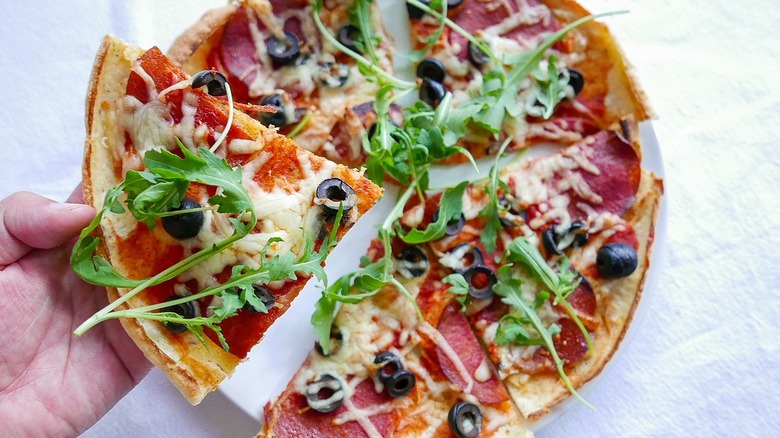 Ingredients
1 cup all-purpose flour
2 eggs
⅔ cup milk
2 teaspoons Italian seasoning
1 teaspoon salt
1 pinch white pepper
butter for greasing
Optional Ingredients
pepperoni slices or other meat toppings
1 cup pizza sauce
2 cups shredded mozzarella
a handful of black olives or other vegetable toppings
Directions
Preheat the oven to 425 F.
Mix all the dough ingredients into a large bowl and whisk until combined.
Use butter to grease an ovenproof 9-inch cast iron skillet or nonstick skillet.
Pour half of the batter into the greased skillet, making sure to evenly spread the batter by rotating the skillet or using a spatula.
If you are using meat ingredients, place them evenly on top of the batter.
Place the skillet into the oven for 15 minutes, until the crust is golden and firm.
Remove the pizza from the oven and add any other optional ingredients.
Put the pizza back into the oven for another 5 minutes. If using cheese, this will be when it has melted.
Remove the pizza from the pan and set aside.
Repeat cooking steps with the rest of the batter to make the second pizza.
Slice, serve, and enjoy!
Nutrition
| | |
| --- | --- |
| Calories per Serving | 360 |
| Total Fat | 9.5 g |
| Saturated Fat | 4.3 g |
| Trans Fat | 0.1 g |
| Cholesterol | 173.7 mg |
| | |
| --- | --- |
| Total Carbohydrates | 52.6 g |
| Dietary Fiber | 2.1 g |
| Total Sugars | 4.5 g |
| Sodium | 443.0 mg |
| Protein | 14.5 g |