Easy Pizza Sauce Recipe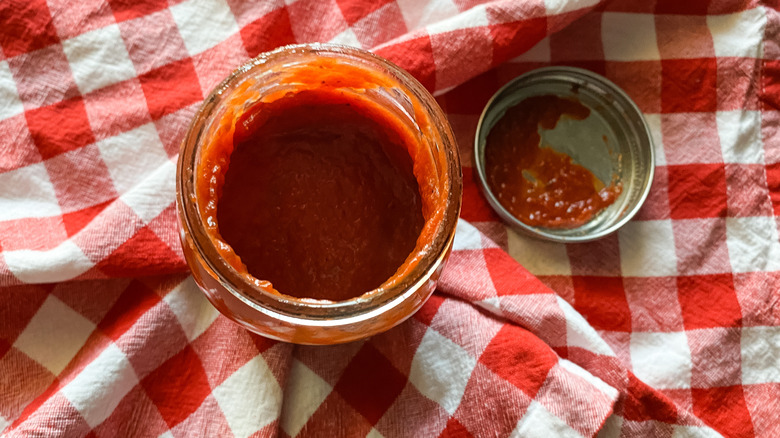 Kristen Carli/Mashed
Most people take the easy way out and buy some pre-made sauce at the grocery store when it comes to pizza sauce. While there's no doubt that the sauce you get at the store is pretty tasty, there's still just something about homemade sauce that hits a little different. If you've made your own sauce at home before, then you know what we're talking about. And if you haven't? Then you're definitely missing out! There's no time like the present to try out a homemade pizza sauce to elevate your pizza game to an entirely different level. Recipe developer Kristen Carli created this wonderful recipe. It requires a few ingredients and takes just 15 minutes to cook, and it's pretty much a no-brainer to try.
"Any chance I can make something at home, I love to do it, as it is often healthier, Carli raves. "In the case of the pizza sauce, store-bought pizza sauce often contains sugar. I avoided that here in this recipe. Additionally, this recipe is so simple and very fast to make. You will likely not buy store-bought pizza sauce again." 
Keep scrolling to find out how to make this delicious pizza sauce.
Gather the ingredients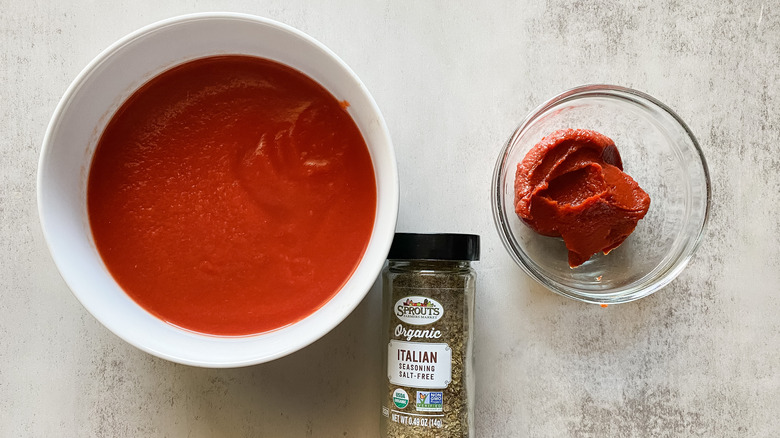 Kristen Carli/Mashed
The first step for this recipe and any other for that matter is to gather all of the ingredients necessary to make this yummy pizza sauce. For starters, you will need two types of tomato ingredients, which should come as no surprise. One of those items is a can of tomato sauce, and the other is a can of tomato paste. If you cook a lot, you may luck out and have some in your pantry already. The remaining items are to add flavor. One of them is Italian seasoning, and the other two are salt and pepper. If you want to spice things up a bit, Carli says she would "recommend adding red chili flakes and a bit of cayenne pepper." 
Those five items are all you need to throw together your very own pizza sauce.
The benefits of tomato paste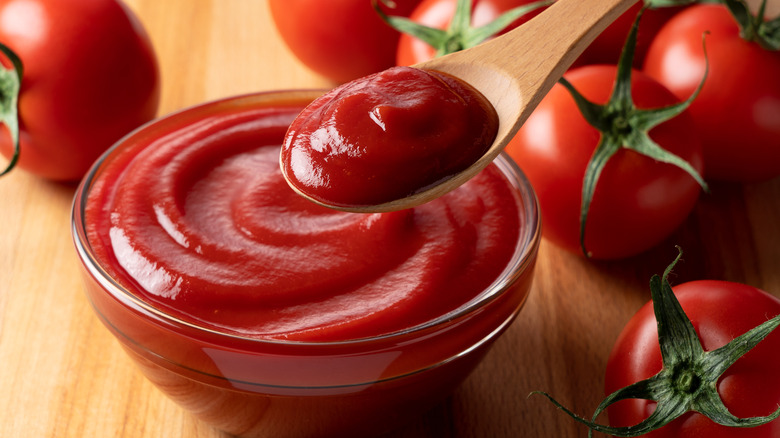 masa44/Shutterstock
You may just see tomato paste as a simple ingredient, but it's actually very nutritious. According to Livestrong, tomato paste is super healthy, and it has a ton of great benefits. While many sauces are high in calories, primarily due to added sugars, tomato paste is relatively low in calories. It's also a great way to work more vitamin C into your diet. Another plus is that it is a significant source of lycopene, which is a powerful antioxidant.
Place the ingredients in a saucepan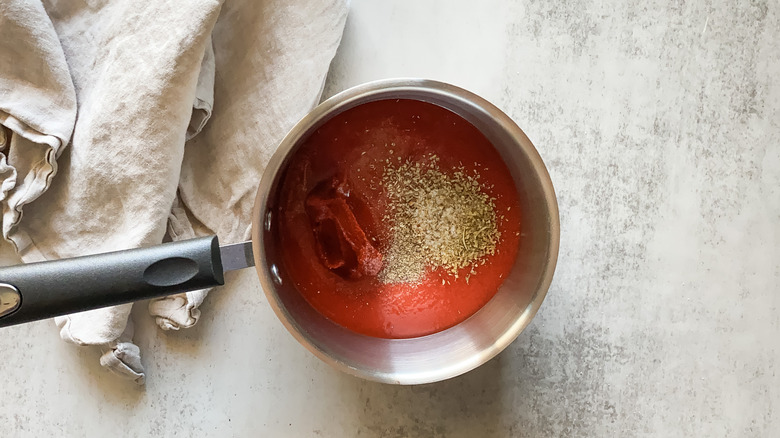 Kristen Carli/Mashed
Now it's time to begin the actual cooking process. The first thing that you will need to do is to take out a medium saucepan. Then, place it over the burner and begin to add your ingredients. For starters, you will need to throw in the tomato paste and the tomato sauce, which serve as the main base for this yummy sauce.
At this time, you can also throw in the seasonings to cook with the tomatoes. These include the Italian seasoning as well as the salt and pepper. Once you've added them in, give the mixture a few good stirs to combine.
Boil and simmer the sauce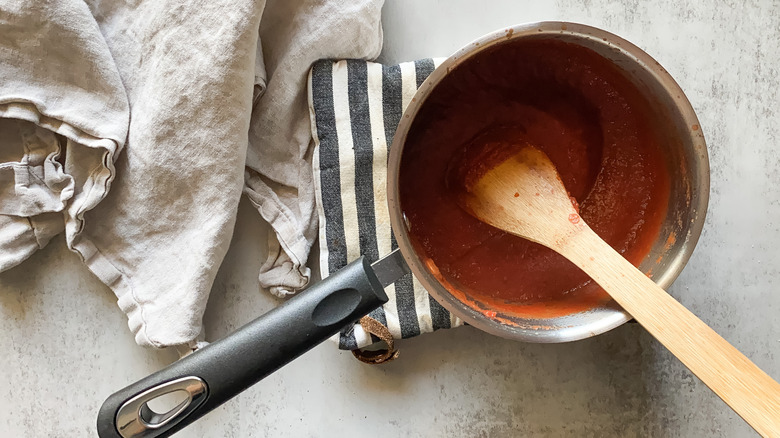 Kristen Carli/Mashed
Now that you have everything in the saucepan, it's time to get things heated up. First, turn the heat to high and bring the mixture to a boil. This shouldn't take more than a few minutes, so be sure to keep an eye on it. Once you see bubbles reach the surface of the pot, you can turn the heat down to low. Let the sauce simmer and continue cooking for about 10 minutes. It's probably good to set a timer to keep track of time.
Take off the heat and enjoy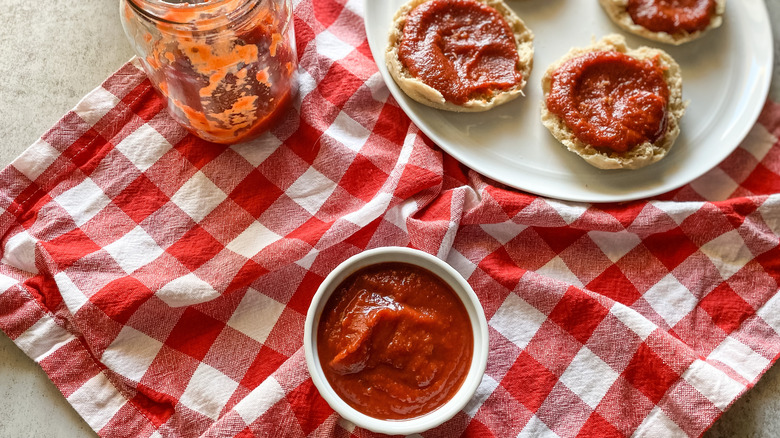 Kristen Carli/Mashed
Once your 10-minute timer goes off, take the saucepan off the heat and transfer it to a serving dish or a storage jar. This recipe goes great on pizza, but it would also be suitable as a dip for bread or mozzarella sticks. "I love this sauce on pizza or even English muffin pizzas," Carli says. "I also like it with mozzarella sticks." 
You should "store leftovers in a small airtight jar," Carli says. "They last for about four days." Carli also notes that she usually doesn't have leftovers because the sauce is that good. 
Easy Pizza Sauce Recipe
There's no time like the present to try out a homemade pizza sauce to elevate your pizza game to an entirely different level.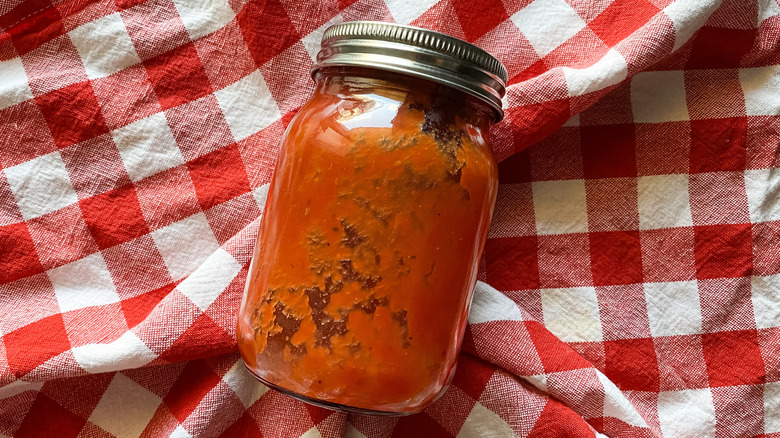 Ingredients
1 15-ounce can tomato sauce
1 6-ounce can tomato paste
2 teaspoons Italian seasoning
1 teaspoon salt
½ teaspoon pepper
Directions
Place all ingredients into a medium saucepan.
Bring to a boil. Lower to a simmer and cook for 10 minutes.
Add to pizza and serve.
Nutrition
| | |
| --- | --- |
| Calories per Serving | 25 |
| Total Fat | 0.2 g |
| Saturated Fat | 0.0 g |
| Trans Fat | 0.0 g |
| Cholesterol | 0.0 mg |
| | |
| --- | --- |
| Total Carbohydrates | 5.7 g |
| Dietary Fiber | 1.4 g |
| Total Sugars | 3.6 g |
| Sodium | 336.1 mg |
| Protein | 1.3 g |