Refreshing Italian Chopped Salad Recipe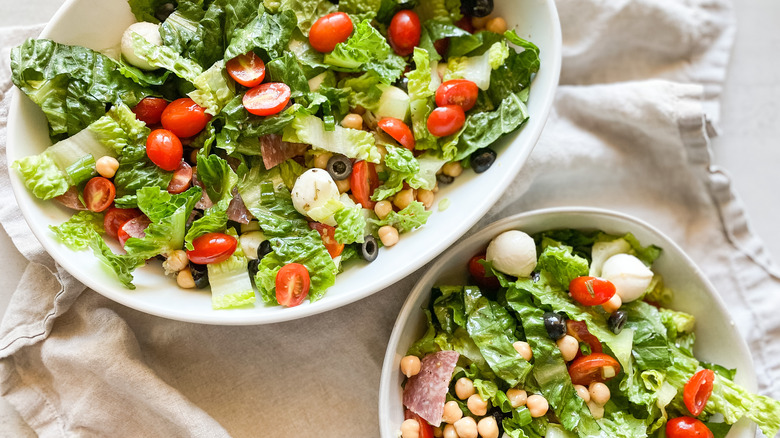 Kristen Carli/Mashed
There's nothing quite like the crisp crunch of a fresh salad, dressed with the perfect balance of olive oil and vinegar, brimming with tasty add-ins. Forget any bad experiences of sad, wilted lettuce, served by itself with a squeeze pack of some flavorless vinaigrette. Kristen Carli, registered dietitian and recipe developer, has developed just the recipe you need to boost your salad game. 
This Italian chopped salad is packed with flavor, thanks to an assortment of ingredients you might even already have. It's filling enough to serve as a main dish, or you can have a small bowl with a sandwich or soup. About the choice of salad extras, Carli remarks "They are pretty easy to find at most grocery stores and very tasty when eaten together". We'll take her word for it! She is a fan of this quick salad and says, "I love to eat this for dinner." Honestly, it's likely to become a steady part of your week — you can even prepare it the day before if you leave the dressing off. All you need to do is chop up a few ingredients (hence the name), toss them into a bowl, and combine them with an simple dressing. If you start now, you'll be eating in 10 minutes! 
Gather the ingredients
Kristen Carli/Mashed
For starters, you'll need to gather up all of the ingredients for this Italian chopped salad. As far as the dressing goes, simple pantry staples are used, making it easy to whip up at any time. Olive oil is balanced by white wine vinegar, and the two are flavored with some Italian seasoning. Usually the latter includes oregano, basil, thyme, and rosemary, so you can improvise if you don't have a ready-made herb blend. Salt and pepper are key elements from bringing out the flavors of individual ingredients. 
Next, for the salad part you'll need some lettuce to begin. Romaine is a great choice because it is crisp and crunchy with a subtle bitter flavor that gives it character. Otherwise, Carli notes that "a good substitute would be green leaf lettuce". Cherry tomatoes add a punch of color and are sweeter and less watery than their larger counterparts. Salami is pleasantly rich, making this salad anything but boring. As for mozzarella balls – what salad isn't improved by these delicious springy morsels of cheese? Black olives (or green if you prefer) bring some savory saltiness to the salad without using table salt. Carli also opts for adding chickpeas, and says "You could also use white beans." Canned is fine, unless you have a pressure cooker and extra time. Finally, she tops the salad with fresh sliced green onions, which adds a nice crunch and a sharp taste.
Mix the ingredients for the dressing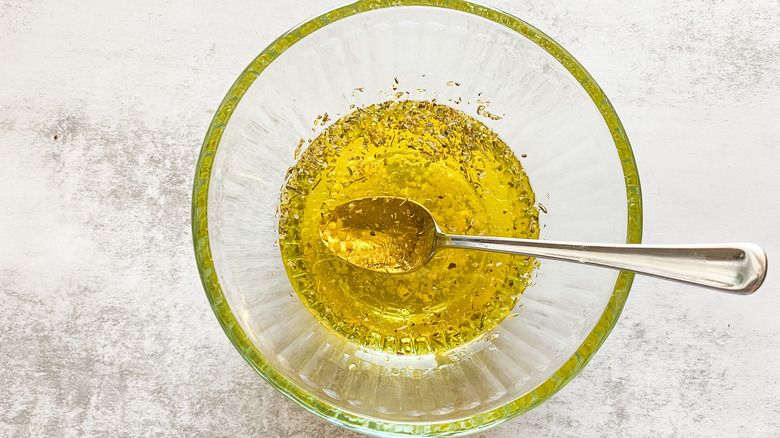 Kristen Carli/Mashed
Begin by making the salad dressing so that you are ready to mix it in when the ingredients are assembled. Measure out the olive oil and pour it into a small bowl. Add in the white wine vinegar, Italian seasoning, salt, and pepper. Italian seasoning can vary depending on the brand so you can be flexible and make your own mix if you don't have a prepared one available. Oregano, thyme, basil, and rosemary are all great for adding flavor. The best utensil to properly combine the dressing and emulsify the olive oil and vinegar is a whisk. Alternatively, you can use a fork or spoon and mix vigorously, or even put the contents into a sealable jar and shake it up. 
Chop and slice the salad ingredients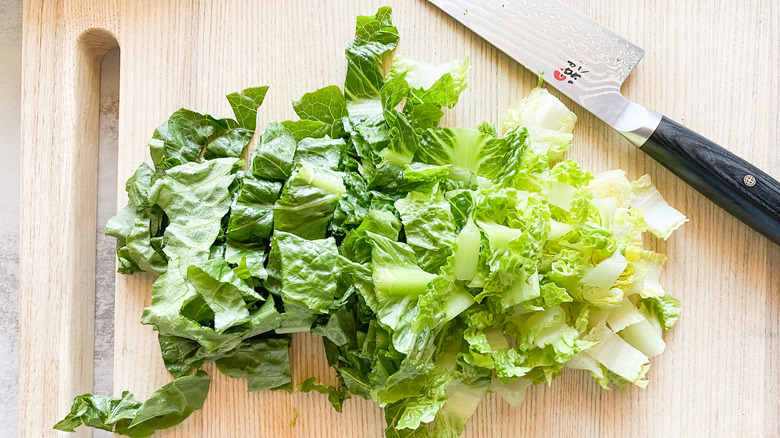 Kristen Carli/Mashed
It's a good idea to prep your salad ingredients so that they can be mixed together all at once. You'll want to chop up the romaine into small enough pieces to avoid the terrible fate of trying to stuff a large leaf of salad into your mouth as dressing dribbles down your chin. Halve all of the cherry tomatoes – they're no fun if you happen to bite in the wrong spot and squirt tomato juice all over the place. If you only managed to get larger mozzarella balls, you can halve those as well, but smaller pearl-sized ones should be manageable. Cut the salami slices into quarters to increase the chances of getting some salty goodness in every bite. If you didn't buy pre-sliced olives, go ahead and cut those too. Finally, slice the green onions using a mix of white and green stalk. 
Add the lettuce and the tomatoes to a large bowl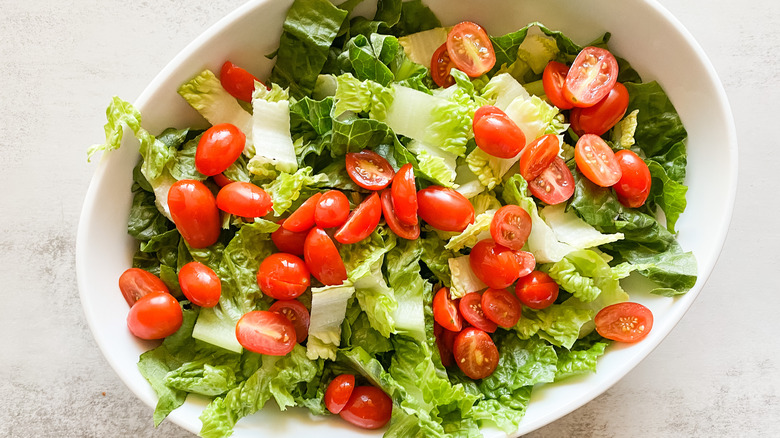 Kristen Carli/Mashed
Now that all of your ingredients are carefully prepared, your mise en place is ready for assembly. Choose a large bowl to make your salad — it will make mixing in the dressing much easier. Start by adding the romaine lettuce to the bowl, and top it with some cherry tomatoes. While this could be passable as a basic side dish salad, we're definitely eager to build a layered dish filled with goodies. Hopefully you've chosen a large enough bowl because the bulk is yet to come.
Add the rest of the salad ingredients to the bowl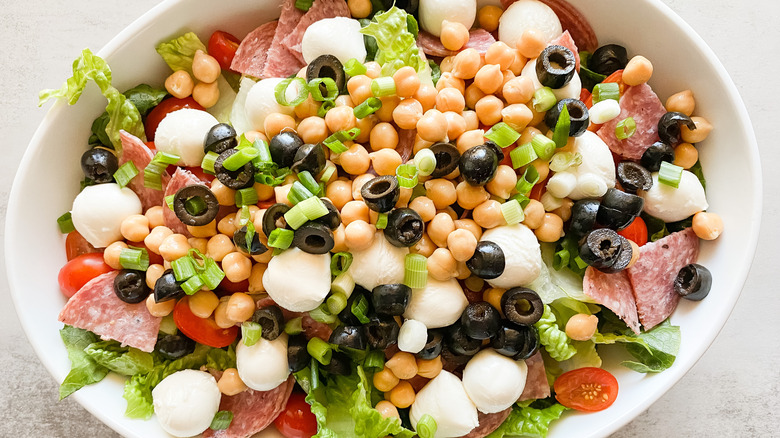 Kristen Carli/Mashed
Now is the time to add in the ingredients that arguably give this salad its name — mozzarella balls and salami. They're also a perfect match for each other, since the cheese is very mild and can certainly handle the salty rich flavors from the salami. Honestly, we wouldn't be disappointed if the salad ended here, since there's already a nice mix of flavors, textures, not to mention color. 
Carli has a few additions to complete this salad and make it a filling meal. Throw in those black olives and chickpeas, and top it all off with the crunchy green onions. Now that looks like the kind of meal salad we are excited to dig into! 
Add the dressing and toss to combine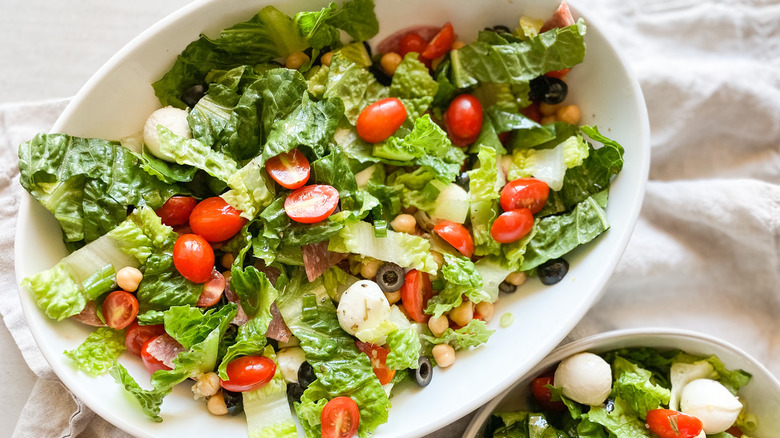 Kristen Carli/Mashed
Last step, before you can devour this crisp fresh Italian chopped salad – the dressing. You might need to give your dressing an extra whisk or shake if it has begun to separate. Then, drizzle it over the salad ingredients evenly. With the help of two spoons, scoop the contents of the salad to toss and combine. This is where a larger bowl comes in handy for easy mixing, but you should be able to avoid making a mess if you're careful.
Serve the salad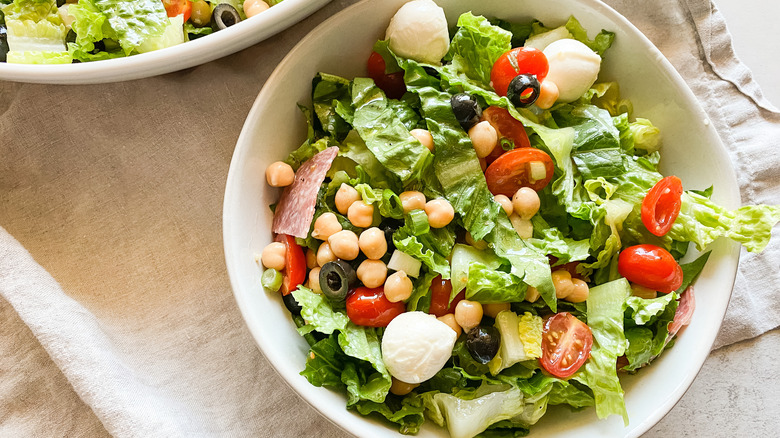 Kristen Carli/Mashed
In just 10 minutes you're ready to sit down and devour your freshly made Italian chopped salad. It's definitely suitable as a main meal, with a healthy mix of protein, fat, crunchy vegetables, and some salty extras. Carli shares her favorite sides, telling us "I would serve this with some rolls or even pizza." A double dose of Italian for dinner sounds good to us! 
Because of the various ingredients and their brines, oils, and juices, it won't store very long and is best prepared fresh. However, you can plan for the next day as Carli notes "This can be stored in the fridge for 12 hours without dressing." Try to only dress what you can eat, as per Carli's advice "Once the dressing is on it, I would suggest eating right away." That said, it shouldn't be too hard to devour this salad!
Refreshing Italian Chopped Salad Recipe
Packed with flavor, this refreshing Italian chopped salad is the perfect side dish with pizza or pasta, and is so filling it could even be your main dish!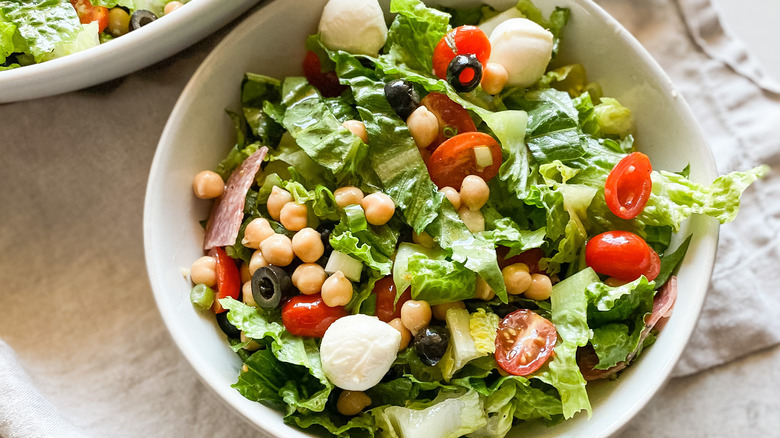 Ingredients
¼ cup olive oil
2 tablespoons white wine vinegar
1 teaspoon Italian seasoning
1 teaspoon salt
½ teaspoon pepper
1 head of romaine lettuce, chopped
1 ½ cups (12 ounces) cherry tomatoes, halved
1 cup chickpeas, drained
1 cup mozzarella balls (or pearls)
10 slices of salami, cut into quarters
3 green onions, sliced
½ cup black olives, sliced
Directions
In a small bowl, add the olive oil, white wine vinegar, Italian seasoning, salt, and pepper. Mix with a whisk or fork to combine, and set the dressing aside.
In a large bowl, add the romaine lettuce, tomatoes, chickpeas, mozzarella, salami, green onions, and black olives.
Toss the salad with the dressing until all of the ingredients are properly coated and serve!
Nutrition
| | |
| --- | --- |
| Calories per Serving | 553 |
| Total Fat | 33.0 g |
| Saturated Fat | 9.0 g |
| Trans Fat | 0.1 g |
| Cholesterol | 48.6 mg |
| | |
| --- | --- |
| Total Carbohydrates | 43.0 g |
| Dietary Fiber | 11.4 g |
| Total Sugars | 10.1 g |
| Sodium | 915.5 mg |
| Protein | 24.7 g |