Why Halloween Baking Championship Wasn't What Contestant Steven Sechoka Expected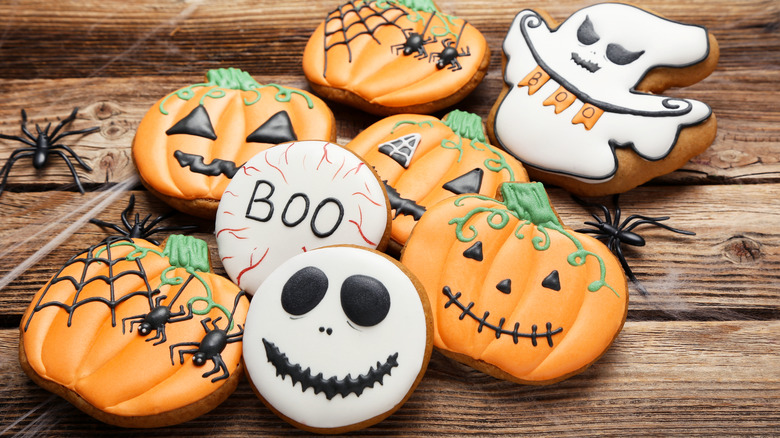 5 second Studio/Shutterstock
Food Network's holiday-themed baking contest, the perennially popular "Halloween Baking Championship," premiered its latest season on Monday, September 13. This season, which is the show's seventh, promises high "camp" — literally, given that its inspiration is 1980s classic slasher movies such as "Friday the 13th" (of course, set in a summer camp). 
This go around, the Halloween Baking action takes place at the fictional "Camp Devil's Food Lake," according to Food Network. As previously predicted, this latest installment features the usual Halloween Baking Championship judges Carla Hall, Stephanie Boswell, and Zac Young. It also brings back standup comedian John Henson who was absent from Season 6 to the consternation of some fans (via Reddit). 
And, of course, the new run features 10 new professional baker contestants who will be challenged over the course of seven episodes to whip up the most ghoulish yet delicious, not to mention beautifully presented, Halloween slasher flick-themed treats ("cereal killer pies and mega cakes," among others, according to Food Network).
One of those 10 professional bakers is none other than Steven Sechoka, a pastry chef who grew up in Carver, Massachusetts, according to Wicked Local, who recently interviewed Sechoka to get his take on being part of the show. While it's much too soon to tell how the 35-year old Culinary Institute of America graduate did in the competition, what we do know is that Sechoka has intimated that his experience on the show did not quite meet his expectations, in more ways than one.
'Halloween Baking Championship' was more focused on the drama than the baking
Competing on "Halloween Baking Championship" was "super intense," according to contestant and Massachusetts native, Steven Sechoka. "I took a lot of deep breaths and drank a ton of water," he elaborated of the time he spent on set, in an interview with Wicked Local. He also gave away teasers about the production itself, noting it was "somewhere down South" and took place "last spring." 
Although anyone might have predicted that participating on any reality television show would be at the very least intense, Sechoka seemed surprised that what he was asked to bake wasn't what he thought of as traditional Halloween fare, but rather, "more monsters and stuff." Interestingly, Sechoka also seemed somewhat surprised that the producers of the show seemed more interested in fostering drama than focusing on the baking itself.
"I went in, very naive, thinking they want us to make really good things so they could have cool stuff to show on TV," he stated in the interview with Wicked Local. "The reality is they just wanted drama." That being said, Sechoka did say that the best part of the shoot was that he "made some really good connections all over the country with some really cool people" like contestant Megan Baker and that "they got really close having been through the same experience."