Fans Of Aldi's Wine Advent Calendars Will Love This News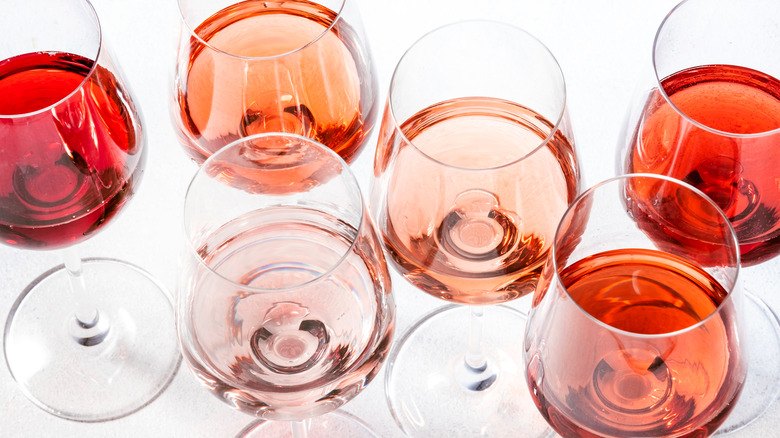 5PH/Shutterstock
With temperatures falling, leaves changing, and the holiday season rapidly approaching, retailers like Aldi have begun to tease some of their festive seasonal offerings, including the return of Aldi's boozy Advent calendar that's guaranteed to excite wine lovers.
Advent calendars, which are traditionally used to count down the 24 days leading up to Christmas, have evolved over time from a religious tradition into a treat-filled surprise that offer daily gifts behind 24 doors, which are opened day-by-day leading up to the holiday — or sooner, if you're lacking in patience. 
The discount retailer Aldi has offered a number of fun food- and drink-filled Advent calendars over the years, including those with cheese, chocolate, and even dog treats. On the boozier end of the spectrum, the company has also made calendars filled with beer and hard seltzer, as well as a popular wine-filled Advent calendar, which will be returning to stores this year.
In an Instagram Post, Aldi shared a preview of this year's first crop of Advent calendars — including the buzzy wine-filled box — alongside the caption: "We're kicking off Advent calendar season by announcing the return of two tasty classics, wine and cheese, in stores 11/3!" The company also teased more releases to come throughout November and December. But here's the really good news: they're even more affordable this year!
Everything you need to know about this year's wine Advent calendar from Aldi
The Aldi wine Advent calendar, which is available for purchase in stores only (and only at Aldi locations that carry alcohol), includes 24 mini bottles of white, red, and sparkling wine, each equating to one glass of vino. In excellent news for wine lovers, this year's box will be priced at just $59.99, which is a $10 decrease from the price of last year's boozy Advent calendar.
According to Today, past wine calendars have included miniature bottles of sparkling rosé, Sauvignon Blanc, and Malbec — and this year's box will feature nine different varieties of wine to sip on throughout the holiday season. For a festive happy hour pairing, shoppers can also pick up the retailer's cheese Advent calendar, also on sale on the same day, which offers 24 tastes that coordinate with the selections included in the wine box. 
With the latest price drop, wine-loving Aldi shoppers will have to act quicker than ever to snag one of the coveted limited-edition calendars. Last year's wine calendar flew off the shelves so rapidly that some resellers on eBay attempted to list the hot item for over $300 a piece. This year's wine Advent calendar will hit Aldi shelves on November 3 and be available for a limited time, while supplies last.