These Are All The 2020 Aldi Advent Calendars You've Been Waiting For
It's the moment you've been waiting for, Aldi Nerds. Aldi has done it again with the long-awaited release of several limited-edition Advent calendars for the 2020 holiday season. 
This year's collection features wine, beer, cheese, chocolate, and even treats for the children and pets in your life. AP News found plenty of other companies have also gotten into the spirit by releasing booze, beauty, and cheese-filled Advent calendars to prepare for the holiday — but no one does Christmas countdowns quite like our favorite discount grocer. Perhaps thanks to the reasonable price point — or the limited amount of stock that tends to show up at each store — these limited releases can be hard to get a hold of. Eager customers line up for hours ahead of a store's opening just to get their hands on one.
USA Today reports that in previous years, Aldi stores across the country sold out of some of their more popular Advent calendars within minutes — bad news for all those stragglers who waltzed into their local Aldi a whole five minutes after they opened, thinking they'd be able to snatch one up. Since these calendars usually aren't restocked, shoppers will need to get their hands on these treats at one of the 2,000 Aldi stores in the states as soon as they're released. We've compiled the line-up this year (and it's a big one), so you'll be prepared for when the holiday Advent calendars hit Aldi shelves on November 4.
Aldi's Merry & Bright Wine Advent Calendar
This Advent calendar from Aldi is probably the one most of you have been waiting on. It's the ideal gift for a festive countdown in one of the booziest times of the year. Aldi's Merry & Bright Wine Advent Calendar features 24 tiny bottles with 12 different varieties for a daily surprise. The wine Advent features a festive tree motif and punch holes to reveal the wine of the day. 
In 2018, the first year Aldi's wine calendar hit shelves in the United States, USA Today reported the item sold out in just minutes. That wasn't the last we saw of it though. The popular Advent calendar emerged on the after-market with sellers on eBay once the supply sold out in stores. One eBay seller listed the wine Advent calendar for $300 plus a $51 shipping fee — a hefty increase on about five times the original in-store price of $69.99 — and it sold. 
Town & Country reported last year's wine calendar featured a variety of sweet, dry, red, white, and bubbly wines in 24 individual bottles. Wine origins ranged from South Africa to Australia, offering a global taste test in its festive collection. Keep in mind, not all Aldi stores will carry the alcoholic calendars to comply with state laws restricting booze sales in grocery stores. If your store is going to carry them, you may want to start planning your strategy now. 
Aldi's Beer Advent Calendar
This calendar for the adults in your life is perfect for anyone who loves to experiment with their beer selection. The aptly named Beer Advent Calendar retails for $49.99 and features 24 hoppy surprises, each in a full-size 11.2-ounce bottle. The alcohol Advent from 2019 featured six core selections, two Aldi features and seven exclusive varieties, and it's pretty likely that the 2020 version will have similar offerings. Aldi also put a limit of two beer calendars per person last year, so you might want to bring a friend if you're planning on picking up a load of these bad boys.
The Aldi Reviewer gave positive makes to the U.S. debut of the beer calendar in 2019. The first-ever beer calendar gifted varieties such as a peaty O'Shea's Irish Stout, a sweet Licher Hefeweizen, and a malty Boot Tread Amber Ale. Sticking with the store's German roots, the Wernesgruner Pilsner is a classic German beer known for its smooth and crisp taste that unsurprisingly goes great with a grilled burger or brat. The Kinroo Belgian White Ale also received high marks from the reviewer for its citrus and floral notes. 
Since some of these beer selections frequent Aldi's alcohol section even when it's not the holiday season, you may find a favorite or two you can enjoy year-round.
Aldi's Vista Bay Hard Seltzer Advent Calendar
Aldi released the perfect calendar for the White Claw lover in your life. The Vista Bay Hard Seltzer Advent Calendar invites you to celebrate the holidays with 24 bottles made up from 12 exciting flavors of canned seltzer. Not just for summer, these seltzers are great alternatives for people who are gluten-free, dairy-free or just appreciate a lighter drink. Hard seltzers are so popular in the U.S. there was as White Claw shortage in 2019, a top contender in the market in terms of name recognition.
Aldi's hard seltzer Advent calendar invites you to try another brand if you haven't yet. Vista Bay is another German company that offers a range of flavors at the discount store. Popsugar featured the brand as the ideal mixed drink for summer thanks to options such as coconut mango, ruby grapefruit, natural lime and black cherry. Plus, the hard seltzer Advent is just $34.99 for 24 days of holiday cheer.
It's the first year for this hard seltzer Advent selection, but we have a feeling it won't be the last.
Emporium Selection Advent Cheese Calendar from Aldi
Cheese Advent calendars are a delicious way for food lovers to embrace the chill of the season. Aldi's Emporium Selection Advent Cheese Calendar might not carry the fervor of the booze calendars, but it's still one of its most beloved annual releases. The cheese Advent reveals 24 European cheeses perfect for just a sample of the different styles. Paired with the Wine Advent — as if you hadn't thought of that on your own — you might be able to close your eyes and imagine you're vacationing in a mountain chalet. 
Aldi Reviewer found the discount store updated its 2018 Happy Farms cheese calendar to a more elevated, and $3 more expensive, Emporium Selection version. The Emporium cheese calendar offered more variety with eight different styles in 2019 versus the original five selections. Cheeses included multiple goudas, a mild-tasting edam, mild and aged cheddar, and a red leicester that ends with a bite. If the boxes stick what has worked in previous installments, you can expect all the cheese imported from the United Kingdom, Holland, and Denmark. Enjoyed alone or as a pairing, this food-themed Advent is also well priced at $14.99 for all of the mini cheeses.
Chocolate Advent Calendars at Aldi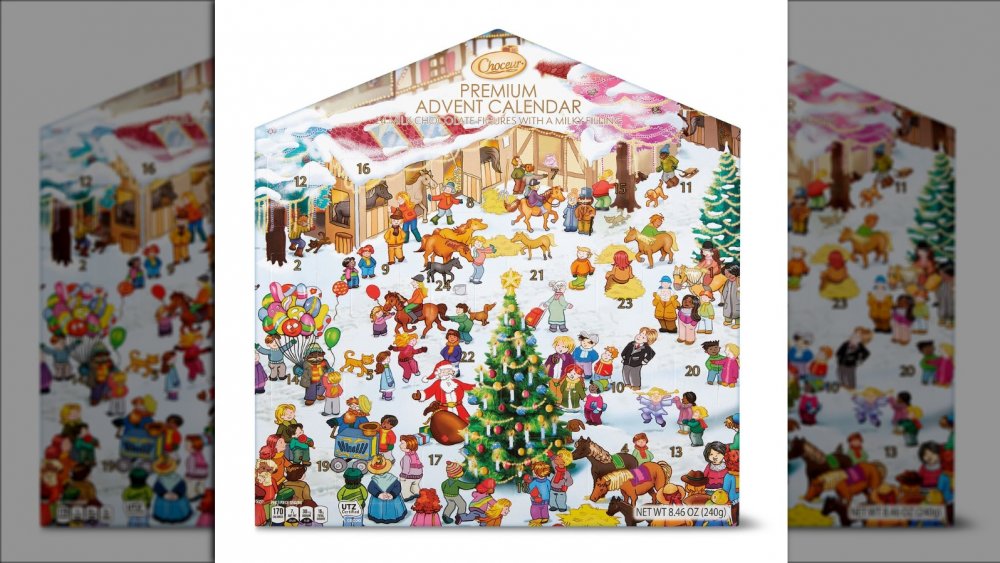 Aldi
Chocolate seems to be synonymous with the holidays, whether sipping cocoa by the fire or evolving to old family recipes for gatherings. Aldi released a few chocolate Advent calendars again this year for excited shoppers to choose from. The Choceur Advent Calendar is an absolute steal at just $1.39 for 24 milk chocolate figurines. Keep in mind that they're pretty tiny pieces of chocolate — but that might just be perfect for tiny hands.
Taking it up a notch, the Choceur Premium Advent Calendar comes with creme-filled figurines and are a bit larger for additional enjoyment. Aldi's premium option is still retailed at a modest $4.99 per calendar. These two food-themed calendars are still the most affordable options available.
As an added bonus, the chocolate Advent calendars are available in different festive scenes. The boxes are also designed for children to be able to color on the back once you've eaten all the goodies. It's a win-win for parents looking to entertain children on a long winter night, especially if they're hopped up on sugar.
Moser Roth 24 Days of Christmas Nutcracker Advent Calendar at Aldi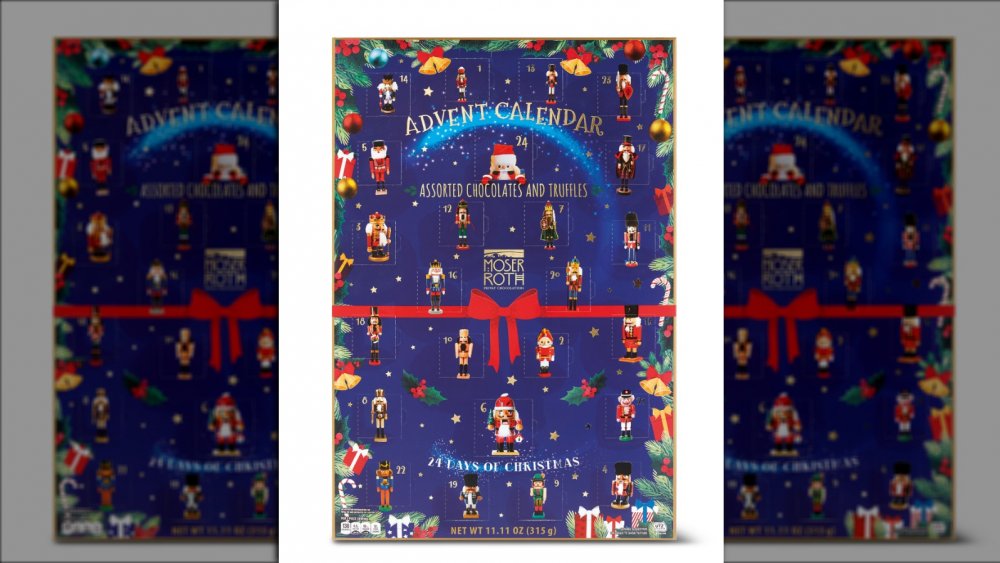 Aldi
The Nutcracker, both as a play and as the slack-jawed, wooden figurine, have become classic symbols of the holidays. Aldi's most premium option for this year's chocolate Advent calendars features a different festive nutcracker on each day. The discount store once again called on Moser Roth, the award-winning and, you guessed it, German brand of premium chocolates to deliver its 24 days of Christmas truffles. Moser Rother chocolates are made from UTZ certified cocoa, which means they support sustainable farming while safeguarding natural resources. It's a responsible brand you can feel good about while partaking in a small luxury. 
 Is this premium option worth the $7.99 price tag? The Homespun Chics stood in line for one hour to get a Moser Roser truffle calendar in 2019, recalling the same energy of a Black Friday deal. The reviewer claimed the truffles tasted just as delicious as Belgian chocolates they had eaten when visiting Belgium. The varieties also included more decadent and imaginative flavors such as bourbon vanilla truffle, creme brulee, and baked apple truffle.
Huntington Home Advent Calendar Candles from Aldi
Advent calendars don't have to be edible to count down the holiday season. Even though edible Advent calendars are popular for obvious reasons, Aldi came up with an Advent candle to burn each day instead of packing on the calories. Huntington Home is an Aldi brand known for its quality at an affordable price — and they tend to disappear from the Aldi Finds aisles as soon as they show up. Aisle of Shame compares Huntington Home candles to competitor Bath & Body Works, which retails similar candles for around $20 more than the discount brand. The Aldi candles also offer seasonal scents, and now, a festive way to observe the holiday season. 
It's a rather simple and pretty loose interpretation of an Advent calendar. This year's Huntington Home Advent Calendar Candle (say that three times fast) is labeled with 25 days on the face of the brown glass container. It's not structured as with other Advent candles detailing how long you should burn the candle, so it lasts for 25 days — as long as you're not burning it for very long each day. At $4.99, the candle is still an affordable way to countdown the season.
Pure Being Cat and Dog Advent Calendars from Aldi
Humans shouldn't be the only ones who get to share in the holiday cheer. Aldi brought back its pet Advent calendar in 2020 for the furry members of the family. Pure Being's Premium Dog Advent Calendar and Cat Advent Calendar feature 25 salmon and sweet potato treats. To endure your pet also receives the best, each treat is all-natural, grain-free, and rich in Omegas. And the pet calendars are a pretty great price at just $5.89 each. 
The Pure Brand partnership is a departure this year from previous Advent calendars. In 2019, The Homespun Chics tried the OmegaSnax version, which rolled out a dog-specific calendar treat in the same flavor. They found the simple ingredients of Atlantic salmon from Scotland and sweet potatoes a welcome reprieve from the typical chicken treats. Plus, the treats arrived in different sizes with a large bone for the final surprise. We will have to wait and see what Aldi's Pure Brand has in store for this year's release, but we're pretty sure your animal friends will love it, no matter what.
Barbie and Little People Advent calendars from Aldi
Mattel is back in the mix for Aldi's Advent calendar release for the young or young at heart. The Aldi Reviewer found the Barbie set included a full-sized doll with a daily reveal of accessories in 2019, and it looks like the 2020 version will be more of the same. The Mattel calendar features traditional fold-out tabs with 23 surprises to mix and match for Barbie's biggest fans. Aldi's assortment includes the potential for a party dress, shoes, necklaces, earrings and other festive options for the best-dressed doll on the block. Two of Barbie's pets are also included — a small consolation prize in case the real thing just isn't happening this year. 
Fisher Price's Little People Advent calendar is a new option for this year, designed for the little ones that may be too young for Barbie. Different Little People figurines in holiday and seasonal attire, as well as seasonal accessories, are revealed each day. Expect Santa and Mrs. Claus, as well as a snowman, reindeer ,and even a ski bum and snowboarder. Both of these calendars are on sale for $24.99. The real struggle will be getting your child to wait until the next day for each big reveal.
Spin Master PAW Patrol Advent Calendar at Aldi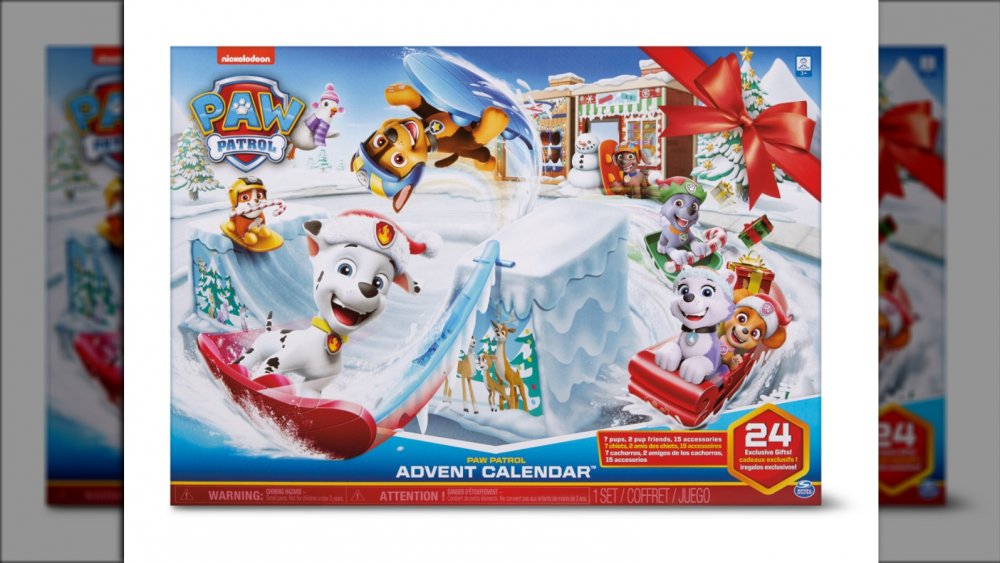 Aldi
Counting down the holidays with children adds a certain magic to the air. Aldi's Paw Patrol Advent calendar isn't exclusive to Aldi, or even the cheapest price — but it's pretty convenient to grab while you're on a grocery run. It's also a more tangible bribe than Santa watching over if your kid refuses to bundle up during the holiday season. For fans of the animated series, the PAW Patrol Advent calendar is a must-have this holiday season.
The Paw Patrol Advent calendar available at Aldi includes small figurines that are all winter and holiday-themed, allowing kids to dress up and create a snow day adventure. The 24-piece set is designed for children to use their imaginations for exciting holiday missions, and for a surprise to be behind each door. The PAW Patrol calendar is best for children ages 3 and older. The limited release is available for $19.99.
Aldi's Disney/Marvel Book Advent Calendar
The holidays can bring the arrival of a slew of gifts, toys and travel for the entire family. Finding a moment to slow down with little ones isn't always an easy task when Santa's on his way. Aldi returns with another approach to the Advent calendar that is entertaining for adults and kids alike. The Disney-owned Marvel Book Advent Calendars feature a change from the toy-centric calendars. Instead of tiny toys that get lost in couch cushions and somehow end up  under your feet, these Advent calendars come with a different book for each day leading up to Christmas. The book Advent calendar costs $9.99 each for an impressive 24 books, and features either Frozen, Marvel, or a classic Disney character variety. 
In previous years, Disney partnered with the discount store for other character-themed books for the holidays. Traditionally, each paperback book is packaged in a sleeve, so the surprise won't be revealed until the day you open.
Hot Wheels or Cars Advent Calendar from Aldi
Nothing says the holidays like miniature toys that can hopefully keep kids occupied for hours. Aldi knows what parents need and children want with the release of two car-themed Advent calendars for kids. This year, they're carrying Hot Wheels and Cars-themed Advent calendars for the 20202 collection. The Cars Advent calendar features Lightning McQueen, Mater, and other characters from the cast in a miniature racetrack. Each day will reveal more of the track and speed racer set-up to complete the set.
Hot Wheels is a popular return this year. Our Community Now found this toy Advent calendar also turns into a holiday-themed racing surface. Santa makes an appearance in a speedster, and children get to expand the universe with each surprise accessory. The reviewer found this version to be a little lackluster at times, thanks to less-than-thrilling add ons. Couldn't they do better than a traffic cone and a set of tires? Still, it's a great value when priced at 16.99 at Aldi's.
Aldi's Sparkling Wine Countdown to the New Year
The Advent calendar has spawned many forms thanks to its popularity. Not everyone is counting down a religious holiday, and some aren't ready to give up the festivities on December 25. The holiday season doesn't stop there, after all. Aldi has you covered. 
In 2020, Aldi returns with its Sparkling Wine Countdown to the New Year calendar, including seven days of bubbly. The Aldi Reviewer found the 2019 Advent calendar featured a different variety for every day Christmas to New Year's Day. Highlights from the wines included a brut rose, moscato, cava, and prosecco, as well as a sparkling chardonnay and sparkling pinot noir.
Delish reports the Sparkling Countdown won't arrive in stores until December 2 and costs $24.99 for the week-long celebration. Other untraditional calendars are also available featuring some of your other favorite libations this year. Aldi also created the O'Donnells 12 Day of Irish Country Cream for a more joyful coffee experience. The irish cream calendar will cost $29.99, but will not be available in Aldi stores until November 25. The popularity of the boozy Advent calendars only hints at more variety in the years to come.