What Dairy Queen Fans Really Think Of This Blizzard-Holding Sweater Vest
Did Dairy Queen really drop a diamond plaid sweater vest with pockets for a Blizzard and its spoon, or did September 15 just become the new April Fool's Day? DQ claimed on Instagram that the pink, brown, and gold vest sold out in a matter of minutes, but the ice cream chain's followers weren't buying it — literally or figuratively. People who went online at the appointed time on the morning of the 15th ended up taking to Instagram to vent their frustrations.
"Wouldn't even give me a link to order," Instagram user @kkurowskid commented on Dairy Queen's post. "Finally got 'order yours here' but still no link and nowhere to click." 
Instagrammer @tattoolore said, "Now it says sold out? It never loaded right. This was bunk." User @tonyhacker3 piled on: "Site not working. No link. Is it April 1st????"
Some of the commenters concluded that Dairy Queen in fact wasn't even trying to peddle a sweater vest with a pocket custom made to fit a Blizzard. "100% a joke," @sbaker728 commented. "Yep, a scam all the way," @moecurt agreed.
"If I see ONE person wearing this I'm going to run away from society," @welcomeashlyn said.
Dairy Queen may have sold one Blizzard sweater vest at least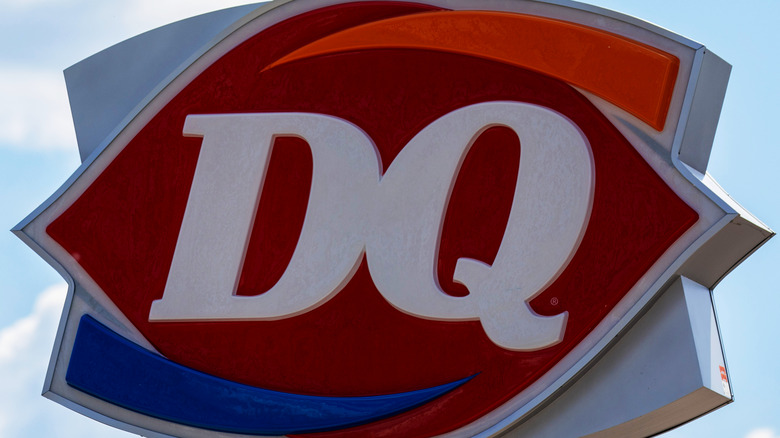 Angela Holmyard/Shutterstock
Did anyone actually purchase a Dairy Queen sweater vest with Blizzard pocket, or was it all just a joke that nobody found funny? DQ franchisees might have been the most upset over what was either a "scam" or a severe lack of bandwidth on Dairy Queen's website. "Just once I would like the elites in marketing have to deal with the endless nonsense they force on franchisees," @marc_in_mn commented under Dairy Queen's Instagram post.
In a move that might have only heightened the confusion, Dairy Queen deleted a tweet that had announced the sale of the sweater vest. But lo and behold, right there on Twitter you'll find evidence of someone who someday might be wearing the elusive vest with Blizzard pocket. "I hadn't refreshed a page so frantically since trying to get a COVID vaccine but I did it," Molly Tolsky tweeted. "I got a Dairy Queen Sweater Vest." Tolsky's message had included a retweet of DQ's original tweet — then she noticed DQ had removed that same tweet.
"OK, Dairy Queen deleted their tweet I guess because it sold out making me look like a FOOL, but a free sweater vest with one pocket for a Blizzard and one pocket for a spoon is apparently headed my way," Tolsky said in a follow-up tweet. "You just have to believe me."
We're inclined to trust Tolsky on this, but that only leads us to a question raised on DQ's Instagram. "I want to know exactly how many were even available," @spendant commented. "Three?"