Dairy Queen Added This Comfort Food Blizzard To Its Fall Lineup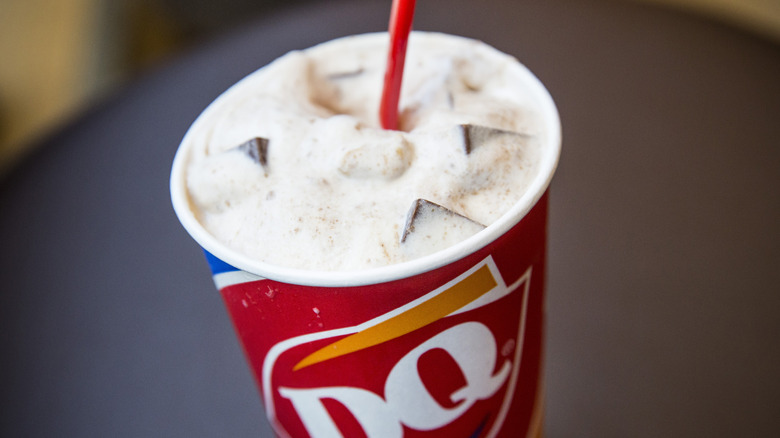 Andrew Burton/Getty Images
Move over pumpkin spice lattes 一 Dairy Queen has a selection of new seasonal Blizzard flavors to liven up your fall. The ice cream and fast-food restaurant's response to the cooler temperatures approaching is to cool customers down even more. While other companies are focusing on warm drinks, Dairy Queen is keeping things fresh with its latest fall Blizzard lineup. According to Chew Boom, entirely new Blizzard options will be available along with some tried and true favorites.
Of course, it wouldn't be fall without mentioning the Pumpkin Pie Blizzard, but additional flavors will also be on the menu. Customers will be pleased to learn that the icy favorite comes in three new flavors. Keep in mind that seasonal options are available for a limited time at participating locations. You won't want to wait too long before heading out to the closest Dairy Queen location to test out the mixed selection of special flavors.
What flavors can Blizzard fans expect?
You'll definitely need a generous appetite to try out the assortment of Dairy Queen fall flavors. Four Blizzards are making a return, including the Pumpkin Pie, which has actual pieces of pumpkin pie and some nutmeg as a finishing touch. If you're a fan of the famous cookies, then you'll want to order an Oreo Mocha Fudge Blizzard Treat. Chew Boom describes that Oreo pieces, coffee, and chocolate are all combined with vanilla soft serve ice cream. The source lists a Choco Dipped Strawberry Blizzard Treat and a Royal Ultimate Choco Brownie Blizzard Treat among the returning flavors. Chocolate lovers will rejoice at the two options 一 the former with a fruity twist and the latter heavy on the fudge.
Dairy Queen's new Blizzard options will certainly tempt any ice cream lovers. For starters, the Pecan Pie Blizzard Treat proves that there's plenty of space for fall pie. The dessert is the perfect combination of warm brown sugar pie and caramel flavors, topped with pecans (via Chew Boom). For a classic peanut butter and chocolate combo, fans will have to try the Reese's Pieces Cookie Dough Blizzard Treat. Finally, if you like a salty twist to your desserts, then you'll need to try the Sea Salt Toffee Fudge Blizzard Treat. Fudge, salted toffee, and caramel unite with soft-serve ice cream for this decadent choice. We recommend planning out your fall Dairy Queen visits to ensure you can try out all of these delicacies.