The Touching Reason Guy Fieri Decided To Master Vegetarian Food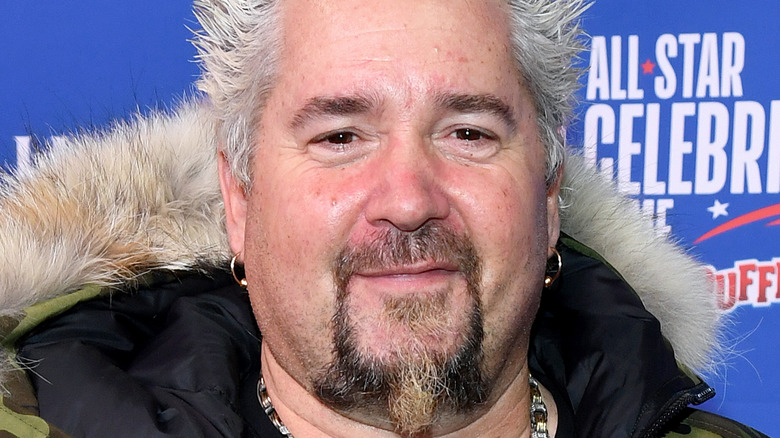 Kevin Mazur/Getty
Guy Fieri was featured on Season 2 of "Food Network Star" in 2006 and quickly skyrocketed to fame after being named victor (via Insider). However, his journey to becoming the food genius he is today actually began 28 years prior to that. When he was just 10 years old, the Columbus, Ohio native launched his first culinary endeavor, "The Awesome Pretzel Cart," a bicycle cart he built with his father (via Guy Fieri). After six years of hard work, determination, and selling soft pretzels, the TV personality was able to afford his dream of studying abroad in France, exposing him to foreign, international cuisine. Fieri is now an Emmy Award-winning TV host, New York Times bestselling cookbook author, and a successful restaurateur. Famous for his renowned donkey sauce and signature spiky blonde hair, the celebrity chef even has a star on the Hollywood Walk of Fame, a rare accomplishment for someone in the culinary world.
Known for his love of burgers and barbecue, it may come as a surprise that Fieri grew up eating mostly vegetarian cuisine. "We ate a lot of vegetarian — we were vegetarian — and I hated it," the 53-year-old chef shared with Insider. "But of course what do you do? You go back to your childhood, and now I'm a veggie machine." Today, Fieri continues to have a strong, personal connection to vegetarian food, especially after the tragic death of his sister, Morgan.
Guy Fieri's late sister Morgan taught him a lot about vegetarian cooking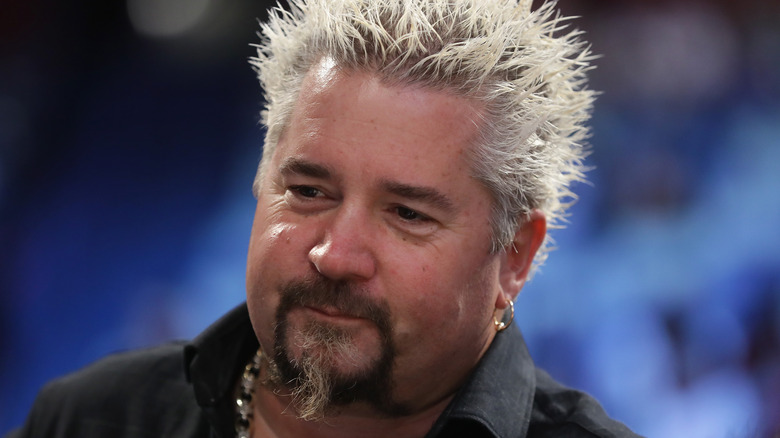 Ronald Martinez/Getty Images
In 2011, Guy Fieri's younger sister Morgan passed away from metastatic melanoma, a cancer that she had been battling since she was 4 years old. Morgan was a vegetarian, sometimes vegan, and served as a great inspiration to Fieri during her lifetime, and still does to this day. "My sister was a great cook," Fieri shared in an interview with Delish. "She was always introducing me to new ways to cook with vegetables, going, 'try this' or 'try that.' She got me to be more creative with my vegetarian cooking, and now I'm much more veggie-centric on my plate."
It was during the last year of her life that Morgan really pushed Fieri to up his vegetable game. Morgan got tired of eating the same grilled vegetables day after day during her treatment, and requested that her brother bring her some "real meals" (via Food & Wine). Unsurprisingly, the Flavortown genius was up to the task, and made it his mission to grant his beloved sister this last wish.
Today, Fieri ensures that Morgan's life and legacy lives on in as many ways as possible — from her vegetarian contributions in his cookbooks to the Guy Fieri Foundation for Inspiration and Imagination, which she founded (via Legacy). Fieri also has a "Namaste" tattoo on his arm, in honor of Morgan's favorite mantra. The saying serves as a constant reminder to always recognize the power of other people, a beautiful outlook on life in which his late sister never stopped believing.