Emeril Lagasse's Go-To Pasta For Family Dinners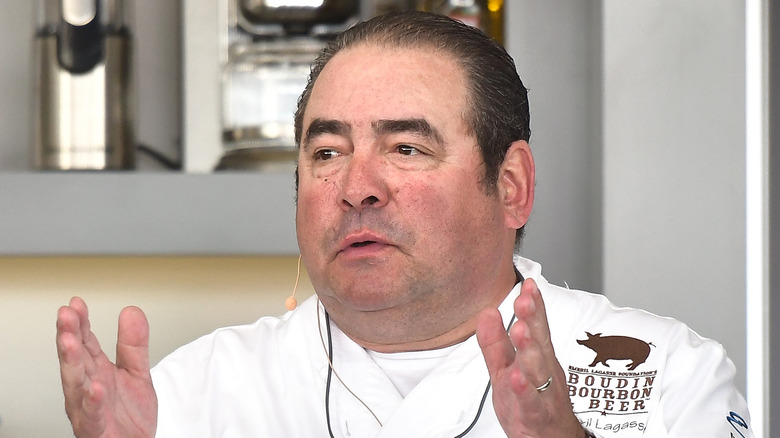 Gustavo Caballero/Getty Images
Who doesn't love pasta? From oozy baked ziti to veggie-loaded pasta primavera to fluffy pillows of ricotta ravioli, we'll chow down on this satisfying carb any day. And we're not alone: Over in Italy, the country most associated with the pasta we know and adore, the average citizen forks down a whopping 55 pounds of pasta per year (via South Florida Reporter). Here in the United States, the figure is a still-respectable 20-ish pounds per year (via Food Business News).
As much as we love to spend an afternoon in the kitchen whipping up something fancy and complicated for dinner, we've got to admit that more often than not we turn to pasta as an inexpensive, easy, and reliable evening meal — especially when dinner is a family affair. And apparently, that tendency isn't limited to home cooks, but professional chefs as well. The legendary Emeril Lagasse, for example, often cooks up pasta dinners for his two younger children, as he recently shared with Buzzfeed.
Bolognese, stir-fry, and linguine, oh my!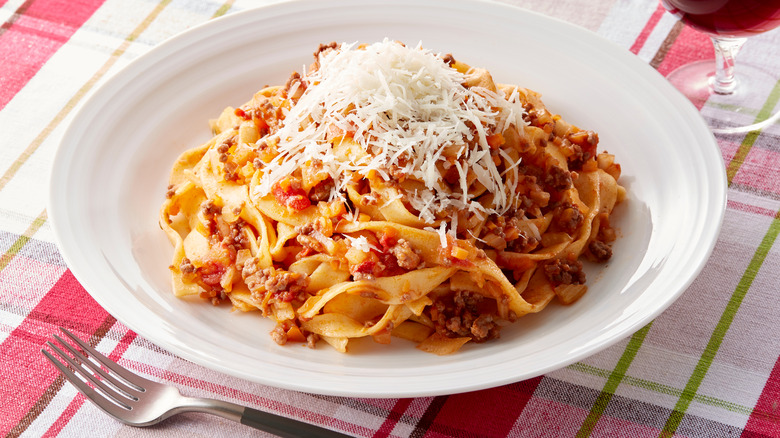 funny face/Shutterstock
Though most well known for his Cajun and Creole style of cooking — think dishes such as gumbo, Louisiana-style barbecue shrimp, annd banana cream pie (via The Daily Beast) — Chef Emeril Lagasse can often be found in his home kitchen whipping up a mean pasta, too.
As the chef recently told Buzzfeed, he loves cooking pasta at home for his family. Lagasse is currently married to his third wife Alden Lovelace; together, the pair has two adult children, E.J., 18, and Meril, 16 (via People). The family enjoys sitting down to pasta together, Lagasse told the website. "There are a few go-to's at my house. The kids love Bolognese, so we make that pretty often."
Lagasse added that Lovelace favors a different pasta dish, this one featuring surf as opposed to turf. "Meril's favorite, linguini and clams, makes it to the menu almost every other week," he said.
The chef added that in addition to pasta, stir-frys are "a hit" and something he prepares often. So the next time you head to the kitchen to boil up some pasta for your family, remember that there's likely a professional chef or two at home doing exactly the same thing.