The Unlikely Way Guy Fieri Met His Wife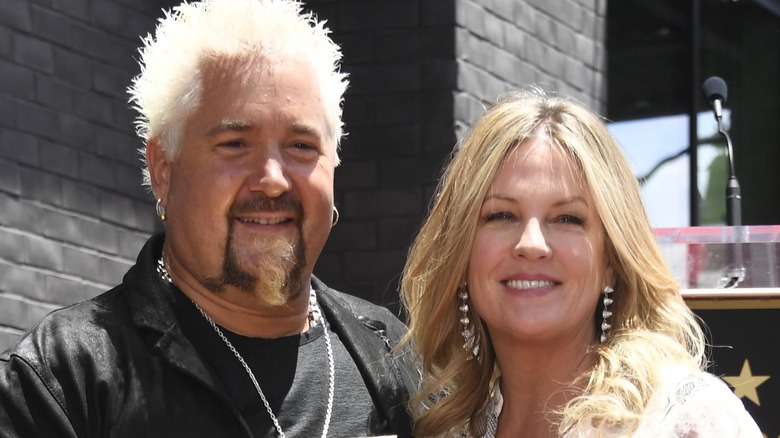 Frazer Harrison/Getty Images
Some may call it love at first sight, but Lori Fieri may call it love at first meal. Whatever the case may be, Guy Fieri's introduction to his now-wife is the kind of tale ripe for the beginning of a 1990s romantic comedy. According to a piece by Delish, the meeting took place in a restaurant Guy was running, at the time, in Long Beach, California, where he happened to find a girl that he'd recently let go. In the midst of telling his former employee she had to leave, someone else caught his eye.
Standing behind his ex-employee was a certain Lori, who had just drove cross-country from Rhode Island to visit her friend, and this certain Lori wasn't happy about her friend being kicked out of the restaurant. Beaming her blue laser-beam eyes at Guy, she took up arm for her recently fired friend. From there, it was history. Guy backed down. And, well, the two got married three years later.
Guy Fieri's wife has had an immense influence on his career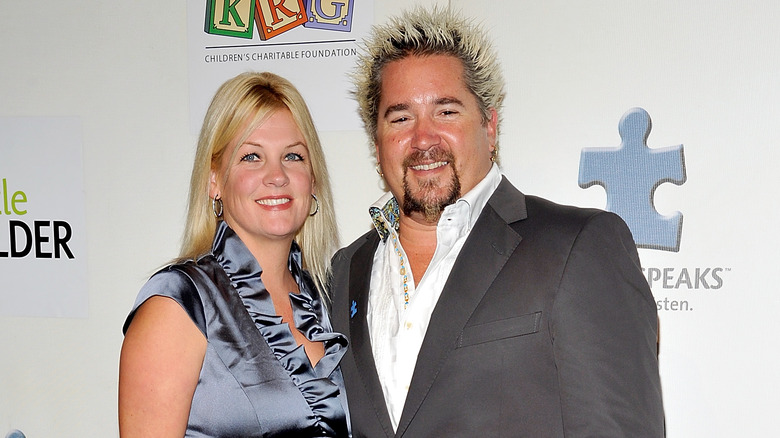 Joe Corrigan/Getty Images
During an interview with People, Lori revealed that when she first met Guy in 1992, he was sans goatee, dark-haired, and wore suits for work, and admitted that she isn't the biggest fan of his spiked, bleached hair. That said, she has had a massive impact on the man we know as the Mayor of Flavortown. According to TV Overmind, Lori was the one who convinced her man to change his name to Fieri from Ferry, which was the way his name got Americanized when his grandfather moved from Italy. It's not just his name she's influenced, though.
On top of helping Guy come up with his famously zany food ideas, it was Lori who gave him the motivation he needed to audition for "The Next Food Network Star" in 2006. The holiday season was on its way, she was pregnant at the time, and Guy had a lot on his proverbial plate, consequently making him consider passing on the opportunity. But Lori had other plans for him. And, if she hadn't, we may have never come to know the author of the infamous apple pie hot dog.