Popeyes' New Strawberry Cheesecake Cups Are Turning Heads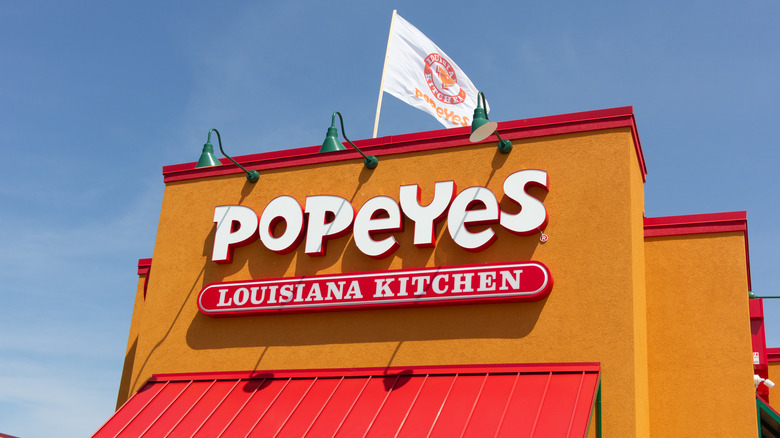 Shutterstock
If you are a major fan of Popeyes, then you likely know the menu has tons of options until you reach the dessert section. While you can order tons of different kinds of fried chicken and seafood, there are only two flavors of one dessert: fried cinnamon apple or strawberry and cream cheese pies (via Popeyes). Luckily, there's a new version of one of the pies hitting select Popeyes menus. 
According to Chew Boom, some locations across the U.S. will be serving up a new strawberry cheesecake cup for a limited time. The new take on the fried pie includes a graham cracker crust topped with a cheesecake filling and strawberry puree swirled throughout. The cheesecake dessert is served up in a plastic cup for just $2.49. It's certainly a change to the existing desserts and is bound to be a sweet treat many Popeyes fans will be ready to try. But, as with any dessert, Popeyes new offering has its drawbacks.
Popeyes' strawberry cheesecake cup isn't exactly nutritious
While having another option on the dessert menu — and especially one that is not fried — is a welcome change for Popeyes fans, it definitely isn't a healthier option if that's what you are thinking. In many ways, the fried pies are actually healthier than the new strawberry cheesecake cup. Popeyes has not made the nutritional values for the strawberry and cream cheese fried pie available, but its counterpart, the cinnamon apple fried pie has greater nutritional value than the new dessert. 
According to Popeyes, the apple pie has 236 calories, 15.5 grams of fat, 35 grams of carbs, 12 grams of sugar and three grams of protein. The new strawberry cheesecake cup has 318 calories, 20.7 grams of fat, 28 grams of carbs, nearly 20 grams of sugar and about four grams of protein. So, try the new dessert if it appeals to you, but definitely do not assume it's a better option simply because it isn't fried.