Easy Blackberry Pie Recipe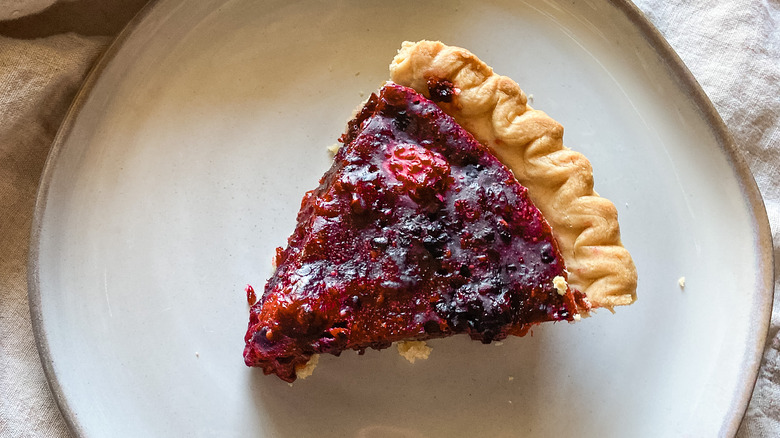 Kristen Carli/Mashed
Are you looking for an easy dessert that's slightly outside of the box and not just cookies or cake? If you need something that will wow your guests, then look no further than this easy blackberry pie. It's simple, refreshing, and oh-so delicious. The recipe is perfect for pretty much any occasion, but a backyard BBQ is the first thing that comes to mind when we think about it.
Registered dietitian and recipe developer Kristin Carli created this yummy pie that aims to please. She shares in the same sentiments as us — that this pie is great for any event. "I love this one year-round. Because you use frozen berries, you can make this any time of year," Carli shares. That's right; you can even serve it in the winter ... there's genuinely no occasion that it won't be a hit at.
Now that we have your attention keep scrolling to find out how to make this tasty pie that will most definitely leave you wanting more!
Gather the ingredients
Kristen Carli/Mashed
Before you get cooking on this delicious pie, you'll want to make sure that you have all the ingredients for it! First off is the star of the dish — your blackberries, which should be frozen. "I choose frozen berries whenever I am making pies because it ensures the best quality year-round," Carli notes. "If you have great fresh berries near you during berry season, you can use fresh, but you do not need to use as much cornstarch — take it down to 2 to 3 tablespoons." Carli goes on to explain that "The water in the frozen berries is released during cooking, and this makes for a very liquid pie if you do not use the cornstarch."
In addition, you need cornstarch, sugar, lemon juice, ground cinnamon, and a frozen deep-dish pie crust. Once you have it all, it's time to get cracking.
Preheat the oven and prep the ingredients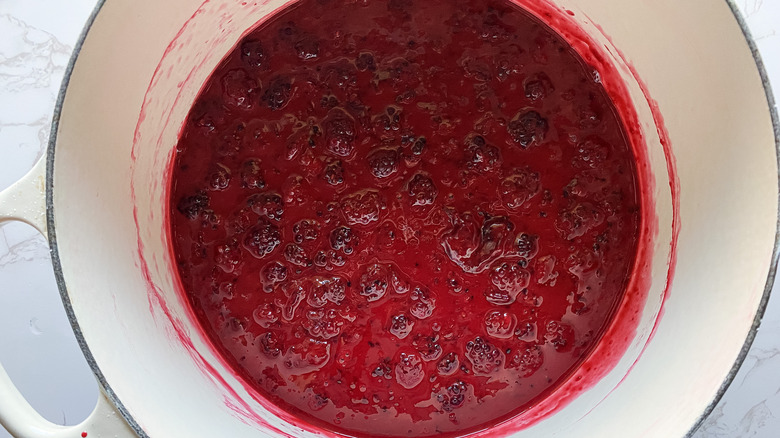 Kristen Carli/Mashed
The first step in the process is to preheat your oven to 400 degrees Fahrenheit. This will ensure that it's nice and hot before you put the pie in.
In the meantime, take out a large saucepan and put it on the burner over medium heat. Toss in the blackberries, cornstarch, sugar, lemon juice, and cinnamon. Stir everything to combine. Keep stirring the mix on occasion to be sure the sugar completely dissolves. You'll want to keep the pan over the heat for about 15 minutes until the mixture begins to thicken. Once it's thick enough, you can take it off the heat.
Pour the mix into the pie crust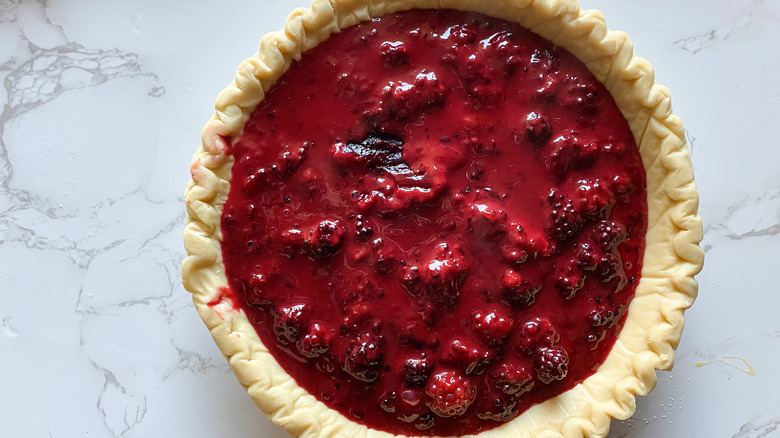 Kristen Carli/Mashed
Aside from sitting down and eating the pie, this is one of the easiest steps in the process. Once your mixture achieves a thick and beautiful consistency, it's ready to meet the pie crust. Be careful as you pour the blackberry mixture into the crust of the pie so that it doesn't splash out. Spread it out, so it's smooth and even. This is important because we want to be sure the pie cooks evenly.
Pop into the oven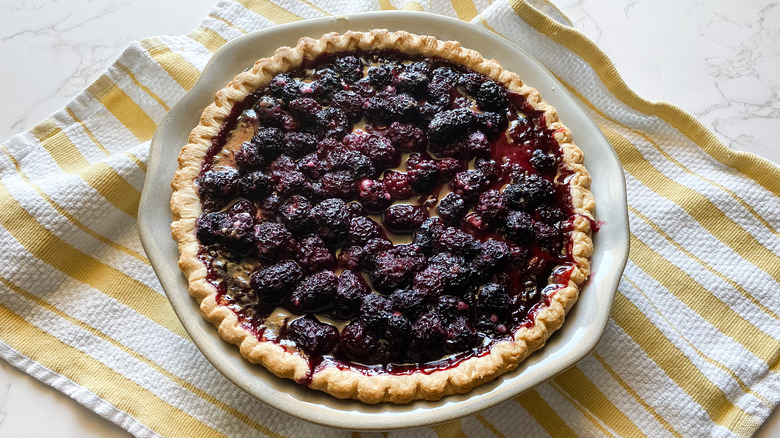 Kristen Carli/Mashed
Once the oven is preheated, it's time for the pie to go in. First, place the pie crust on a small baking sheet or into a larger ceramic or glass pie dish and pop it into the hot oven. This ensures that if any juices from the pie boil over, the baking sheet or larger dish will catch them. Now set your timer for 30 minutes. That is all the time it takes for the pie to reach its maximum level of goodness! 
When your timer goes off, you can remove the pie from the oven. Set it aside to let it cool for a moment.
Serving suggestions and leftovers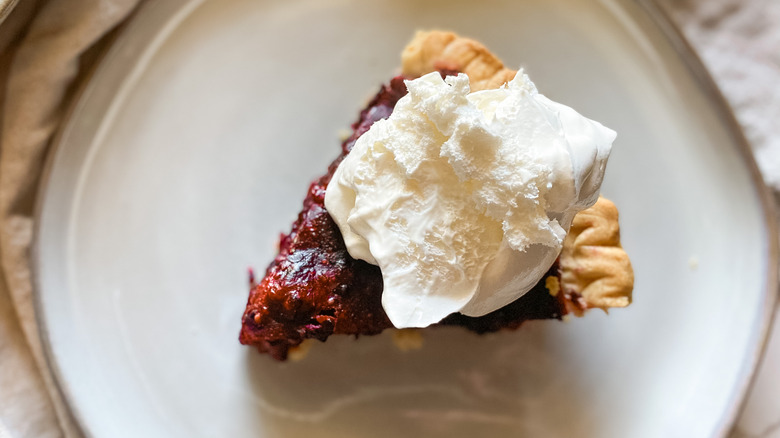 Kristen Carli/Mashed
As we mentioned before, this pie is great for just about any occasion. You may plate and serve this sweet treat however you'd like, and the pie itself is enough to satisfy any sweet tooth. If you're looking for something else to pair the pie with, we recommend a scoop of vanilla ice cream or a dollop or more of whipped cream. It would also pair well with a cup of coffee if you're eating it after dinner. 
If you happen to have any leftovers, then you're in luck. "I'd recommend storing leftovers in an airtight container in the fridge for up to 6 days," Carli says.
Easy Blackberry Pie Recipe
Wow you friends and family with this super easy blackberry pie, which will be the star of your next cookout or even part of your next winter holiday meal!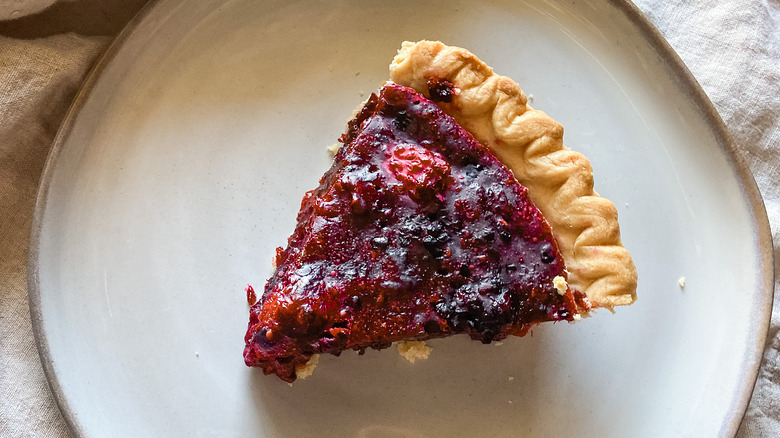 Ingredients
4 cups frozen blackberries
½ cup cornstarch
1 cup sugar
2 tablespoons lemon juice
1 teaspoon ground cinnamon
1 deep dish frozen pie crust
Optional Ingredients
Vanilla ice cream or whipped cream
Directions
Preheat the oven to 400 degrees Fahrenheit.
In a large saucepan, add the blackberries, cornstarch, sugar, lemon juice, and cinnamon. Stir to combine.
Heat over medium heat, stirring occasionally, until sugar is dissolved and mixture begins to thicken, about 15 minutes.
Pour the mixture into the pie crust.
Place the pie crust on a small baking sheet or in a larger pie dish in case any juices spill out during baking.
Bake for 30 minutes.
Let cool for a few minutes, and serve warm as is or with vanilla ice cream or whipped cream, if desired.
Nutrition
| | |
| --- | --- |
| Calories per Serving | 287 |
| Total Fat | 7.7 g |
| Saturated Fat | 2.8 g |
| Trans Fat | 0.0 g |
| Cholesterol | 0.0 mg |
| | |
| --- | --- |
| Total Carbohydrates | 54.4 g |
| Dietary Fiber | 4.6 g |
| Total Sugars | 28.6 g |
| Sodium | 118.8 mg |
| Protein | 1.9 g |