Read This If You Recently Bought Poppy Seed Dressing From Aldi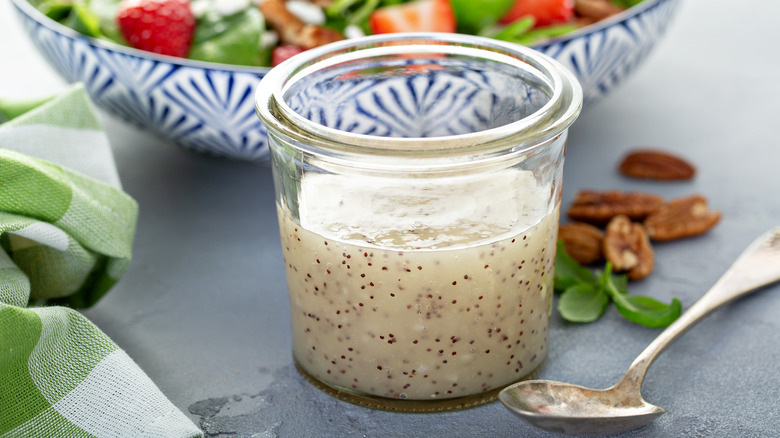 Elena Veselova/Shutterstock
Do you love shopping at Aldi, the German-founded grocery store chain with more than 2,000 locations across 36 states? If you do, we're right there with you: Customers seem to love Aldi's selection of varied, tasty, and low-priced items, from Greek yogurt to chocolate bars.
However, if you recently filled up your shopping cart at Aldi, you'll want to take a look and make sure that salad dressing wasn't among the items you purchased. On September 16, Drew's Organics, a Vermont-based company that manufactures Aldi Simply Nature Organic Poppy Seed Dressing, issued a voluntary recall of one lot of dressing, which might be harboring a dangerous toxin.
An announcement from the Food and Drug Administration (FDA) stated that after production and shipping, Drew's Organics noted a color difference between its other batches of poppy seed dressing and this particular lot, an indication that microbial growth might be occurring in the recalled batch. Here's what else you need to know.
You better double-check that dressing
So, why would a color difference between some older salad dressing and the new batch be an issue? According to the statement from the FDA, such a difference might indicate an improperly processed batch of dressing. This could lead to the growth of dangerous microbes, such as Clostridium botulinum, a toxin that attacks nerves and can cause breathing problems, muscle paralysis, and, sometimes, death (via the CDC).
The statement noted that the danger is limited to just one lot of dressing, which was delivered to Aldi stores between August 20 and September 10. The dressing comes in a 12-ounce glass bottle with a "Best if Used By" date of February 15, 2023, and UPC #4099100023169. So if you recently purchased this dressing, double-check your bottle to make sure it's safe. The FDA statement notes that any such dressing can be returned to its Aldi store of purchase for a full refund.