Aldi Shoppers Are Loving These Fall-Themed Greek Yogurt Flavors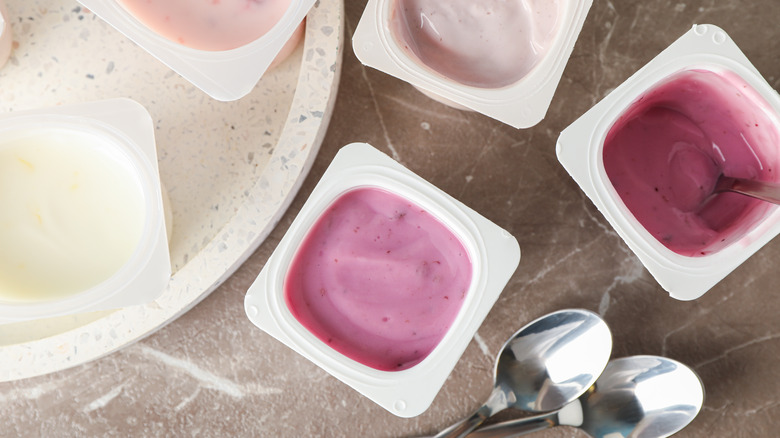 AtlasStudio/Shutterstock
Aldi is a German-founded grocery store chain has majorly expanded in the U.S. in recent years, now boasting more than 2,000 locations across 36 states (per the official website), so we're willing to bet you've shopped there in the past. During your visits, maybe have gotten to know some of the store's cult favorite items, those which have garnered attention for being unusual, delicious, fairly priced — or all three. According to a Mashed survey, many shoppers seem to like the store's specialty cheese dips, available in bacon cheddar and buffalo chicken flavors, as well as its surprisingly well-regarded wines.
And now there's a new item hitting Aldi shelves that may soon have the same status. We recently posted about the chain's brand-new breakfast offerings, and one of the items on that list is already garnering lots of attention 'round the internet, especially for its seasonal appeal. Here's why you might want to pile this fall-themed Greek yogurt in your cart the next time you go shopping.
Aldi's autumn-inspired Greek yogurts have got people talking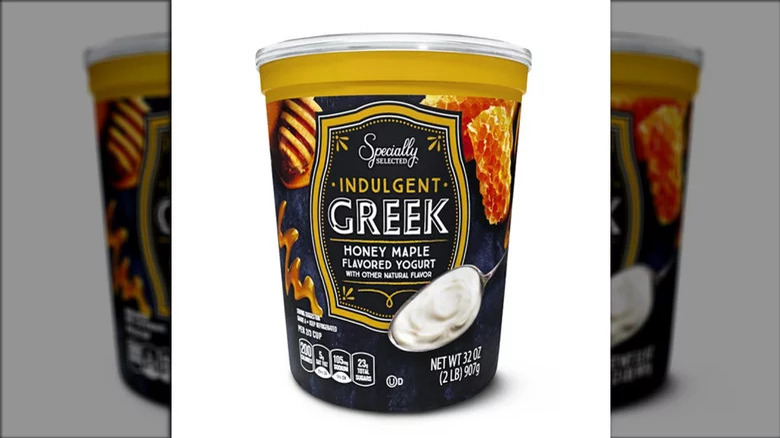 Aldi
One of the things shoppers seem to love about the Aldi chain of supermarkets is how often they introduce new items to their stores. Earlier this month, Aldi's dairy cases got even more appealing with the availability of thick, creamy Greek yogurt from the brand Specially Selected. Available in oversized 32-ounce containers priced at $3.69, the yogurts come in two fall-inspired flavors: Honey maple and honey caramel apple, as seen on Reddit's r/Aldi board. 
A post on the thread dedicated to these new seasonal yogurts has commenters heaping praise on their arrival, which comes just in time to sync up with all the other fall flavors coming to market at restaurants, bakeries, and coffeeshops. Though the one caveat, according to Redditors, is that these yogurts are quite sweet.
"My husband loves them," wrote user @UberHonest. "They're indulgent yogurts. I joke that they're dessert yogurts." Redditor @blstephens also eats the yogurt as a sweet treat, commenting, "The honey maple is so good! I usually eat it with cut-up strawberries for an after supper dessert!"
It's true that these yogurts are quite high in sugar, with 23 grams of total sugars per 2/3-cup serving for the Honey Caramel Apple Flavor, according to Instacart, with some Redditors passing on trying them for that reason. "They definitely are dessert with the amount of sugar in them, unfortunately, but they look so tempting," said user @happy_tulip. Though, each serving does offer good amounts of calcium and protein and with the right mix-ins, it could be a great seasonal breakfast or filling after-school snack. They launched September 8 and are available for a limited-time only so you may want to stock up now before all the other ghouls and goblins get them!