Why It's Impossible To Mess Up This Seasonal Giada De Laurentiis Drink Recipe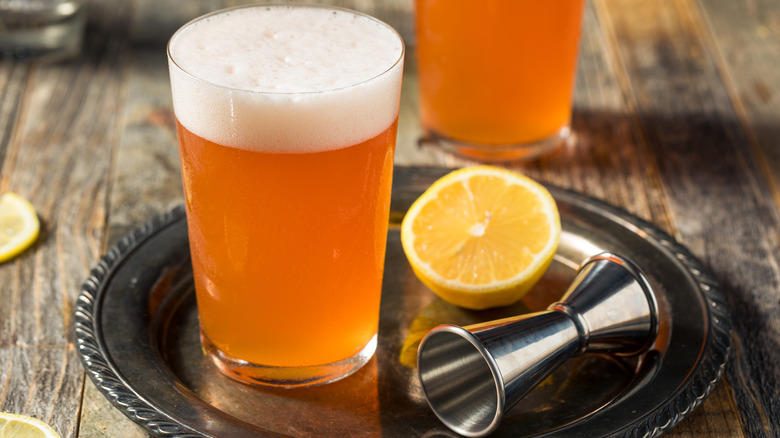 Brent Hofacker/Shutterstock
Making cocktails at home can be pretty intimidating. First, there's the entire act of having the right combination of spirits and liqueurs in your home bar. Then you must figure out which mixers go best with it and what to garnish the drink with for the final touch. Not to mention the whole jingbang of cocktail shakers, strainers, and the like.
Luckily for cocktail novices, Giada De Laurentiis comes to the rescue. The Food Network Star and Italian cooking queen recently shared a cocktail recipe on her blog Giadzy and by the looks of it, the recipe looks pretty darn impossible to mess up. The recipe in question is that of a summertime shandy cocktail with a Giada-style autumnal twist.
Whilst a classic shady is typically made by mixing beer and lemonade together, De Laurentiis' apple cider shandy requires beer, of course, but calls for sparkling apple cider in place of lemonade. All you really need to do is pour four 12-fluid ounce bottles of chilled lager beer into a pitcher and then empty a 25.4-fluid ounce bottle of chilled sparkling apple cider into it. Pour the drink into a frosted glass and — ta-da! — you have a cocktail in your hand. That's all De Laurentiis' apple cider shandy recipe is — two ingredients and two steps (one step if you are putting a straw straight into the pitcher and calling it a day). See why it's impossible to mess up?
There are tricks to make this simple cocktail even better
Giada De Laurentiis describes the apple cider shandy as "a super refreshing, effervescent light drink that still feels appropriate for the season" (via Giadzy). While it is as easy as cocktails come and requires serious talent to mess up, there are ways to make this seemingly simple cocktail even better than it already is.
For one, De Laurentiis recommends going for a light lager beer for the cocktail, preferably a Heineken. The Spruce Eats, too, recommends a light lager to keep your shandy incredibly light and easy on the tongue. Wheat ales like hefeweizen are another great alternative, as those have a citrusy flavor that goes well in a shandy. While you should ideally stick to light beers and avoid darker ones if possible, it is a cocktail with only two ingredients, after all, so you can go ahead and try it to see whether your favorite beer (when put in a shandy) works for you or not. Another simple trick that can make your shandy taste much better is to make sure that you are mixing chilled beer with equally chilled apple cider (via The Spruce Eats).
Choosing a good quality mixer is very important in the recipe as the cocktail very much depends on it. When making a classic shandy, for example, The Spruce Eats suggests that you make your own lemonade at home to really control how your shandy turns out. While that may not be possible to do with sparkling apple cider, it's probably for the best to spend a few extra bucks and pick one of good quality off the shelf!