Saweetie Partners With Hidden Valley Ranch And Crocs To Promote Dressing Shoes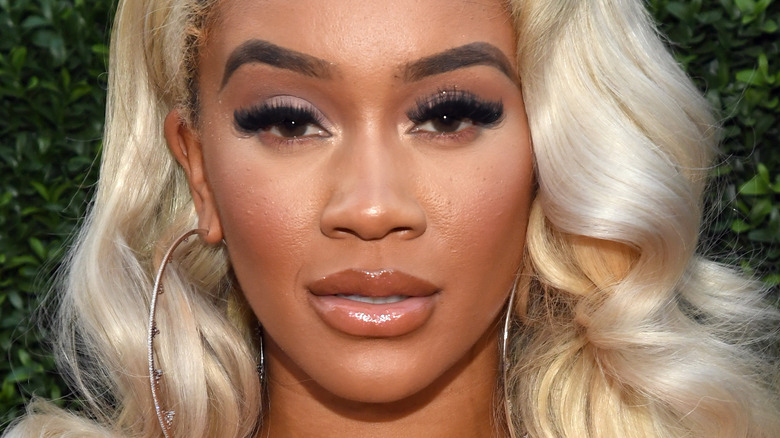 Kevin Mazur/mtv Vmas 2021/Getty Images
We just can't get enough of Saweetie. We loved her partnership with McDonald's, and now, the rapper, Crocs, and Hidden Valley Ranch are teaming up to meet our ever increasing appetite. For those who have not been paying attention, Saweetie likes her Hidden Valley Ranch dressing and had the internet and Twitter ablaze when she put it on her spaghetti. (Go ahead, talk amongst yourselves.) But however you feel about the dressing on the pasta, it's led to the "Icy Grl" partnering with the two brands to promote Crocs' newest shoes, and they look delish.
Saweetie took to her Instagram to share a video of herself placing a bottle of her beloved Hidden Valley Ranch dressing, along with a pair of Crocs, in a special Crocs branded microwave, and pressing "Bold" with her signature long nails. To explain the video, Saweetie wrote: "Ranch for the dip, ranch for the drip." Of course, the microwave sparks, and green smoke emerges as Saweetie opens the microwave door to reveal a pair of white Crocs with green specks, bedazzeled with food Jibbitz. Per Complex, the Crocs are outfitted with nine Jibbitz of food people generally pair with ranch dressing. Pretty creative if you ask us. But, just in case you need the PSA, don't try this at home with your own Crocs and microwave, because without the Saweetie touch, the only thing you will get is smoke and fire. So, how do you get a pair?
You can enter to win a chance to purchase
Crocs also announced this brilliant collab in a tweet saying, "No one loves ranch as much as @Saweetie, and no one does ranch better than @HVRanch." And because they know how hot these Crocs are going to be, and quantities will be limited, they have created a Hidden Valley Ranch X Crocs drawing system for fans to enter if they want to buy a pair. Fans seem pretty excited because several responded with tweets of their own making a case as to why they deserved to win a chance to buy a pair of these Crocs. 
One fan in the Twitterverse wrote, "@Crocs and @HVRanch please let me win, I have chased shots with hidden valley ranch and put hidden valley ranch in a milkshake on a first date to prove my dedication, I need these to be my 16th pair." Still, another tweeter wrote, "FINGERS CROSSED. If I don't get a pair it'll be the kfc crocs all over again. I'm still not over not getting them."
But don't worry or stress. If you are unable to score a pair of these Crocs, Saweetie teases in her Instagram post to "stay tuned for some other fun I've been working on with Crocs." Oh, we will!