Why You Should Soak Wooden Skewers Before Grilling With Them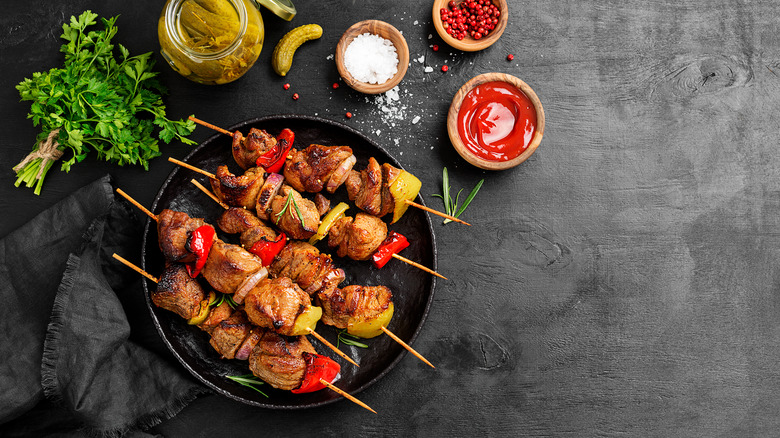 nelea33/Shutterstock
Love throwing backyard barbecues and having your friends and family over? Trying to become the best grill master on the block? Whether you fire up the grill casually or want to hone your grilling skills, there's a few tips and tricks you'll need to know. There are certainly some mistakes you want to avoid, as well as many cooking ideas you should be using.
If you're a fan of kebabs, this tip is especially important to know: You need to soak your wooden skewers before grilling with them. According to the LA Times, this is a critical step in the grilling process, so your wooden skewers don't burn while the food is cooking. Fortunately, it is a pretty straightforward and easy procedure. Just cover up your skewers in water and let them sit before putting your food on them. The Kitchn recommends using a 9-inch by 13-inch baking pan, since it's large enough to fit skewers.
How long should you soak the wooden skewers?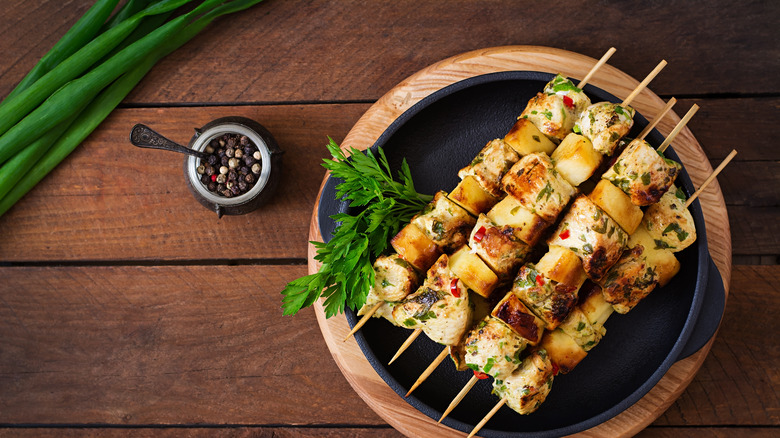 Timolina/Shutterstock
According to both The Kitchn and Food and Wine, you should be soaking wooden skewers for at least 30 minutes to ensure they are not dry and brittle. Yet, for foods that need to be on the grill for a while, The Kitchn notes that you can even soak the skewers overnight. The LA Times recommends soaking skewers for 10 to 20 minutes before throwing anything on the grill. Ultimately, times can vary a bit, but it is better to plan ahead and leave enough time for your skewers to soak in water instead of putting the skewers on the grill dry.
Need some ideas of what to grill? For something simple and fast, try grilling some shrimp or add some color to your plate with grilled veggie kebabs. You can also grill up spicy jerk chicken kabobs and enjoy some flavorful char.