Spicy Jerk Chicken Skewers Recipe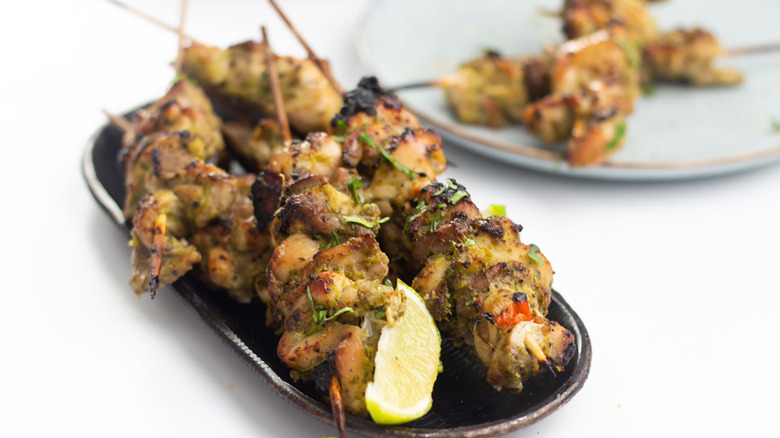 Susan Olayinka/Mashed
Summertime is the best time for finger foods and cookout favorites. Susan Olayinka, recipe developer and food photog for The Flexible Fridge, has served us with a not-too-spicy enticing entree: juicy Jerk chicken skewers. Such delicacies are delicious and bursting with flavor.
Unbeknownst to many, the zesty combo of Jerk spices has deep roots in African history. Jerk seasoning is widely known as being native to Jamaica, but it was originally an African meat smoking technique carried to the western hemisphere with the Maroon people. After a collective rebellion against forced labor, they escaped to freedom in the mountains of the island to preserve their heritage.
Champion your chicken with this authentic taste found in Olayinka's recipe. She told Mashed, "We are absolute jerk lovers in our house I mean jerk in the barrel or on the grill is the ultimate ... but to get this in the oven is just as good!!" Give your family a taste of Jamaica, right from your oven. Taking a dish to mom's? Bring these Jerk chicken skewers to the family cookout and prepare for them to be the star of the show.
Bring it all in with your Jerk chicken ingredients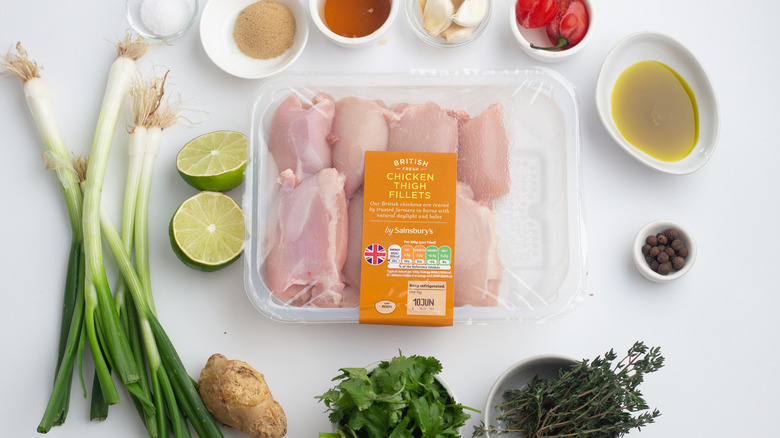 Susan Olayinka/Mashed
This is how you dress a little bit of chicken with a whole lot of flavor! The focal ingredient will be the boneless, skinless chicken thighs. For the marvelous Jerk marinade, you'll need green onions chopped, minced garlic cloves, ginger, scotch bonnets (chili peppers), and fresh thyme. We'll round off the Jamaican flavor using avocado oil, coriander, brown sugar, honey, and salt. Lastly, we'll toss in a dash of lime and ground pimento seeds for good measure.
Cut chicken into bite-sized cubes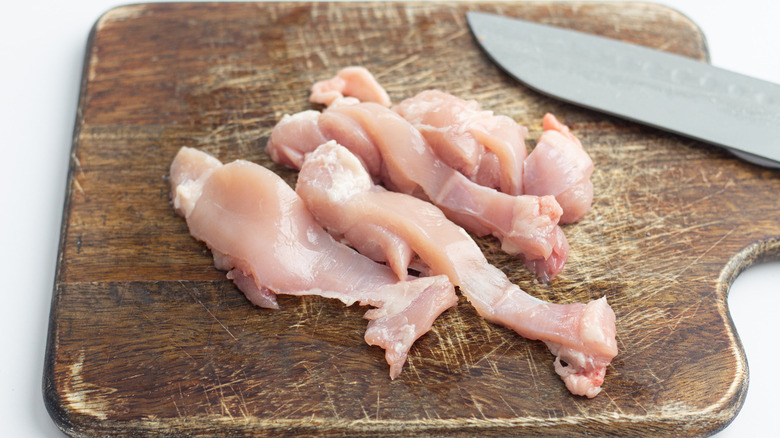 Susan Olayinka/Mashed
To get the ball rolling: make sure your chicken is thawed and you have a sharp chef's knife and clean cutting board ready to go.
Begin slicing the boneless chicken thighs into 1-inch pieces. The meat is best when cut into bite-sized chunks. Each cube should be meaty enough to sit comfortably on the skewer stick to cook. After all the chicken has been sliced, place the chopped pieces into a mixing bowl and set them aside.
Get the blender ready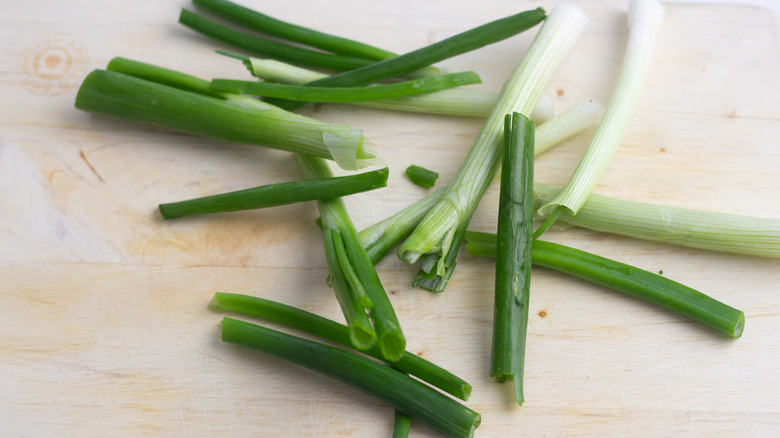 Susan Olayinka/Mashed
Time to add your green onions. Go ahead and cut away the tip tops and bottom bulbs of five fresh green onions. Chop these up any way you'd like and then place them into a blender (hold off on blending for now). Once the stalks are blended, they will give a thickness to the marinade's texture. Once applied to the chicken, the green onions will soak into the meat, adding a nice, earthy flavor.
Peel the garlic and ginger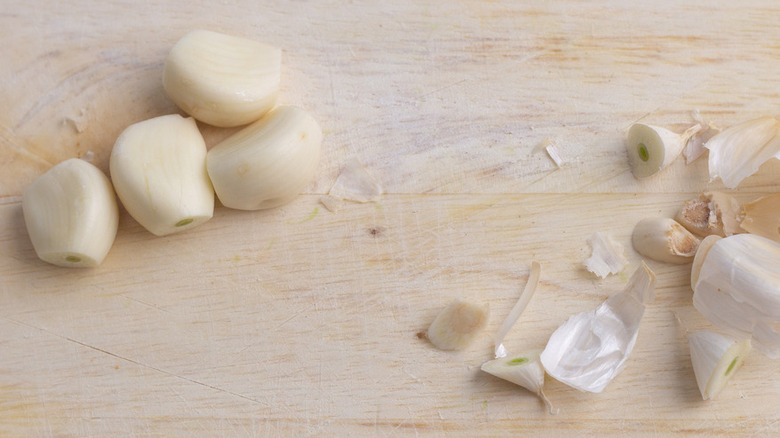 Susan Olayinka/Mashed
Grab four garlic cloves and peel them thoroughly. Since these ingredients will go straight into the blender, slicing them is not required. Afterward, take a ginger root, peel the skin, and slice away two separate pieces that are 1-inch long. A simple way of measuring 1 inch is to use the first joint of your index finger.  
The ginger adds a sweet yet peppery taste and is a great balance to the caramelizing sweetness of the garlic.
Scotch bonnets and thyme go in next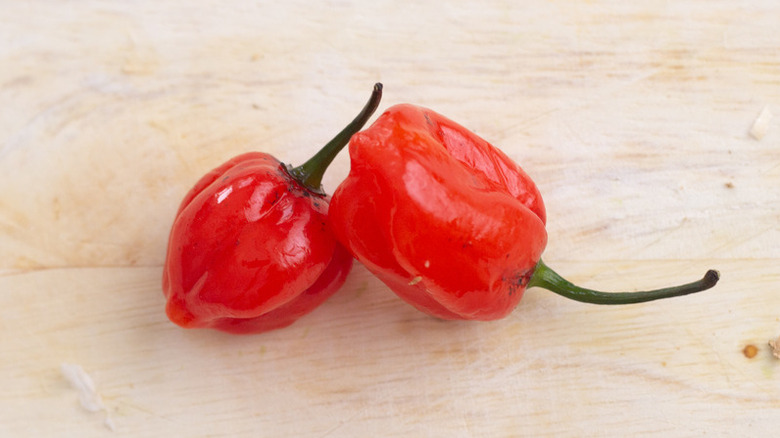 Susan Olayinka/Mashed
Now for a bit of spice! Scotch bonnets are a type of chili pepper common in Caribbean and numerous other African-inspired cuisines. These peppers will add just enough heat to your sauce. Olayinka told Mashed that using two scotch bonnets gave an enjoyable accent to the meat. Between 1 being mild and 5 being the spiciest, she told us, "I would say that this is about three rating for spice ... my toddler was able to eat these so it is still family-friendly!!"
After removing the stems of the scotch bonnets, place them into the blender. Pick the leaves of your fresh thyme and toss them into the blender as well.
Juice one lime and add the additional spices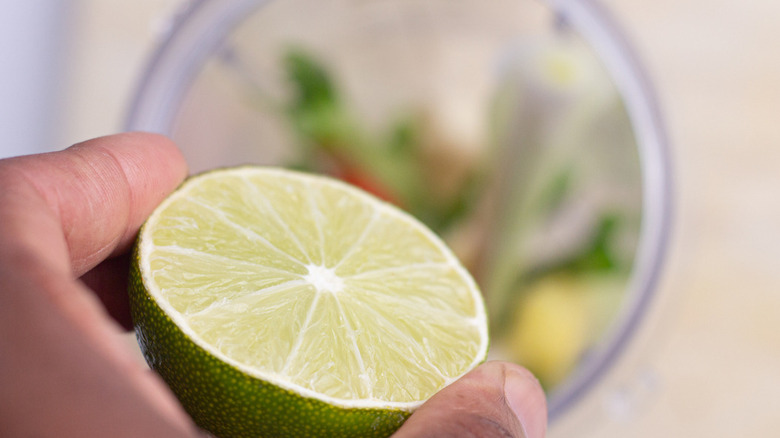 Susan Olayinka/Mashed
Let's make your jerk seasoning sensational! Into the blender pour 2 tablespoons of avocado oil and ¼ cup of coriander. In addition, pour in equal amounts (1 tablespoon each) of brown sugar, honey, and salt to the blend. Squeeze in the juice from a lime as well. 
The last ingredient required is ground pimento. Using a mortar and pestle, grind up 1 tablespoon of pimento seeds. If you don't have pimento or allspice, you can substitute it. Allspice is one of the key ingredients to achieving the authentic, smoky Jamaican Jerk taste. Let's get ready to blend up the marinade!
Blend the ingredients into a paste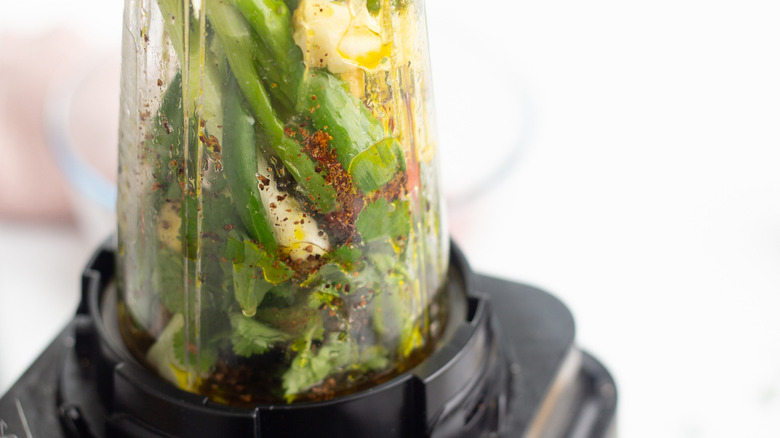 Susan Olayinka/Mashed
Once every-ting has been chopped and juiced, you'll want to blend the ingredients up. Some of the most popular brands of blenders vary from Nutribullet, Ninja, Hamilton Beach et al. All of which will do very well in completing this step.
Turn your blender on to process at medium speed for 15-20 seconds. When you've achieve the texture of a puree or smooth paste (see next photo for reference), turn the blender off and grab yourself a spatula. 
Marinade the chicken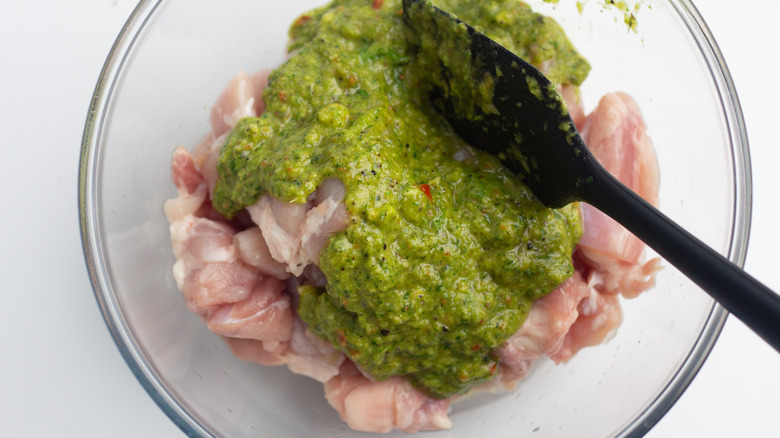 Susan Olayinka/Mashed
After you have finished the colorful Jerk seasoning paste, pour it over the raw chicken in your mixing bowl. Fold the paste into the chicken to cover each piece completely. When you've concluded dressing the meat, set it into the fridge to marinate for one hour. This allows all of the spices and flavor to fuse into the chicken, leaving a tantalizing taste your family will brood over. 
Thread the kabobs and bake at 350° F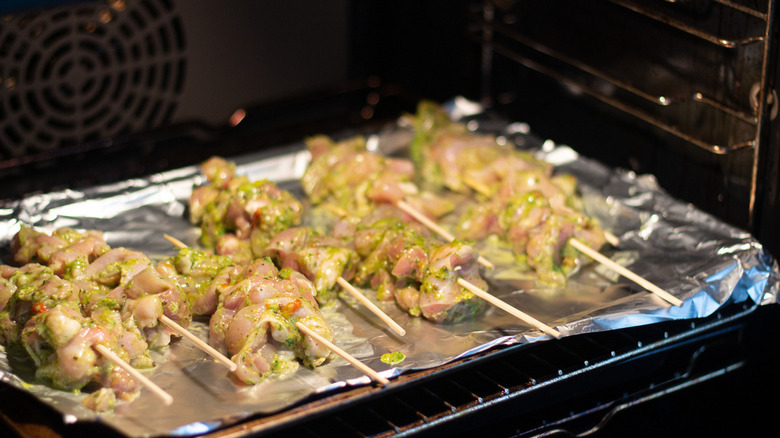 Susan Olayinka/Mashed
Find a large baking tray and line it with aluminum foil. After the chicken has marinated for one hour, gently begin removing pieces from the bowl and threading them onto skewers. The type of skewers you use can depend on safety preferences. Olayinka opted for the kid-friendly bamboo skewers. If your guest list is all adult, stainless steel skewers give a clean aesthetic and make for great conversation pieces. 
Next, place each Jerk chicken kabob onto the lined baking tray. Preheat the oven to 350 degrees Fahrenheit. When all chicken pieces are on skewers and all skewers are on the pan, set them in the oven to cook for 25 minutes.
Broil the skewers briefly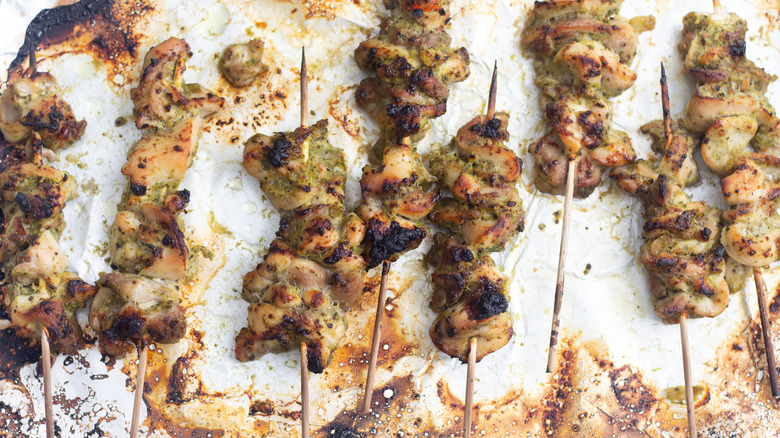 Susan Olayinka/Mashed
Once the 25 minutes is up, remove the jerk chicken skewers from the oven. Turn the oven grill up to broil, at its highest setting. Prep your Jerk chicken kabobs for this process by emptying out any excess juices from the tray.  Place the skewers on the tray back into the oven, setting them on the top rung.
Broil them for 3 minutes total, rotating them partway through. Keep a keen eye on the skewers, to ensure they are lightly char broiled, yet not burnt.
Serve up and enjoy your Jerk chicken skewers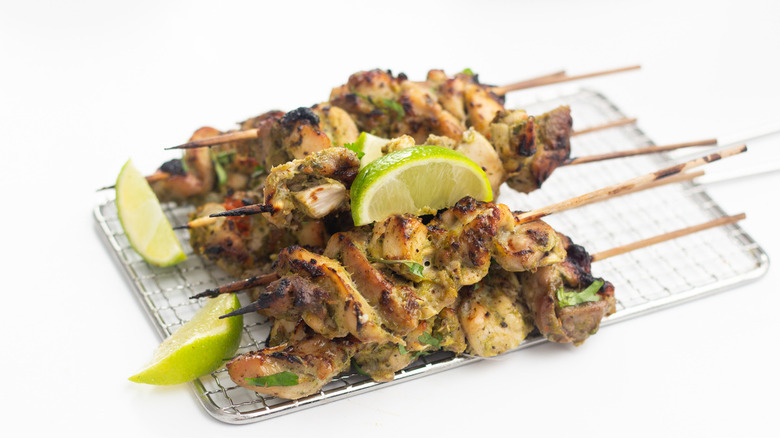 Susan Olayinka/Mashed
Ahh, the smell of success! Bring your juicy Jamaican Jerk chicken kabobs out from the oven and marvel at your masterpiece. Now you can watch in awe, as the mouthwatering scent fills the house and draws your family to the kitchen, one by one. There you have it, you can plate these any way you'd like: slide them onto a platter for the family cookout, or pull one for each plate at home. These kabobs make for the perfect entree year-round, but our recipe developer says they are ideal on sunny Saturdays or for laid-back Sundays.
Want to make these a full meal? Compliment them with your fave savory sides. Olayinka gave Mashed a few meal ideas, "This will go really nicely with rice! Any type of rice dish for instance ... rice and peas will be lovely or even some roasted sweet potatoes will be wonderful ... or maybe some couscous or some quinoa ... any grain this would suit beautifully with these. As these are so flavourful."
We surely hope you enjoy this taste of Jamaica! Until next time.
Spicy Jerk Chicken Skewers Recipe
Looking to bring a little zing to your next family get-together? These juicy and zesty Jerk chicken skewers are bursting with flavor and sure to please.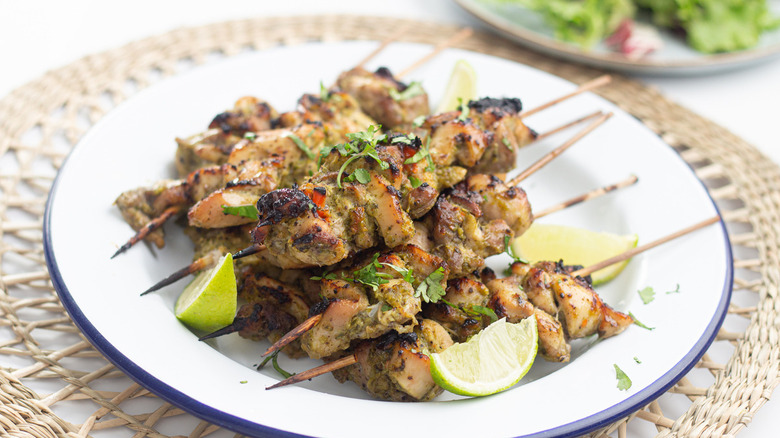 Ingredients
8 skinless, boneless chicken thighs
5 green onions, chopped
4 garlic cloves
2, 1-inch pieces ginger, sliced
2 scotch bonnets
5 spring fresh thyme
2 tablespoons avocado oil
¼ cup coriander
1 tablespoon brown sugar
1 tablespoon honey
1 teaspoon salt
1 lime, squeezed
1 teaspoon whole pimento seeds (all spice), ground
Directions
Begin the recipe by slicing the chicken into 1-inch cubes and putting it into a mixing bowl.
Dice up green onion. Peel and chop garlic and ginger. Remove stems from scotch bonnets and pick the leaves from thyme stalks. Place green onion, garlic, ginger, scotch bonnets, and thyme leaves in blender.
Add avocado oil, coriander, brown sugar, honey, salt, and lime juice into a blender. Grind pimento seeds with a pestle and mortar and place them into the blender.
Turn the blender on and process on medium speed for 15-20 seconds. The texture needs to be fairly smooth.
After blended, pour over the chicken, mix it in, so all parts of the meat are covered and marinate in the fridge for 1 hour.
Line baking tray with foil and preheat oven to 350° F.
Thread chicken onto skewers and cook for 25 minutes.
Remove jerk chicken skewers out of the oven, turn the oven to the highest setting (broil), drain any meat juices, and place skewers back in the oven on the highest tray. Broil for 3 minutes, turning over halfway, and take out immediately.
Transfer to a serving dish and enjoy.
Nutrition
| | |
| --- | --- |
| Calories per Serving | 499 |
| Total Fat | 36.2 g |
| Saturated Fat | 9.2 g |
| Trans Fat | 0.2 g |
| Cholesterol | 189.1 mg |
| | |
| --- | --- |
| Total Carbohydrates | 10.4 g |
| Dietary Fiber | 2.2 g |
| Total Sugars | 4.0 g |
| Sodium | 452.6 mg |
| Protein | 32.9 g |