If You Ever Wanted To Be A Flamin' Hot Cheeto For Halloween, Now's Your Chance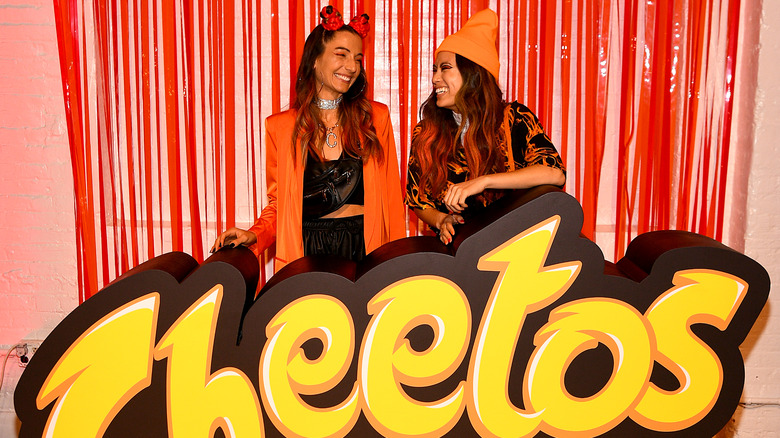 Dave Kotinsky/Getty Images
What's going to be the hot Halloween costume in 2021? Anything with a mask should still be popular, thanks to COVID-19's Delta variant. Or, if you've seen the new horror movie "Malignant," then you know there's a killer costume idea right there. Then there's the usual parade of angry white men from the 1970s and '80s: Freddy Krueger, Michael Myers, Jason Voorhees.
But Halloween doesn't need to be scary. Food is huge during Halloween, too. After all, households are flooded with chocolate bars, candy corn, and all the rest of the standard trick-or-treat fare. But the snack world also opens up a whole new universe of costume options. You could show up at your big Halloween party as the Kool-Aid pitcher or a packet of Taco Bell hot sauce (via Delish). Couples could be the two halves of an Oreo cookie or go as the ultimate in food pairings, avocado and toast.
If you're looking for a costume that will be immediately recognizable and new this year, then Frito-Lay and Spirit Halloween have partnered to give you what you might be looking for, according to a statement sent to Mashed.
Flamin' Hot Cheetos Halloween costumes come in two varieties
Spirit Halloween, North America's biggest pop-up fright shop this time of year, is the exclusive outlet for official Flamin' Hot Cheetos costumes during Halloween 2021, per the statement sent to Mashed. Choose between the knee-to-neck-length Cheetos bag costume, or the daring and unique single Flamin' Hot Cheeto, instantly recognizable by its distinctive red and orange colors. Both come with sunglasses, either as a nod to Chester the Cheetos mascot or because people sometimes look really dorky if they're dressed as snack food while not wearing sunglasses. The costumes are available while supplies last at your local Spirit Halloween and SpiritHalloween.com. The website lists both costumes at $39.99.
Maybe it would be cool to dress up at home in these costumes and hand out bags of Flamin' Hot Cheetos (sold separately) to trick-or-treaters.  But if you are going to a Halloween party dressed in these new Flamin' Hot Cheetos costumes, then here's one piece of advice: Don't stand too close to the snack table.