Sonic Has Good News For Fans Of Its Cheesy Broccoli Tots
Sonic's tater tots are sacrosanct. You don't mess with them. They're perfect. Just ask the folks in Buffalo, New York who were quick to figure out that if you are eating at a Sonic, America's Drive-in and fan-favorite quick-service eaterie, you get the tater tots. These two-bite spuds that are crunchy on the outside and soft and potato-like on the inside are legendary. They often make us ponder what potato god we should be thanking or cursing for their delicious flavor and golden crunchy texture that makes us crave them on a regular basis. Well, guess what. Sonic is messing with these tots, adding a broccoli cheddar mash-up to the menu, and we can't wait to try them.  
Sonic recently announced that beginning September 27, participating Sonic Drive-ins will be serving up Broccoli Cheddar Tots through November 28, or until they run out, whichever happens first. You may recall, per the Wichita Eagle, that around this time last year, Sonic was just testing this menu item in Wichita, Kansas and Chattanooga, Tennessee. At the time, the outlet explained that Sonic had dubbed this creation "feel-good Tots" because the tater tots traditionally top the dish that inspired this new offering's genesis. It turns out that Sonic had more to share about the tots' culinary history.
Sonic's Broccoli Cheddar Tots are an homage to a casserole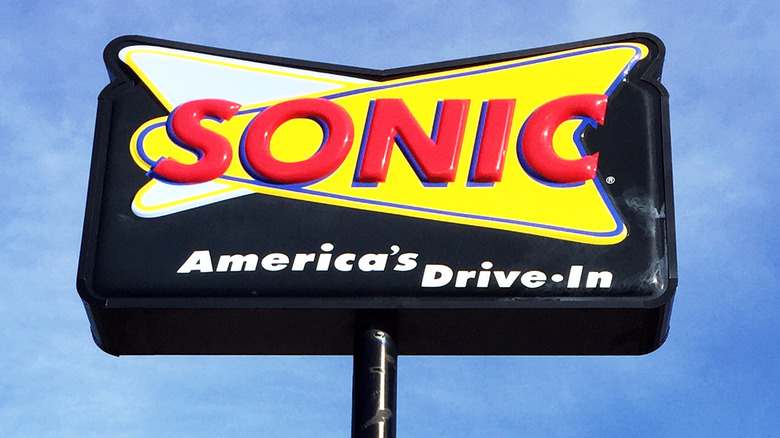 James R. Martin/Shutterstock
Scott Uehlein, executive chef at Sonic said in the company's announcement, "Our culinary team loves to experiment with classic combinations, bringing a special SONIC spin to something our guests know and love. We've definitely done that with the Broccoli Cheddar Tots." The release goes on to explain this new menu item sought inspiration from a muse of a classic culinary nature, also known as a homemade broccoli cheddar casserole. The fast food restaurant's riff on these traditional ingredients is sure to send your taste buds into overdrive. What do they taste like? They are described as containing "warm, steaming broccoli pieces, melty cheddar cheese and a satisfyingly crunchy exterior" and taste even more delicious with the suggested side of ranch dressing. Some diners might feel a Saweetie collab in the making.
Sonic also wants these Broccoli Cheddar Tots to be a snack you "can feel good about." To wit, if you are ordering up a large size of these "popable bites" you can check off one full serving of your daily vegetables — not that anyone is too concerned about veggies when eating fast food. The announcement did not share the caloric value of these new tots, but honestly, diners may not want to know. Sometimes, ignorance is bliss.