Chef Scott Conant Reveals Why He Hates Competing On Cooking Shows - Exclusive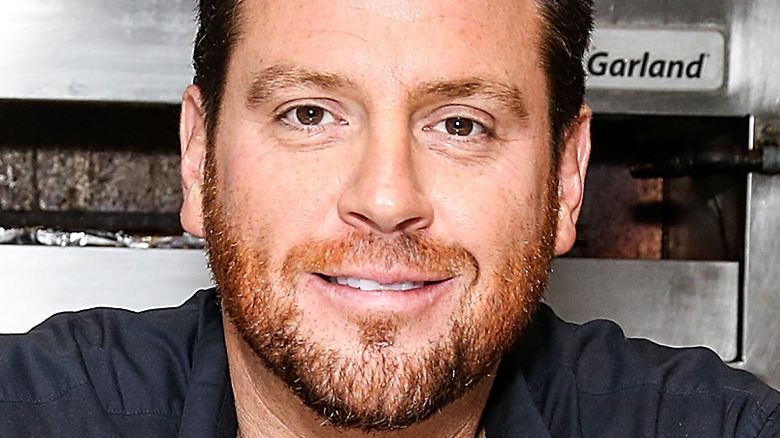 Paul Zimmerman/Getty Images
We may receive a commission on purchases made from links.
Since joining "Chopped" during the show's very first season, James Beard award-winning chef and "Peace, Love, and Pasta" author Scott Conant has taken a seat at the judges' table over 200 times (via IMDb). But for the third installment of the food competition's "All-Stars" spinoff, Conant flipped the script and put his cooking skills to the test thanks to the urging of Aarón Sánchez. "He's like, 'You got to compete,'" Conant told Mashed during an exclusive interview with Mashed. "And I'm like, 'No, I don't want to. I don't want to do it.' And he was like, 'No, you got to.' So when it got to a certain point where they started to turn to the other judges to get me to compete, I knew that my resolve was lessened."
Sánchez's instincts were correct as Conant made his way to the final dessert showdown, besting a who's who of big-name food personalities including Sunny Anderson, Elizabeth Falkner, and "Top Chef" winner Richard Blais. He ultimately sealed the deal, defeating fellow James Beard award winner chef Gavin Kaysen, using the mystery basket of freeze-dried grapes, marrow bones, marcona almonds, and cannoli cream to create his winning brown butter-almond cake with chocolate and olive oil mousse dish, per Food Network.
Despite earning the victory (and $50,000 for the Keep Memory Alive charity), don't expect Conant to defend his title anytime soon. Conant revealed, "I hate competing. And I don't use that word very often. I have daughters, young daughters, and we don't say the hate word in the house. I really, really hate competing."
What Scott Conant enjoys most about being a judge on 'Chopped'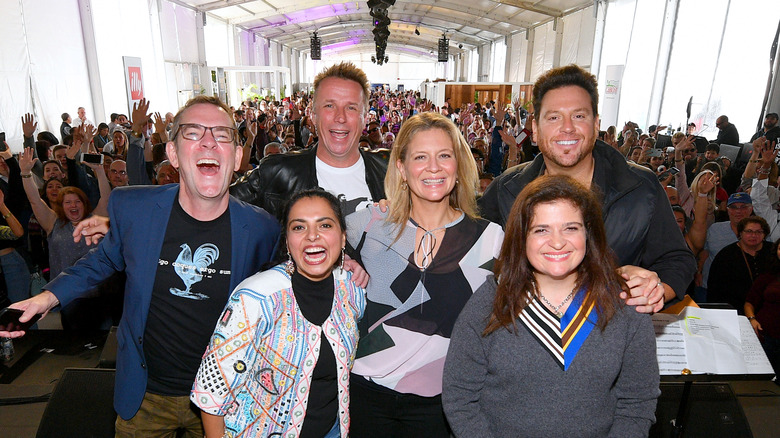 Dia Dipasupil/Getty Images
Apparently, the notoriously raw-onion adverse chef has something else on his absolutely avoid-at-all-costs list. So why exactly does competing leave a bad taste in Conant's mouth? "I don't like competition because I am overly competitive and I lose my sense of self and I don't have fun," he acknowledged. "And I feel like because I'm not having fun, I don't want to do it. I don't want to do anything that I don't enjoy. I'm a big believer that you should just kind of pursue your, to quote Joseph Campbell, to pursue your bliss. And I'm a big believer in that."
Thankfully, Conant's animus towards competing doesn't extend to judging. In particular, he cited the camaraderie on the "Chopped" set as one of the main reasons he's willing to sample way out-of-the-box dishes such as cottage cheese panna cotta season after season. He noted his enduring friendships with fellow judges Amanda Freitag, whom he met working on the show, and longtime pal Alex Guarnaschelli. "Alex is one of my closest friends, Conant said. "I think people can't wrap their heads around that sometimes because they just see us working together."
Conant explained that those tight-knit connections extend beyond the judges' table. "There's some people that I've met doing that show, on both sides of the table, judges and chefs, that I have lifelong friendships with now," he said. "I have all these pictures of all the judges and [host] Ted [Allen] and producers and all these people inside my phone. And it really, it dawned on me one day, that we really truly are a family. They're there in my family photos. It's wild, you know?"
Speaking of family, grab a copy of Conant's recently released "Peace, Love, and Pasta" and try your hand at recipes the chef prepares for his wife and two daughters.