This Was Kelsey Murphy's Favorite Guest Judge On MasterChef - Exclusive
Competing on "MasterChef" means rubbing elbows (and spatulas, pans, and basting brushes) with a lot of well-known figures from the culinary world. On any given day, the contestants on the American version of "MasterChef" will come into close contact with their celebrity judges like chef Gordon Ramsay, Joe Bastianich, or Aarón Sánchez.
But for Kelsey Murphy, winner of Season 11 of "MasterChef," one of her biggest thrills of the entire competition was meeting some of the guests who stopped by the show. During an exclusive interview with Mashed, Murphy shared who had been her favorite among the many luminaries who stepped onto the set.
"Honestly, probably my favorite guest was [Masaharu] Morimoto," Murphy said. "He's just funny. He's got a really cool personality. I'm also a huge Roy Choi fan, so just getting to meet him and see him was [great]. It's a dream of mine to be able to work with him someday. So every week it was just more and more exciting to be able to learn from them and just take little snippets from them," she explained. "It's just a priceless experience. Let alone to be cooking for our normal judges, but then every week get blessed with some more knowledge and different backgrounds and just hearing their stories really, too, about how they started, where their food journey came from, where they've been." 
"It's just very inspirational, because many of them, a lot of them have been self-taught as well," Murphy said. "So that made a huge difference and really motivated us to think like: 'Okay, well we could do this.'"
What the 'MasterChef' judges are like off camera, according to Kelsey Murphy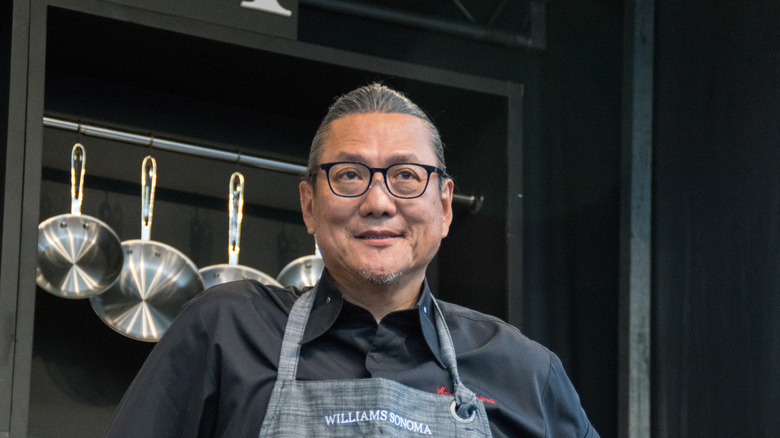 agwilson/Shutterstock
By now, if you have read anything about popular cooking competition shows like "MasterChef" or "Iron Chef America," you know that, in stark contrast to most so-called reality TV, these shows are very much real. They are unscripted, and the competitions are legitimate. "The clock is the clock and what we cook is what we cook and there's really no hiding behind it. So I was surprised with how real this reality TV show was," Kelsey Murphy said.
That said, Kelsey Murphy did report that, behind-the-scenes, the "MasterChef" judges did tend to relax a bit and get a bit more playful, and primarily for a surprisingly thoughtful reason: to help the stressed-out amateur chefs take it a bit easier.
"There's a lot of banter that goes on behind the scenes," Murphy said. "The judges, as soon as the camera turns off, they just like to shoot the sh** back and forth and just, they're really funny and really great. And just, I don't know, it's fun to see their real personalities come out when we're not rolling because they would just really make us laugh and take the stress down a little bit. Whenever we would have the chance, that really helped because, yeah, it can be pretty high stress on camera."
You can catch "MasterChef" on FOX. To learn more about the upcoming "MasterChef" meals available on Grubhub, visit their website.