Denny's Has Good News For Fans Of Its Pumpkin Pecan Pancakes
Denny's fans can rejoice. A favorite autumnal menu item is making a comeback, as the diner-style restaurant chain recently announced in a press release (via PR Newswire). So step aside, Grand Slam breakfast, and slide right out of the way, we say to all those other popular menu items from Denny's because it's time to fall in love with seasonal pancakes again. That's right: Denny's is bringing back the Pumpkin Pecan Pancake Breakfast, which according to Spartanburg, South Carolina, station WSPA, graced the chain's menu around this same time last year. 
We all know that pumpkin spice sells thanks to Starbucks' PSL cult followers who mark their calendar for the return of this favorite flavor. In fact, people are so addicted to pumpkin spice flavored items that, according to Stash, as of August 2019, consumers spent a staggering $511.5 million on items that taste and smell of these ingredients. So, it makes perfect sense and should come as no surprise that Denny's would get in on this money maker with a pumpkin offering of its own. 
Only available for a limited time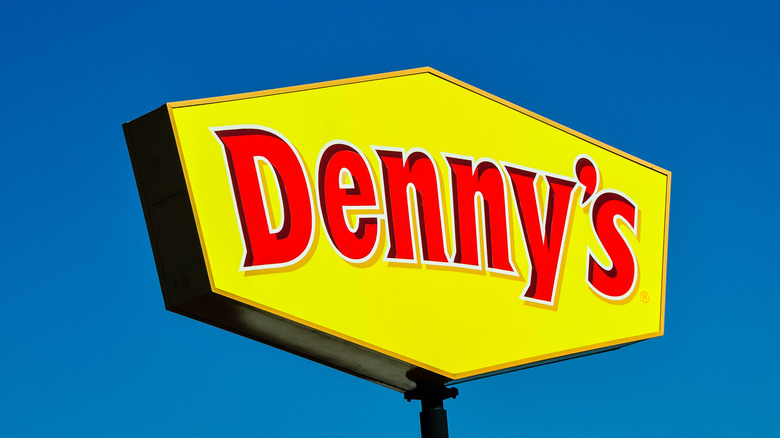 jejim/Shutterstock
Denny's shared in a press release (via PR Newswire) that its Pumpkin Pecan Pancake Breakfast will be on the menu for a limited time as this fall's "Spotlight Stack." What should you expect? Order this offering, and you will enjoy "fluffy pumpkin pancakes made with real pumpkin and cooked with crunchy pecans, then drizzled with a perfectly gooey pecan pie sauce." Yes, please. But consider wearing some pants with an elastic waist, and only order when you are really hungry because those pancakes are also served with bacon, eggs, sausage links, and hash browns, not to mention whatever beverage you might order. This triple P breakfast, as we have just decided to dub it, can be ordered for dine-in or delivery via Denny's on Demand. The release also noted that this new meal is available as a stack, a meal, or a family meal pack, which is hearty enough to feed up to five people. Three words: family dinner, tonight!
Of course, if you are not a fan of the pumpkin, pumpkin spice, or any flavor related to it, you don't admit it and risk upsetting pumpkin lovers in the fall. Simply choose another item from Denny's seasonal offerings, like its Double Chocolate Pancake Puppies, which boast Ghirardelli chocolate chips and cocoa and come with cream cheese icing. No one will think less of you. Probably.