Best White Turkey Chili Recipe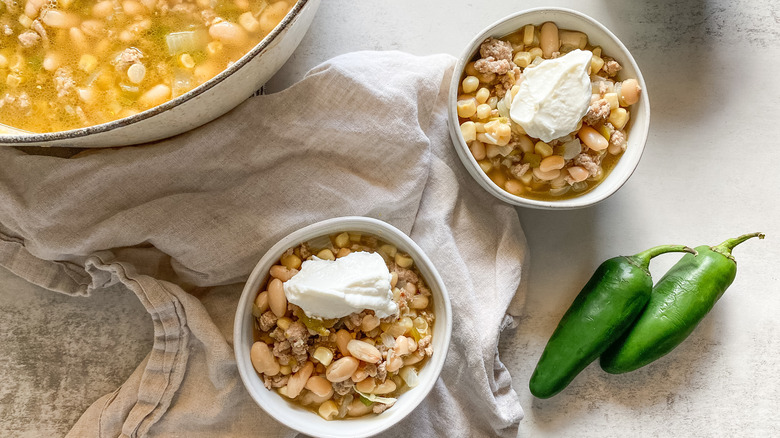 Kristen Carli/Mashed
How do you like your chili? The answer to that depends on what your taste, meat, and vegetable preferences might be. Some of us have a weakness for the classic, more robust red chili, made with tomato sauce and vibrant kidney beans to which either cubed or ground beef is added. Others might prefer the more subtle flavors presented by white chili, which uses a white meat, beans, and green chili (via Richmond Times Dispatch).
In her recipe for turkey chili, registered dietitian and recipe developer Kristen Carli presents a classic white chili with her signature low-fat, healthy twist. Carli's version makes use of green chiles and an added jalapeño so that the dish is neither short of heat nor flavor. If you are looking to go meat-free, this works too, because Carli guarantees that "This [chili] would [also] be delicious if you omit the turkey to make a vegan version." Vegans may also want to substitute the chicken broth for one made with vegetables for an equally satisfying meal.
Gather the ingredients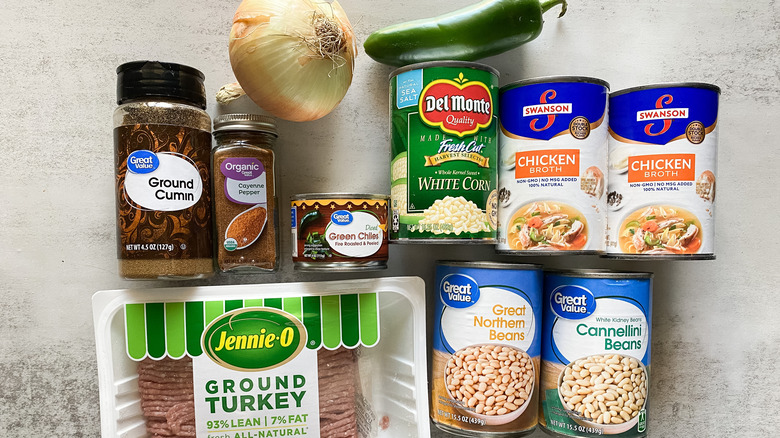 Kristen Carli/Mashed
With two different kinds of beans and a good-sized portion of white turkey meat, this turkey chili is an easy and tasty way to add more protein your diet. To prepare this nutritious main, you'll need ground turkey, canned Great Northern beans, canned cannellini beans, and canned white corn. To those ingredients, you will add items you might already have in your pantry: salt, pepper, onion (diced), a jalapeño pepper (seeded and diced), canned green chiles, cumin, cayenne pepper, and chicken broth. Bringing this all together will mean using a few glugs of heart-healthy olive oil. 
Carli warns against using dried beans as a substitute for canned beans because doing this will require extra cooking steps, and will result in extra time. "When you use dried beans, you need to soak the beans overnight in water. Then drain the beans. Then cook in the chili for at least 4 hours ... but oftentimes longer," she says. So to save time, used canned beans–just be sure to drain and rinse those and the corn!
Turkey is a great way to add low-fat protein to your diet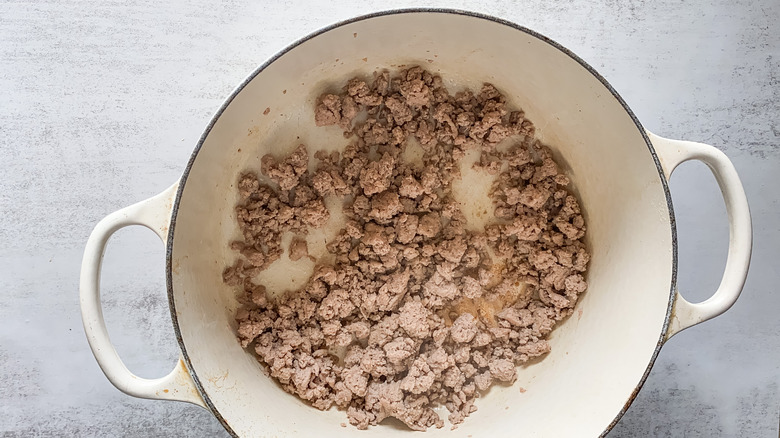 Kristen Carli/Mashed
While many of us may associate turkey with Thanksgiving, it doesn't have to be that way. The ingredient is a great, low-fat source of protein, and a portion size weighing about 84 grams delivers on a range of B vitamins including niacin and vitamins B6 and B12. It's also loaded with minerals that are essential to good health, including selenium, zinc, and phosphorous (via Healthline).  
But in the event that ground turkey isn't easily available, Carli says ground chicken will do the trick, too. 
Turkey chili can be prepared with a few easy steps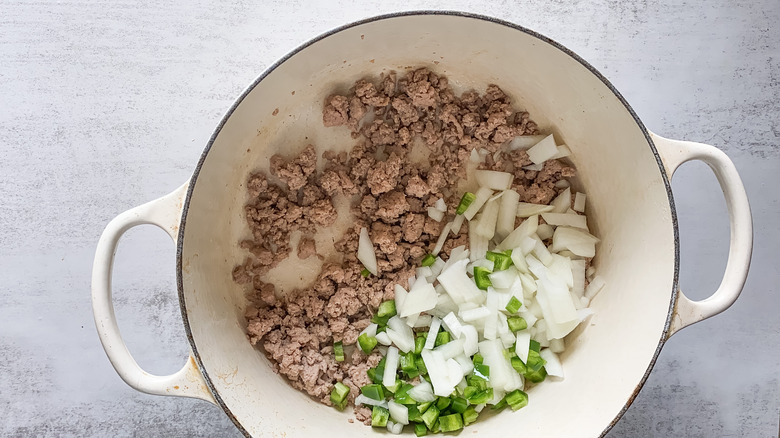 Kristen Carli/Mashed
To begin cooking your turkey chili, pour a tablespoon of olive oil into large pot set over medium heat. When the oil is hot, add your ground turkey, and if your ground meat gathers up into clumps as it can do from time to time, use a wooden spoon to break up clusters and fry until the meat is no longer pink in color. From there, you'll want to add your aromatics — the diced onions and the cut-up jalapeño pepper. Continue stirring and cooking for about five minutes. 
Add in the rest of the ingredients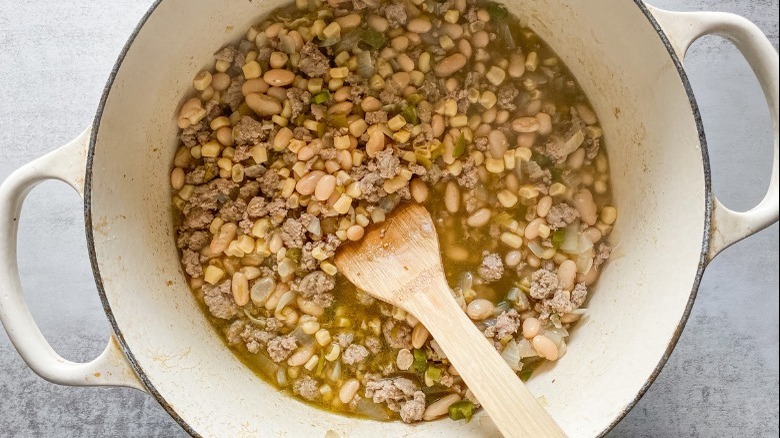 Kristen Carli/Mashed
Once your onions are transparent, you'll want to add in your spices, the two types of beans, the white corn, and canned green chiles. Be sure to drain and rinse the beans and corn first. Stir all the ingredients until they have been well incorporated. Bring the chili to a boil, before lowering to a simmer for about half an hour. After that, the dish will be ready to serve. Feel free to serve it with your favorite toppings and sides, like sour cream and tortilla chips!
This recipe can easily be so it can be prepared in an Instant Pot, but there are a few things you need to bear in mind. "I would cook turkey first and then dump all ingredients into the Instant Pot, [then] close the lid and cook on high for 15 minutes," Carli says. 
Either way you prepare it, this chili is perfect for a weeknight meal!
Best White Turkey Chili Recipe
Packed with protein and bursting with flavor, this white turkey chili is a perfect weeknight meal when you're craving something different.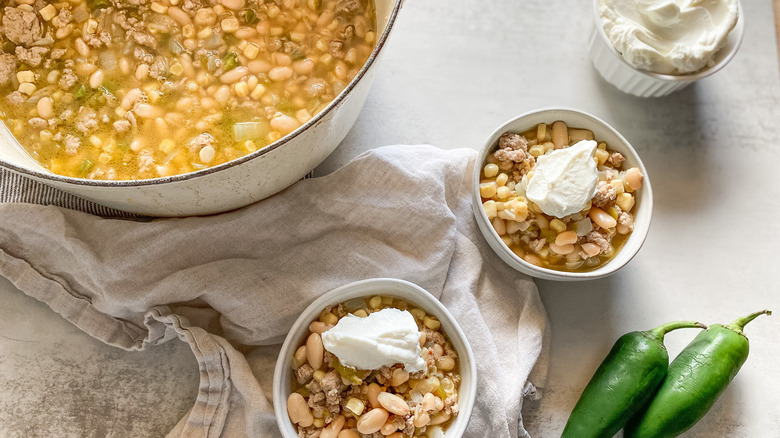 Ingredients
1 tablespoon olive oil
1 pound ground turkey
1 teaspoon salt
½ teaspoon pepper
1 yellow onion, diced
1 jalapeño, seeded and diced
1 tablespoon ground cumin
½ teaspoon cayenne pepper
4 cups chicken broth
1 (15-ounce) can Great Northern beans, drained and rinsed
1 (15-ounce) can cannellini beans, drained and rinsed
1 (15-ounce) can white corn, drained and rinsed
1 (4-ounce) can green chiles
Directions
In a large stock pot, over medium heat, add the olive oil.
Once the oil is hot, add the turkey, salt, and pepper. Break up the meat with a wooden spoon and cook it until it is no longer pink.
Add the onion and jalapeño. Stir and cook for about 5 minutes.
Add the cumin, cayenne pepper, broth, beans, corn, and green chiles. Stir well.
Bring to a boil, then lower to a simmer for 30 minutes.
Serve immediately with your choice of toppings and sides.